People
Dmitry Volkov: a collector of experiences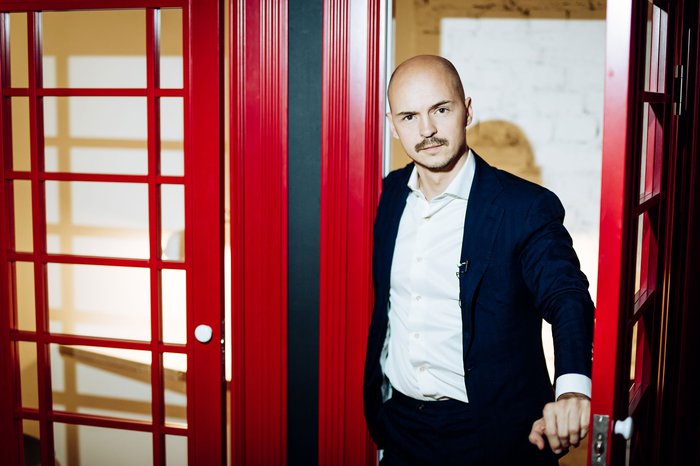 For the Moscow-born digital nomad, venture capitalist, philosopher and musician Dmitry Volkov, collecting art is simply not enough. He aspires to co-authoring works with the artists he admires.
If artificial intelligence was to create a Russian multimillionaire with ambitions similar to those of the patrons of the Renaissance, the result could be Dmitry Volkov. This 44-year-old IT entrepreneur, who created the www.dating.com conglomerate, also writes philosophical treatises, plays Schubert, flies his own helicopter and has attended the 'Burning Man' art festival in Nevada with the Russian contemporary artists Oleg Kulik (b. 1961) and Andrei Bartenev (b. 1965). On December 15, 2020, Volkov, who is worth $750 million according to Forbes, sold his first artwork at a Phillips online auction. 'This is not a book', created with Pavel Pepperstein (b. 1966), sold for 18,900 GBP. It features Volkov's book, titled 'Free Will', placed in a cage and "shot" through with a bullet. It is part of the 44-year-old's growing collaborations with artists who have become friends. It was the 2015 'Burning Man' trip with Kulik to present their art object, a robot monkey called 'OraculeTang', that convinced Volkov to pursue "co-creating with such artists", he messaged from Africa, where he was on a safari in December 2020.
'This is not a book', was first shown at a 2019 exhibition of Volkov's collection of rare philosophical books and contemporary art at the Moscow Museum of Modern Art.
"The idea of the exhibition was to lead the viewer into the collector's mind and show how philosophy and art, the two main pillars of human wisdom, can be connected in the mind of one person," Volkov explains. "We also wanted to show how the contradictions between classical philosophy and contemporary art can be removed through the dialogue between artists and thinkers." Unlike many secretive oligarchs, Volkov appears very open. He identifies as a digital nomad and posts on Instagram about his travels with his young daughter, his business deals and creative achievements. Collecting contemporary art "gives me the opportunity to communicate with artists, sometimes even to make my contribution," says Volkov.
"It seems to me that now, when everything is repeated and duplicated, when you can see and buy anything on the Internet, it is not enough just to purchase a finished work of art. You need to be a participant," he says.
Volkov has built his art collection around a goal "to spend money not simply on objects and things, but on impressions and experience" and does not treat his collection as an investment since some works were gifts or created jointly. Although Volkov says he spends most of his time on business, he does not differentiate between work and hobby. "Everything I do, I love," he said. "If it was suggested to me right now to give something up, I would be an unhappy person." Volkov has a particular affinity for Moscow Conceptualism, especially for Viktor Pivovarov (b. 1937) and Ilya Kabakov (b. 1933), because they connect philosophy and art and because of the fact that "the idea is the conceptualists' central object" in art. His overall collection of over 200 works includes performance, painting, photography and sculpture. Other favourite artists include Rinat Voligamsi (b. 1968), Ivan Gorshkov (b. 1986), the MishMash group and Dmitry Gutov (b. 1960). The collection is spread over Volkov's offices around the world from Moscow to New York, his parents' home and his own various residences.
The first work in his collection was a reclaimed metal image of Franz Schubert by Dmitry Gutov that looks like a silhouette portrait from one angle and an abstract mass from another. He keeps another Gutov work, based on Kabakov's 'Man Who Flew into Space' installation, at his office in the Latvian capital Riga. "This is a work about disillusionment," Volkov explains.
Volkov has become increasingly engrossed in the phenomenon of AI, even suggesting, like some philosophers, that our reality is a projection of artificial intelligence.
"I think that the role of artificial intelligence will grow over time not only in business, but also in art," says Volkov. "Perhaps in the near future, it will help to cope with the crisis of a lack of new forms of self-expression and will offer everyone his own art, based on individual preferences."
SDV Arts & Science Foundation