People
Collective play of 'Chto Delat'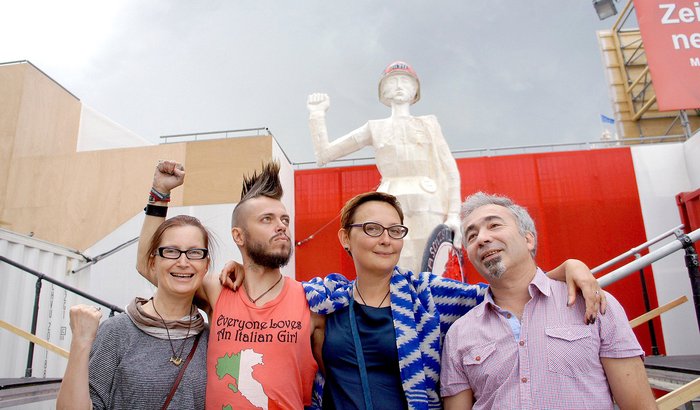 Members of Chto Delat collective at the exhibition Face to Face to Monument, Vienna, 2014
What future for the St. Petersburg activist art group 'Chto Delat' and its trademark radical art in times of global uncertainty?
A red flag flies over St. Petersburg's Petrogradsky Island, a former industrial area. It signals the site of a building called the 'Red Banner', now home to "Rosa's House of Culture". It hosts Marxist reading groups, queer tango dancers, British anarchist clubs and people of all ages working on art installations. 
The animators are a collective called 'Chto Delat' (Russian for "What to do?"). It is the existential question that has haunted Russia's intelligentsia ever since the philosopher Nikolai Chernyshevsky's novel of that name was published in 1863.
Calling that centre a 'House of Culture' is to parody Soviet institutions of the same name, which hosted cultural events glorifying the Communist party. What 'Chto Delat' does is to turn Soviet symbols and ideas upside down. 
The collective was founded in 2003 by Olga Egorova, who uses the pseudonym 'Tsaplya' (Russian for a "heron") and five other artists and thinkers.  From 2007 until 2013, the group created videos they called 'songspiels', which roughly translates as "song-play". A notable example was 'Museum Songspiel: The Netherlands 20XX' (2011) in which refugees cause a crisis when they take shelter in a Dutch museum.
Since then, their work has spiraled off into a number of different directions, including public art, installations, videos, collaborations and a programme called the School of Engaged Art. "Our school is a place for play," Egorova says, describing their approach as being in the tradition of Bertolt Brecht's lehrstücke, or 'learning-plays'. It is key to the group's philosophy and approach. "When you make art, you play," Egorova says, "but the play is very serious." 
This sense of collectivity is a major aspect of the school where participants learn not so much how to make art as how to make something together. "It was easier to be a film director before," Egorova says. "Now it's different. We can't just tell someone what to do." 
This, however, sometimes gets the collective into trouble, as when one of its student groups decided to make feminist pornography the theme of their final project. This proved controversial for Germany's Rosa Luxemburg Foundation, which provided funds for the School for Engaged Art. Although funding continued, it reminded the collective of its precariousness.
The collective is registered in Berlin as a non-profit organization and has received grants from the Foundation for Arts Initiatives. They also created their own Mutual Aid Fund which redirects some of their foreign funding to support creativity in the local community.
'Chto Delat' has a reputation inside Russia for activism that challenges the current political leadership.
The collective exhibits regularly, either abroad or in friendly venues inside Russia. They continue making installations and short films alongside works of public art, such as the 'Face to Face Monument' (2014) in Vienna and the 'Monument to the Century of Revolutions' (2017) in both Paris and Toronto.
The collective's international success (their work can be found in prestigious museums, including New York's MoMA) can create problems at home. Establishment critics point to the group's foreign fame as proof that it is too westernized.
Dmitry Vilensky, one of the founders, feels the pandemic may herald many changes in the art world: "In the past decades, we've seen a major expansion of the art world, but now we're seeing… extinction. Not only because of the virus, but also due to climate change. We've seen the limits of expansion and we can't keep living the way we used to."
However, Egorova's take on the changes is that "all this will be healthy for art. It might lead to more thoughtful work. Of course, it will not be good for artists...but it could make art interesting again".