People
Arseny Zhilyaev: institutional mystique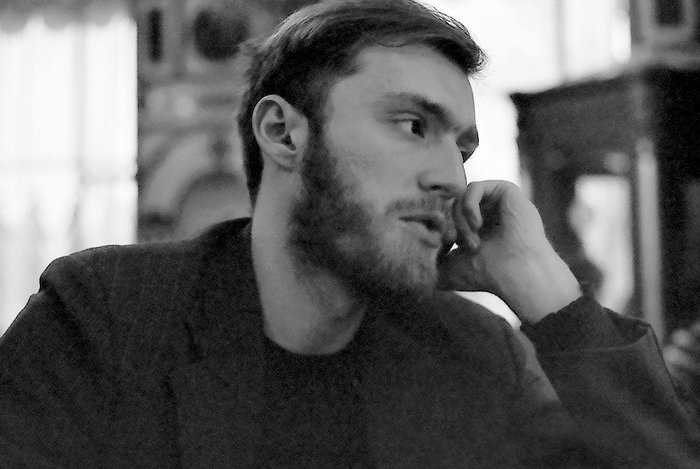 Arseny Zhilyaev. Photo by Yakov Kirillov
Young Russian artist Arseny Zhilyaev is conquering the global art world with his futuristic Cosmist museum projects. Plunge into his universe right now in Marseille.
Immortality, cosmist resurrection, AI robot artists, futurological museums, fictional institutions – these are the overwhelmingly ambitious projects being hauled by young Russian heavyweight Arseny Zhilyaev (b. 1984).
In recent years, he has been gravitating towards the cerebral "idea of museum as a laboratory of resurrection and of the role and function of museums within the theory of Russian cosmism".
Although he sees himself primarily as an artist, Zhilyaev branches out into research, publishing and curating with equal assiduousness. A first glance at his website, or an internet search of his name, immediately brings up dense academic texts laden with specialist and philosophical terminology that won't be immediately accessible to a general audience.
One would be forgiven for mistaking him for an aspiring philosopher, young lecturer, or art theoretician. If so, you wouldn't be far off. Zhilyaev's artistic career grew from a derailed academic path in philosophy and psychology, a sphere in which he felt out of place in his hometown of Voronezh (some 500 km south of Moscow). The art world, on the other hand, showed promise.
"Art comes most naturally to me as a way of communicating with the world. No other discipline or science, such as psychoanalysis, which I previously studied and practiced, felt as exciting or moving," he says.
And it would seem, the feeling was mutual: the art world welcomed his sweeping experimental inter-disciplinary research projects, providing the necessary space, attention and support that has seen Zhilyaev go from strength to strength. At the age of 36, he has already exhibited at some of the world's leading museums, found support from such respected institutions as MoMA, the Centre Pompidou, the Kadist Foundation (Paris – San Francisco), the Garage museum (Moscow), HKW (Berlin) and has participated in worldwide biennales all the way from Korea to Slovenia.
His latest appearance is in Marseille, where Zhilyaev is the only Russian artist included in the 13th edition of Manifesta, the European nomadic biennial (28 August – 29 November 2020). Asking the central question: "How can we not only co-exist, but actually come together to create new forms of care and ties of solidarity?" as part of the biennial's main title 'Traits d' union.s' – (a wordplay on the French for "hyphen") with the curators claiming their exhibition is a link or connection rather than a full stop.
One of his projects plays on this punctuation mark; it is entitled 'The Keepers. One-Dimensional Sphere Game'. It is, on the one hand, a super conservative game of football, played only by goalkeepers; on the other, it is also a dot, or full stop (if you will) and this is also a linguistic game. Poetic texts will be presented in four languages related to each team and this will represent a kind of result of the games.
At Manifesta, he uses the fruit of his research to create his installations, adding a futurological element. "In essence, the project is about different types of conservatism, different types of keepers or guardians, among them activists, local residents, police and artists, representing social conflict in Marseille."
Zhilyaev actually compares his working process to a play game or a film production. His works are often so complex and multifaceted that a team of assistants is required.         
Another recent project, for the RIBOCA biennial in Riga (August 20 – September 13, 2020) is the Institute of the Cosmos, launched online and still available for browsing, in collaboration with Anton Vidokle and Marina Simakova.
Zhilyaev's futurological museology is informed by a strong connection and fascination with Russian Cosmism, that movement's enigmatic proponent, the philosopher  Nikolai Fedorov (1829-1903), and particularly the Resurrecting Museum, an ambitious utopian concept, offering the museum as a final phase of immortality and victory over death, as well as the resurrection of everyone who ever lived.
"Of course, this all sounds strangely ambitious, but I have made a conscious decision to work within this frame. The Institute for Mastering Time also sets the aim of approaching this totality, and the first step towards which can be made by art in this direction is to overcome its own limits. For example, through the automatization of art, as we know it now," Zhilyaev explains.
With such idealistic and monumental ambitions, does Zhilyaev find it limiting to work within the real-world contemporary art framework? He's been fortunate enough to find institutional collaboration successful and productive.
However, he has no illusions. "It is clear that as long as we remain within this political and economic system in which we are, it is difficult to find some absolutely pure ideal institutions, absolutely clean money. All of them are somehow tied into the global inequality system," is how he puts it.
Another forthcoming project, postponed to 2021, is a big solo show in Moscow's Museum of Modern Art (MMОMA), entitled 'Internet'.
Featuring AI-generated alternative histories and robotic automation of the canons of modernism, it promises to reflect on art history and museology through the critical optics of contemporary computing.
It seems an obvious contradiction that such a project should need a physical exhibition space at all. What does Zhilyaev think about art's virtual future? Won't we soon do away with materiality altogether in contemporary art? Are we the last generation of physical museum-goers ahead of a virtual overhaul?
Zhilyaev's answer, sent through WhatsApp-transcribed voice messages, is: "No. As far as materiality is concerned, I am a materialist, of course, although I may be a strange one."
Expect to see Zhilyaev's name springing up at biennials and landmark shows around the world, as he seems to be hitting all the right spots with his overarching, pan-universal retro-futuristic installations. But we'll need to wait a few more years to see whether he manages to continue Fedorov's work and resurrect the dead. Watch this space!
Manifesta 13
Marseille, France
28 August – 29 November 2020
Institute of the Cosmos