People
A Russian-based collector fascinated by post-war German art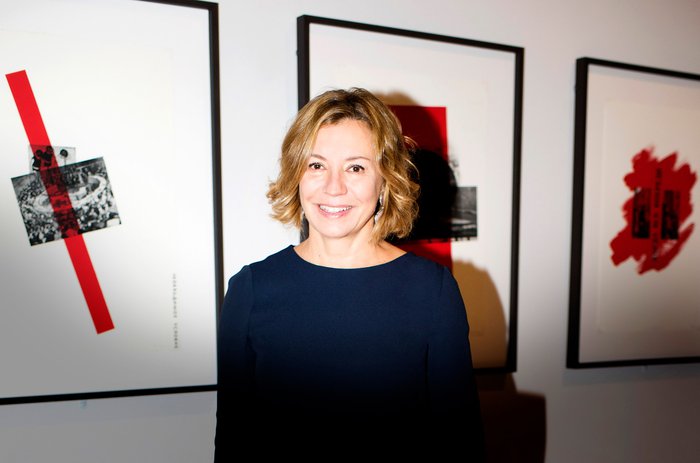 The businesswoman Valeria Rodnianski is fighting to democratise contemporary art through the printing press in a country where such a system is unfamiliar.
Valeria Rodnianski is a producer, gallerist and collector of contemporary art. Her biography spans three countries: Ukraine, where she was born, Germany, where she discovered collecting and Russia, where she now lives and is engaged in the popularization of limited-edition art, a concept which remains unfamiliar to the average Russian art collector.
She was born in a Kiev family whose life pushed her to get acquainted with art from childhood. She grew up in the old pre-revolutionary house of her great-grandmother. The walls were hung with landscapes and still lives with flowers, bought by her grandparents. That house is an important starting point for the future collector. "What hung on the walls was probably simple, but real. It meant something to me," she said.
What also played a major role in her development was that there were lots of art books in her family library and she spent much of her childhood poring over at the pages of those publications.
Her life changed at the age of 30, when she and her family moved to Germany. That allowed her to grow her love of art and it was where she made her first steps as a collector. Her first acquisition was a small photograph of a plane modified by Günther Uecker (b. 1930), who hammered nails onto the image. She got the opportunity to take collecting seriously when she moved to Moscow in 2002. "I was already living in Moscow, but retained this love of German culture and German artists and I bought several works on paper, including two wonderful ones by Georg Baselitz (b. 1938). During her time in Germany, she lived at one point in Cologne, as then did the major Russian-German art critic and philosopher Boris Groys (b. 1947) and the artists Pavel Pepperstein (b. 1966) and George Pusenkoff (b. 1953). She says those Russians, who would later become major figures, then "lived in their own world while German artists had a love for paper, which you could feel when you entered German commercial galleries". That fascination of German art, as well as the Russian art she collects, leads her to compare how the artists of those two countries reacted to the bloody clash between the two nations during World War Two.
She describes German post-war art as traumatised. "I would be interested if a parallel art history could be drawn up on post-war Soviet and German art. It was a terrible trauma. German artists reflected on it, while the priority for Russian artist was surviving in a totalitarian world. That is why they made illustrations for children's books, like Ilya Kabakov (b. 1933) and Viktor Pivovarov (b. 1937) did. Of course, it is impossible to draw a parallel line. These are two very different universes, but the Germans worked through their trauma, while in the USSR it leaked into the Aesopian language (also known in the old communist world as "double speak"). Rodnianski's collection includes works on paper by such German post-war contemporary artists as Anselm Kiefer (b. 1945), Gerhard Richter (b. 1932), Sigmar Polke (1941–2010), Georg Baselitz (b. 1938), A. R. Penck (1939–2017), Albert Oehlen (b.1954), Marwan Kassab-Bachi (1934–2016), Markus Lüpertz (b. 1941), and many others. She is interested in the experimentation that artists express so skilfully on paper. "Such an explosion and revolution in the artist's world on the sheet of paper has always attracted me very much," is the way she explains it. After moving to Moscow, Rodnianski began to take an interest in works by Russian artists. Her acquisitions have included silk-screen prints by Dmitry Gutov (b. 1960) and Timur Novikov (1958–2002).
Rodnianski lacked artworks on paper by artists she was interested in. She therefore began to create projects that would draw the attention of Russian collectors to the limited-edition art project. "It felt like a good mission. This mission is consonant to me, to what I love and, at the same time, it's a challenge, promoting something that is not accepted here." It is very important for Rodnianski to raise general awareness of Russian collectors' of limited-edition art and works on paper, so, in addition to producing works, she collaborates with museums, such as the Tretyakov Gallery and regularly organizes educational events. "Paper is a very lively material, very fragile and vulnerable. There is some incredible charm in this. But our mental rejection of limited-edition art has always been offensive. Because everyone wants something unique and exceptional, thereby declaring their own uniqueness and exclusivity. But how can we talk about the uniqueness of what we consume when we live in the world of digital images?". Rodnianski believes that every serious collection must have a narrative. "At the beginning, you buy something intuitively and then you think: These two or three works somehow live among themselves. Somehow, they are put together into some kind of story which you can develop. It seems to me that collections make sense if they turn into a story by themselves."