News
Zhanna Kadyrova: trompe l'oeil in Venice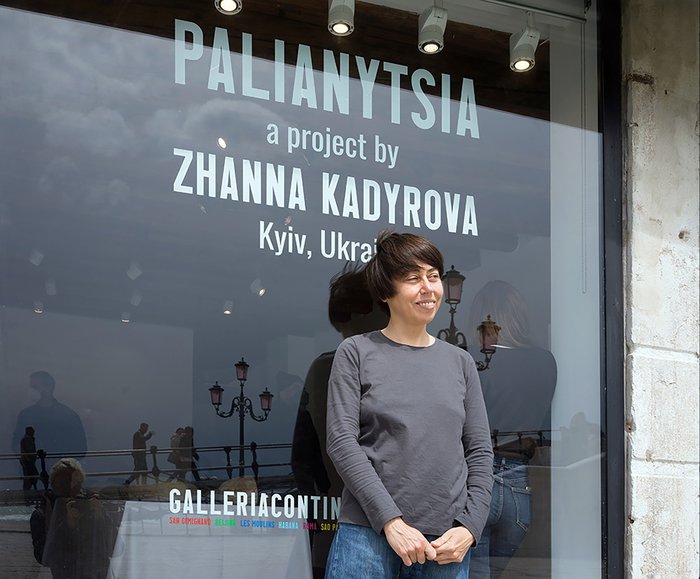 Zhanna Kadyrova. Palianytsia, 2022. Fundraising project for Emergency in Ukraine. Castello 2145, Riva San Biasio, 30122 Venice. Photo: Natalka Diachenko. Courtesy Galleria Continua
Ukrainian artist Zhanna Kadyrova's latest work, Palianytsia, unveiled by Gallery Continua in Venice during the opening of the Biennale, essentially comprises life-size loaves of bread carved out of stones. The exhibition is on view until June 30.
These stone loaves are made with such brilliance that they really do look like bread. Good bread is heavy. It has a hard mottled crust with endless shades of brown and grey: these stones look like wholesome loaves. I have not noticed a spiritual dimension to Kadyrova's (b. 1981) work before, yet these are packed full of christian meaning.
Individually as works of art, the stone loaves, sold by her gallery according to their weight, relate to the kind of small hardstone sculptures or decorative works of art that a private collector might have once placed on a pedestal in a living-room or in a display cabinet. Together as an art installation, assembled along a refectory-style table they are quite magnificent. You cannot not think about the last Supper.
Kadyrova is already known for her installations, in which she assembles together objects she has made to imitate nature, using materials such as stone, concrete or tiles. As an artist, she has always been interested in her surroundings until now architectural, man-made and urban. But what happens when you leave the city and your familiar everyday things?
Displacement because of conflict has forced millions of people to take a bag of possessions and travel long distances. Like many, when the current conflict started Kadyrova moved westwards, into the Ukrainian countryside by the Carpathian mountains close to the border with Hungary. In the place she has made home for now, she scouted the stones for 'Palyanitsia' along the many rivers and streams naturally converging there. She liked how the water smoothed them out to give their characteristic round shape. Nature is the ultimate poet: here Kadyrova chooses the most suitable stones, and finishes off what began simply as a natural process.
The word "Palinytsia' means 'bread' in Ukrainian, describing a type of round loaf made of wheat, and apparently only local Ukrainians can say the word with a convincing degree of authenticity. It is a way of identifying where you are from, which becomes a matter of survival during times of military conflict. There were many rumours circulating among Ukrainians about Russian infiltrators in Kiev in the early days of the conflict and 'Palinytsia' became a shibboleth. Broader than this, Kadyrova's work raises universal questions of nationhood, of the deep and subtle differences that distinguish one people from another, and language is one such ideosyncracy which is impossible to imitate.
There is a new gravitas in this work of hers. These stones, handpicked from her environment as readymade material ready to be polished up and cut for a gallery show, bring with them the story of where they come from in time and place. They have a quiet, spiritual presence a million miles from the bright pop aesthetic of her sculpted fruit and vegtables and show a new depth of expression in the artist's work.