News
The Russian pavilion in Venice: time to play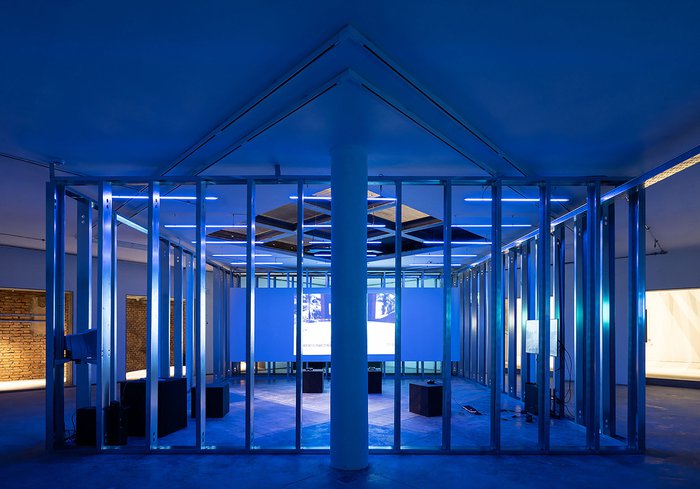 The Biennale of Architecture has finally opened in Venice, after a year's delay caused by the Covid-19 pandemic. In the Russian pavilion at the Giardini visitors can both plunge into a digital world and admire the lofty spaces of the newly renovated 100-year-old building.
The Russian Pavilion of the Biennale of Architecture is a new organic space, which works on both a mental and physical level. This new edition of the Biennale, curated by Hashim Sarkis is titled 'How Will We Live Together?'. The Russian pavilion show is aptly titled 'Open' and is curated by the Italian architect Ippolito Pestellini Laparelli. The project began in 2020, when the Biennale was postponed, due to the pandemic. The concept at that time was just for an online exhibition with the creation of a dedicated website and space for consultation. Now, the Russian pavilion has finally once more become a physical space, which reflects the functional needs of a contemporary institution.
The project undertaken by the Russo-Japanese design studio Kasa, involved the entire physical renovation of the building originally designed by the architect Aleksey Schusev in 1914. Under their creative vision, the pavilion has been transformed into a place that enters into dialogue with the special atmosphere of the Biennale's Giardini, with its plants and with the water of the Lagoon immediately behind. Here, visitors move in a multifunctional environment, which feels almost theatrical, through spaces that are partly empty, in order to show the details of the architectonic renovation and the design drawings on display. The new space is very versatile, as well as hosting exhibitions it can accommodate shows, workshops and meetings.
On view inside the pavilion there is a video game installation together with a book, called 'Voices' (Towards Other Institutions), comprising 28 texts by opinion makers, ranging from scientists to DJs, who propose new ways of thinking about and acting in cultural institutions. There is a video installation called 'The Gamer', with three different video games. However, here there is nothing to be won, the aim is rather to actively reflect upon our relationship with the digital world and the possibility to exploit it to create alternative realities. There is also a film on display, titled 'How to Disappear', made by the Austrian art collective Total Refusal, as part of a programme of audio-visual showings. The film is set as a war video game, where the only way to avoid being eliminated is to break free from the algorithm of the video game itself. Physical architecture, digital environments in our daily lives and the network of individuals that inhabit them are indeed the three cornerstones of the Russian pavilion at the Biennale. This is a reflection that is destined to continue in the future.
Biennale of Architecture 2021. How Will We Live Together?
Venice, Italy
May 22 – November 21, 2021