News
The art of disappearance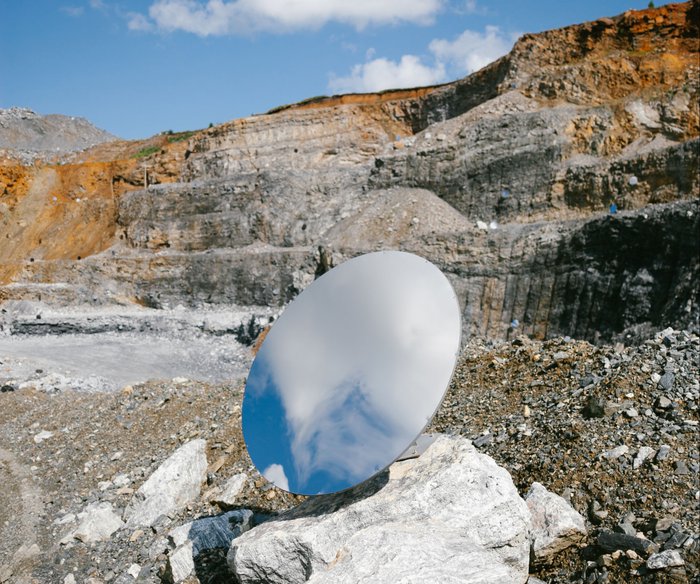 Young artist Vasily Kononov-Gredin has created an epic work of land art in Chelyabinsk Region, to the south of the Urals.
A few months before the opening of 'A Time to Embrace and to Refrain from Embracing', the main exhibition in the 6th Ural Industrial Biennial of Contemporary Art, a number of special projects started to sprout up in and around Ekaterinburg, which were created through its artist-in-residence program.
The installation 'Stone Garden' by Vasily Kononov-Gredin (b. 1990) is impressive for its sheer scale. Located in the Berezovsky Quarry in a city called Satka in the region of Chelyabinsk in the south of the Urals, at first sight, the installation looks like flying saucers on an uninhabited planet. It comprises 250 round mirrors, each over a metre in size, carefully set up by the artist. They are placed to reveal parts of the quarry, which would otherwise be invisible, catching the sky surrounded by rocks or reflecting the sunlight at different times of the day. You can see them projecting sunbeams onto the surface of the industrial lake water. This familiar game of reflections in a landscape, so loved by Olafur Eliasson (b. 1967) or Francisco Infante (b. 1943), works beautifully here, too.
Over the past forty years, rocky stone magnesite was extracted here by exploding dynamite, in order to produce fireproof bricks, a process which was deafeningly loud. At the end of 2020, this mining work was finally stopped. The first impression Kononov-Gredin had when visiting the space was that of loud silence. In order to mine, water had to be pumped out of the quarry, but now this has stopped. Water is filling this man-made space and the water level is raising. One day, the installation itself will disappear under it. According to Vasily Kononov-Gredin, his work addresses the exploitation of nature by humans, but he shows us how a place can gradually return back to nature.
The 6th Ural Industrial Biennial of Contemporary Art