News
Summing up the results of a turbulent year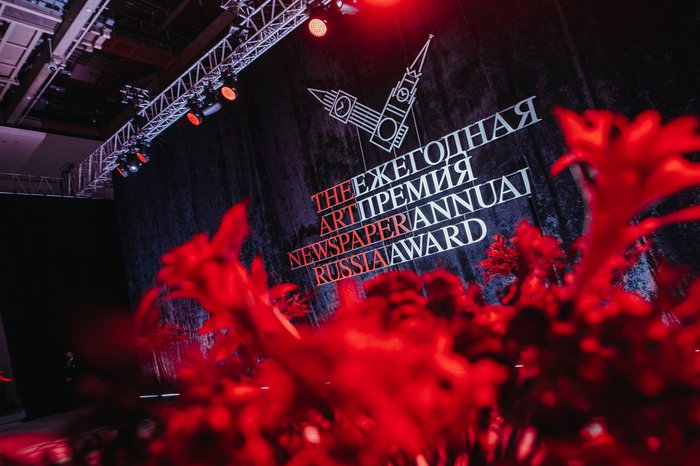 At its annual award ceremony, our sister publication The Art Newspaper Russia found many reasons to celebrate.
The annual Art Newspaper Russia Award was held in Moscow on Tuesday, March 16. Established nine years ago by Inna Bazhenova, owner of The Art Newspaper, the ceremony spotlights achievements in Russian art and culture. The awards cover more conventional, as well as less-established categories, like art restoration. The evening, which traditionally has proved to be a festive occasion for Russia's art glitterati to honour the year's triumphs, also achieved what I consider to be the biggest challenge of 2021: there was not a single instance of video conferencing! Nevertheless, in her welcome remarks, Milena Orlova, editor-in-chief of The Art Newspaper Russia, described 2020 as "catastrophic for the art world and our personal lives". Although the achievements of all the nominees offered a reminder that despite unprecedented social, economic and political struggles, art has and will go on.
Winners were announced between musical and theatrical interludes by Opensound Orchestra, actors Kseniya Rappoport and Maria Lapshina; vocalists Nadezhda Pavlova and Ivan Gyngazov; as well as composer and traditional throat singer Radik Tulush. The 'Book of the Year' was awarded to art historian Nataliya Semenova for her three biographies on Russia's outstanding pre-revolutionary collectors Sergei Shchukin, Ivan Morozov and Ilya Ostroukhov. 'Restoration of the Year' went to the firm Artstroitekhnologiya for its reconstruction of the Stalinist architectural monument North River Station in Moscow and its surrounding park and embankment. The St. Petersburg Manege received the prize for 'Museum of the Year', whose work director Pavel Prigara described as "seeking new meaning" in even "seemingly retrospective projects". 'Exhibition of the Year' went to 'We Treasure Our Lucid Dreams' at the Garage Museum of Contemporary Art and curators Andrei Misiano and Ekaterina Inozemtseva for their remarkable exploration of esotericism in twentieth-century Russian art. Beaming gracious energy, philanthropists Irina and Anatoly Sedykh received the 'Personal Contribution' Award for spearheading and supporting a public art revolution in the industrial city Vyksa.
Some of the presenters used the opportunity to point to realities outside the celebratory gloss of the ceremony. While introducing 'Restoration of the Year', Architect Evgeny Asse made no secret of his preference for pre-Stalinist modernism and by default, the competing Narkomfin Building. Writer and journalist Mikhail Zygar's comments were among the night's highlights. He praised the art community for its collective success in battling the pandemic, while nevertheless addressing the waves of political protest that have recently rocked the country. "The members of our artistic community who are fighting for human dignity, for freedom—they are all already victors," he said.