News
Solaris: what's hidden in this Bible of fiction?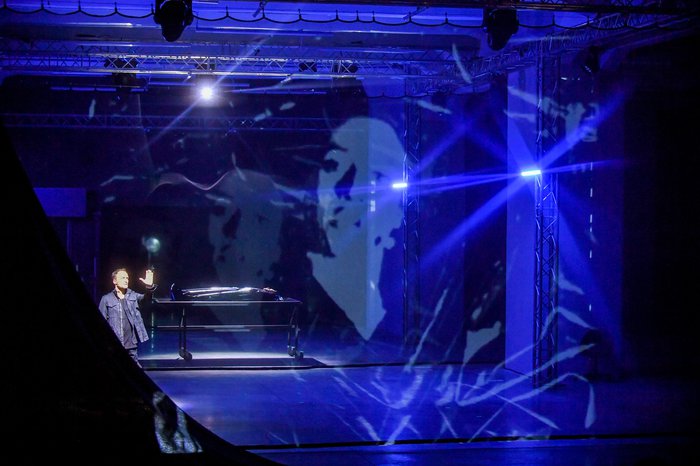 A multimedia project combining AR, theatre and contemporary art by artist duo Pavel Pepperstein and Sonya Stereostyrsky (PPSS) and directed by Dmitry Melkin, has opened at the Museum of Moscow.
A new art project, which brings together contemporary art, new technologies, augmented reality (AR), painting and theatre is now on show at the Museum of Moscow. If you are planning a visit, to avoid disappointment, make note: the technology is so up-to-date that the special effects created by AR (designed by Moscow's Immerse Lab studio) can only be experienced on the latest smartphones and apparently you need at least an iPhone 8. This museum, housed in a historical monument in the centre of Moscow, called the 'Provision Warehouses' and designed by architect Vasily Stasov (1769–1848) in 1835, has long been in need of an exhibition concept to make the most of what are essentially very challenging internal spaces consisting of several free-standing buildings. So the idea came about to invite Praktika, a Moscow theatre of contemporary drama, to use the museum while its own space was being refurbished. This autumn, Praktika kicked off the new season in the museum and various co-productions have since been staged there, including an exhibition by artist duo Pavel Pepperstein (b. 1966) and Sonya Stereostyrsky (b. 1998) with AR elements and a performance based on Polish sci-fi writer Stanisław Lem's novel 'Solaris'. This book was the inspiration behind film director Andrey Tarkovsky's eponymous masterpiece.
The theme of prophesy is a recurring obsession throughout the work of Pavel Pepperstein, who has been reinventing the future for decades, tirelessly creating new cities, planets and peoples in an impressive body of work. Now, he and Stereostyrsky have created their own 'Solaris' in Moscow and transformed it into a city of the future called 'Neftiaris' ("Oil-aris"). Using AR graphics, panels are flooded with oil, which flows through leaky pipes in the walls of the Kremlin, somehow even managing to get into Lenin's mausoleum. There is a large oil field lying directly beneath Moscow which rises up to the surface. "This ocean of oil has a consciousness and a memory, it, too, creates doubles, moulds various semblances out of the materials available to it. When you come into contact with this Cthulhu of raw materials, you must be prepared for some surprises, of which we warn you fairly and timely," the authors note in the exhibition blurb, inviting you on a journey through the reality of the imagined future they have created. Despite the incredible dating from years 4939–4989 indicated on the works, all 12 panels made by the artists focus on one theme: oil and power. Thus, they take us back again and again to the narratives of Tatyana Tolstaya's early 2000s bestseller 'Kys', Vladimir Sorokin's 'The Oprichnik Day' and even Andrey Molodkin's scandalous installation in the Russia pavilion in 2009, where Chechen oil and the blood of Russian soldiers fighting in Chechnya pulsed through a transparent plastic copy of the Louvre's 'Victory of Samothrace'.
However, back in the 1960s, Stanislav Lem warned us that all historical prognoses look unconvincing against the backdrop of what is essentially an ever advancing present. And a visual confirmation of Lem's thesis followed immediately in the guise of the guests at the premiere. Attracted by the name of a famous artist and the aura of wealth and mystery surrounding Forbes-listed billionaire Leonard Blavatnik, the project's patron, the viewers demonstrated the breadth of the new ethic with their outward appearance. Amidst the traditional open-back-dressed high-heeled girls and men in jeans and tie-dyed jackets, diluted with VIP intellectuals in jumpers, walked a bearded young man dressed in a black minidress and leggings. The appearance of this young man, who held a modest, but confident, pose against the background of pictorial panels depicting prince Yury Dolgoruky of Neftiaris, repeating the bellicose iconic pose of the Archangel Michael on his horse with the serpent, hinted at different visions of the future.
The choice of Blavatnik as patron is not by chance, he is particularly open to cutting edge contemporary art projects. "When we select what project to support, we primarily focus on talents: creators who can contribute to contemporary art with new vision and interesting ideas. We don't limit ourselves to a certain format, thus, the oeuvre can be a music video, a theatrical production, an auteur movie, or a multimedia project," Blavatnik told Russian Art Focus.
Directed by Praktika's Dmitry Melkin, the performance – or rather its beginning – packed a powerful punch. A strong beam from a spotlight literally hit the audience in the eye as if to stir up emotion. Contrasted with this, however, were unemotional intonations of the actors, lulling them into a drowsy, half-trance like state.
Lem's idea that the unexplored ocean of Solaris is within us was the starting point for playwright Ekaterina Bondarenko. Post-truth and post-sincerity are the twins, born of the inner Solaris of man, with which the protagonists of the play are wrestling. In Melkin's version of Solaris, Lem's ocean has been replaced by the theme of artificial intelligence and servers. Bondarenko's characters are fighting the artificial intelligence: "Beat it, blow up server after server," but still, as in the 1960s, they are unable to confess their ordinary human sins.
Famous Russian actor Igor Mirkurbanov, playing the character of scientist Dr. Snout, growls like a caged tiger: "Why is there so much cowardice in us? We have a right to forget. And it hurts us?! We don't need this kind of talk."
As an echo of retro polemic, like an archaic James Bond plugging his wound with a baby teddy bear in the finale of the latest Bond film, the playwright brings back words like 'conscience' and 'cowardice' into the characters' vocabulary. Perhaps hackneyed by the Soviet propaganda machine, fifty years later, having returned from oblivion, they sound like the title of a favourite novel of the sixties, Hemingway's 'For Whom the Bell Tolls', with an obvious answer.