News
Shining through the polar night: contemporary art in Russia's North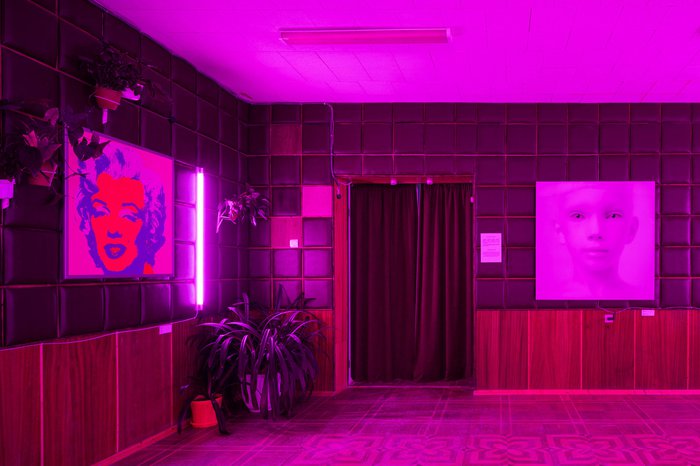 Russian star TV host Andrei Malakhov is planning to open an art centre called 'Siyanie' (Shining) in his hometown of Apatity, with the hope of turning it into a local hub for contemporary art.
It all started with a monument to Pushkin. Russian sculptor Zurab Tsereteli gifted a larger-than-life bronze statue as a birthday present to Russian TV star Andrei Malakhov, a passionate collector of contemporary art. The poet, seated on a bench, with his right hand stretched invitingly over the backrest, appeared to invite passers-by to sit down beside the genius for a moment of rest - or a flashy selfie. It did not take Malakhov long to find a place for this unusual gift. He had it sent it to his birthplace of Apatity, a mining town beyond the Northern Polar Circle. Hidden under snow and darkness for a good part of the year, surrounded by vast stretches of forest and the bare, low slopes of Khibiny mountains, this town looks like a forgotten bit of Soviet reality, frozen in time. There are endless nondescript apartment blocks and a few somewhat ostentatious modernist 1970s buildings – a cinema, a House of Culture and a library. Old Soviet shop signs stick out here and there, having miraculously survived all the economical twists and turns of the last thirty years.
Perhaps somewhat against the odds, this bleak cityscape has served as a catalyst for artistic inspiration. Nearby Kirovsk boasts one of the most impressive public artworks in Russia – an immense mural on the facade of an abandoned railway station. Created in 2020 by St. Petersburg artists Maria Khardikova and Vyacheslav Belov, it depicts mine workers as titans, their bodies made of stone, integrated with the mountains. Life here is not for the faint at heart. The region's main problem is migration in reverse, its population has been steadily declining since the collapse of the Soviet regime. Since 1990, it has fallen by almost 40%. Many of the residents perceive their physically demanding jobs at mines and factories as temporary and dream about moving south sooner or later. The region's official slogan "To live in the North!" immediately brings to mind a legitimate question "What for?"
It was here that Tsereteli's sculpture found its new home in the town's public park and right from the beginning, the locals loved it. The poet's outstretched palm has even broken off twice, due to improvised photo shoots, forcing local authorities to install surveillance cameras. Bolstered by its unlikely success, Malakhov began to cherish a more ambitious plan to turn Apatity into a capital of the arts for the whole Murmansk region, which would attract both art-savvy tourists and locals. Preparations began in 2020. Experienced art professionals were flown in from Moscow and an inaugural exhibition was staged in a local children's library – which apparently still keeps Malakhov's library card. Put together by Kristina Dryagina, a curator based between Murmansk and St. Petersburg, it was called 'With Love in a Cold Climate' and featured edition prints by Andy Warhol and Takashi Murakami, along with works by contemporary Russian artists Leonid Sokov (1941–2018), Konstantin Latyshev (b. 1966), Evgenia Buravleva (b. 1980), Valery Chtak (b. 1981), Vladimir Logutov (b. 1980) and Recycle Group among others. The concept of the exhibition is autobiographical: sections correspond to different stages of Malakhov's life, from his Soviet childhood to his awakened interest in collecting art, as the curator explained. Most of the works on display are drawn from Malakhov's personal art collection, yet Dryagina complemented the display with pieces by artists from Russia's North – Fyodor Mukhametshin, Dmitry Novitsky, Veronika Vologzhannikova to name a few, works which address inevitable issues of migration and ecological concerns.
One work stands out in particular: a total installation created by the team which will manage Malakhov's art centre in the future. It comprises a dark room full of house plants with Warhol's famous portrait of Marilyn Monroe hiding in the corner, illuminated by glowing neon words "With love in a cold climate". This refers to the local custom of installing reddish neon tubes over the windowsills, so that house plants will not die from the lack of light during a long, sunless winter. The future art centre is to be called 'Siyanie' (Shining), an allusion to the region's most famous natural attraction, the Northern Lights, rather than the horror movie whose chilly ambiance corresponds well with the area's harsh climate. A building to house it is yet to be found; the architects dream about converting a forgotten gem of Soviet modernism and the programme is still in the early stages of development. The inaugural exhibition, which has now moved to Murmansk, will travel to a few more cities, while back in Apatity, there will be research and educational activities. The centre's curator Olga Shirokostup explained that in 2021, the team will focus on exploring and determining what it is that the locals need most. A cinema festival on the topic of inclusion, organized together with Moscow's Garage museum is to open in September, followed by another exhibition, which according to the centre's director Stepan Bugaev will be more deeply rooted in the local context of the Russian North.
As the show closed down, it was marked by a celebration for Maslenitsa. There was a concert with live folk music, competitions for children, stalls with souvenirs for the locals and reindeer rides and mulled wine for Malakhov's guests, flown in from Moscow. According to Russian tradition, the straw figure of Maslenitsa, epitomizing all evil, is burned on the last day before Lent. To impress the art connoisseurs and celebrities who flew over the Polar Circle at the invitation of Malakhov and his wife Natalia Shkuleva, a colourful Maslenitsa effigy was commissioned by ZIP group, an art collective from Krasnodar. Placed at the foot of a ski slope in Kirovsk, it burned down in only a few seconds. A fitting metaphor of the burning passion for art and one's own hometown – equally ardent, but hopefully not so short-lived.