News
Russian Art Focus getting global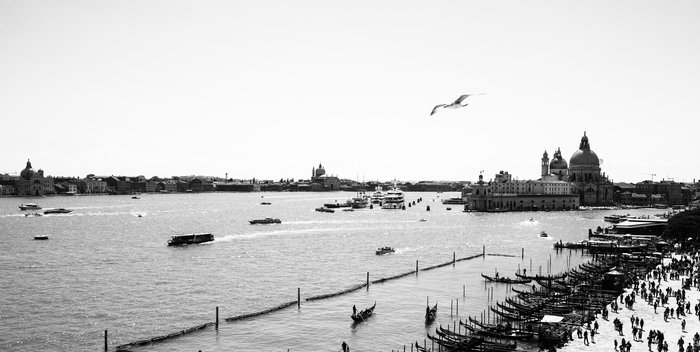 Artists, curators, art critics, collectors and art-savvy party-goers from all over the world flocked to Venice during pre-opening days of the Biennale. Russian Art Focus certainly could not stay away from the fun.
With the view over the lagoon
During the Venice Biennale opening week, Russian Art Focus held a brunch at the Ristorante Terazza Danieli for the international press and the global art community. Directors of museums, curators, journalists and publishers gathered together on the terrace of the famous restaurant to hear a presentation of our new publication on Russian art. Dmitry Aksenov and Inna Bazhenova, со-founders of the Russian Art Focus, spoke with guests about their vision to raise awareness of Russian contemporary art on the international level in the shape of a monthly digital magazine in English. Editor-in-Chief Richard Wallis delivered a speech emphasising the importance of the project and thanked the Russian collectors for their initiative to improve international relations between Russia and the global art world.
Under Tiepolo's plafond
Russian International, a round table and cocktail reception dedicated to contemporary Russian art in the global context, took place at Ca' Dolphin, on the premises of Ca' Foscari University of Venice. The panel discussion was moderated by Richard Wallis, Editor-in-Chief of Russian Art Focus. Margarita Pushkina (Cosmoscow), Alisa Prudnikova (NСCA/ROSIZO), Vasili Tsereteli (MMOMA), Simon Rees (Cosmoscow), Xiaoyu Weng (The Robert H. N. Ho Family Foundation / Solomon R. Guggenheim Museum), Stanislav Kasparov (SIBUR) and Antonio Geusa, art historian and writer discussed the position of Russian art and the ways to popularise it both globally and within the country. Dr. Geusa made a start of the panel session by presenting the results of an opinion poll, in which 140 participants had shared their vision on Russian contemporary art. Afterwards, Richard Wallis questioned the panel about the grim market situation for Russian contemporary artists. A kinetic installation by the Russian artist Ivan Gorshkov, Cosmoscow 2017 Artist of the Year, added a whimsical flair to the event. The work, branded "Cocktail Reception Gone Wild" was an artistic rethinking of a cocktail reception as a social form. 
The event was co-organised by Cosmoscow, MMOMA, and ROSIZO/NCCA with kind support from the Vladimir Potanin Foundation, SIBUR, Simple Wine, Illy, NEMOSKVA, Russian Art Focus, and the Ural Industrial Biennial.