News
RIBOCA — Postponement or End?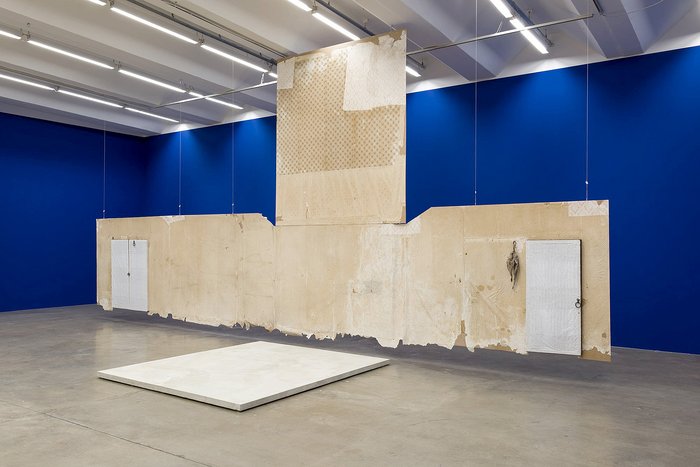 Jeewi Lee. Accusation (Vorwurf), 2021. Commissioned by RIBOCA3. Courtesy of the artist. Photo by Marcus Schneider
The third RIBOCA Biennale of Contemporary Art was due to open in Riga on 10th of August, but in early July the festival was suddenly cancelled. Art Focus Now investigates.
The first Biennale of Contemporary Art was held in Riga in 2018 and from the outset it had colossal ambitions. For the duration of nearly half a year, works by over one hundred artists in a wide variety of different genres and media, from video art to performances and happenings, were presented at a dozen venues scattered throughout the city. The scale was impressive and the Latvian art community quickly raised questions about how it was being funded. It transpired that it was the initiative of Russian-Lithuanian Agniya Mirgorodskaya, commissioner of RIBOCA, whose father is the Russian billionaire Gennady Mirgorodsky and it was he who has been financing the venture.
Nicknamed the 'crab-king' in his native St. Petersburg, Gennady Mirgorodsky owns the largest fishing companies in Arkhangelsk and Murmansk. He also trades in tobacco products, and three years ago he acquired a 25 per cent stake in Ruskhim, a company which is building Europe's largest natural gas-to-methanol complex and a marine shipping terminal in the port city of Ust-Luga near St. Petersburg.
This was not the only source of funding, however, as RIBOCA has received support from Petr Aven, co-owner of Alfa Bank. He has dual Russian and Latvian citizenship and is known for his love of art and extensive private collection of Russian paintings and Russian and Baltic porcelain from the first half of the twentieth century. In 2022 shortly before the outbreak of the conflict in Ukraine he had purchased a historical building opposite the National Art Museum in Riga with plans to create a new private museum in the city. As part of the EU sanctions imposed on Aven, the building was arrested last year, athough it is understood that his 'Generation' foundation ('Paaudze') is continuing to do some charitable work. In February 2023, the foundation announced the opening of an exhibition of Riga porcelain at the Ogre Museum, but at the last moment the local authorities in Ogre, a small town close to Riga, decided to cancel the exhibition.
A third edition of RIBOCA had been planned for the summer of 2022. But the day after Russia's attack on Ukraine, Agniya Mirgorodskaya announced that the event would be postponed until 2023. Instead of an art show, RIBOCA organised a charity centre for refugees coming from Ukraine, a project called 'Common Ground' which is still operating. It is an initiative which has raised some eyebrows among some locals suggesting that the centre itself was conceived to shield off awkward questions about the Biennale's funding. Earlier this year, RIBOCA had ostensibly rejected Russian money, and Mirgorodskaya made a statement in public that the Biennale was funded by her husband, American businessman Robert William Pokora. Further research into this, however, revealed that in fact only 150,000 Euros had come directly from Pokora's business and that the largest donation of around seven hundred Euros had come from Agniya Mirgorodskaya herself.
Since the first biennale in Riga five years ago, there were suggestions that the owners were looking for grants from the Latvian state budget and it is understood that applications for funding had been submitted to the Latvian Ministry of Culture and the State Fund for Cultural Capital. This was not perceived well in the local Latvian art community who saw it as unfair competition and an encroachment from outside on Latvia's sovereign money.

Many such critics of the Biennale have openly admitted that these substantial funds given to the Latvian art have helped raise Riga's profile as an international art destination and have assisted Latvian artists with financial support and the additional kudos of exhibiting their work alongside established international stars of contemporary art. However, they also speak of a darker flip-side, the role of Russian wealth in the Latvian art world and how it turned into a form of 'soft power', promoting the image of the Russian state.
Some critics went further taking offence at what they saw as arrogance at RIBOCA who talked of their "gift to the city of Riga … [still] on the periphery of contemporary art". And to add salt to a wound, in a statement by RIBOCA there were comparisons drawn between this gift and the Latvian Academy of Sciences a Stalinist high-rise which had once been described as a gift to Riga during Stalin's era.
RIBOCA's first curator was Greek-born art historian Katerina Gregos who has in her previous work extensively discussed Socialism, emphasising that the experience of the USSR cannot be equated with the progressive ideas of true Socialism. In a lecture in 2017, Gregos openly expressed criticism at the destruction of Soviet monuments across former Socialist countries. In Latvia it was a particularly painful subject at the time as local fans of the USSR, Stalin and Putin gathered annually at a grandiose monument to Soviet soldiers in Riga. Most locals saw this as a monument to the Soviet occupation but had never gone as far as dismantling it, the authorities were against this action as the Riga city parliament was predominantly made up of socialists who openly sympathised with Russia and Russian politicians. This all changed after the armed conflict in Ukraine - the monument was taken down.
In 2018, RIBOCA management signed a long-term agreement with the Riga city administration which compromised it in the eyes of opponents to socialism, a problem because the majority of Latvians today tend to vote for more right-wing parties. Defending herself against those accusing her of sympathising with Putin's Russia, Agniya Mirgorodskaya recalls her Baltic ancestry, her mother being from Lithuania and she emphasises that she has not been to Russia for fifteen years. This did not appear to placate her detractors.
Today leading Latvian intellectuals are increasingly supporting the urgent appeal by Ukrainian intellectuals not to co-operate with Russian representatives until the fighting is over. They regard people from the Russian art world as 'agents of influence'.
There is one influential person in Latvia who has spoken out in favour of RIBOCA. Billionaire Jānis Zuzāns, owner of a casino and a chain of slot machines, art collector and owner of the largest private art museum in the Baltics spoke to Latvian media outlet Nra.lv: "I was struck by the widespread hypocrisy in the Latvian art scene. In their projects they preach about an inclusive society. But in real life they are engaged in mobbing and cancel culture" he said. Further, "The reproach that RIBOCA has not expressed condemnation of the war simply doesn't wash with me since it was this institution that founded and developed the Common Ground centre for assistance to Ukrainian refugees."
Meanwhile, on 30th of June, four well-known Latvian artists Ēriks Božis (b. 1969), Maija Kurševa (b. 1981), Armands Zelčs (b. 1978), and Amanda Ziemele (b. 1990) publicly withdrew their participation in the biennale. "I withdrew my participation from RIBOCA because after the 24th of February 2022 our world changed dramatically and I found it impossible to accept money from a Russian business to produce commissioned artwork," explained Maija Kurševa in an interview published on the website Collecteurs.com. "despite the fact that the biennale claims that the money is no longer coming from Russia, the people behind the biennale have not changed. Mirgorodskaya is still the biennale's biggest source of funding. The fact that she cites her husband, the American Robert William Pokora, as the Biennale's biggest donor does not change this".
A few days afterwards, a statement was published on the RIBOCA website with the organizers annoucing their "difficult decision to suspend our plans for RIBOCA3 in Riga, Latvia, originally scheduled to launch 10th August".
The brief statement does not mention any names yet hints that the controversy over Mirgorodskaya's ties to Russia was the main reason for the decision. "Despite our engagement with the local cultural community over the past seven years and efforts to revise our funding structure after the war started, it appears that the heritage of our executive members, which includes Russian among Lithuanian and Latvian nationalities, is something too significant to overcome as the Russian attack on Ukraine rekindles tensions of an occupied past. We've been forced to confront the difficult reality that what we are providing may simply be inappropriate or unwanted in these challenging times, no matter how benevolent our intentions may be. Furthermore, in the best interests of our team and artists' wellbeing, we have decided to pause our efforts".