News
New museums for the New Year in Moscow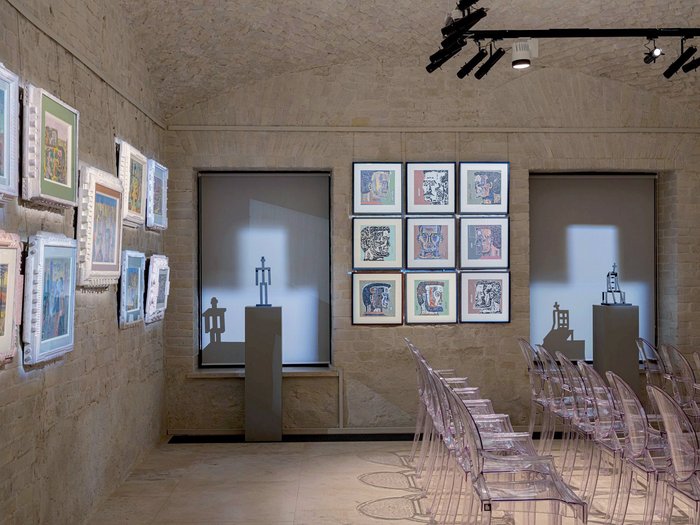 'A Dreamer's Walk' exhibition view at AZ ART. Courtesy of AZ museum
Against the odds, three new museum venues have opened in Moscow this December, and all of them - a new branch of the AZ museum, a corporate Museum of the Livre d'Artiste and the ultra high-tech Museum of Cryptography - have contemporary art on view.
Like many of my fellow Muscovites, these days my social media feed consists of posts by friends and acquiantances offering their Moscow and St Petersburg flats for rent, interspersed with their portraits on picturesque backgrounds in Tbilisi, Tel-Aviv or Bali, where they are urgently looking for a job, CVs to be sent on request. In this context, receiving invitations to openings of new museums in the Russian capital comes as a surrreal but welcome surprise.
The biggest of three new museums to open this month is the Museum of Сryptography, funded by Cryptonite, a Russian hi-tech company working in the field of robotics and big data. The museum occupies a building that used to house a secret research institute, nicknamed the 'sharashka', where inmates of the Gulag worked alongside hired professionals on first Soviet cryptographic equipment. The most famous of them was the writer and critic of the Soviet regime Alexander Solzhenitsyn, who described his experience in sharashka in his novel 'In the First Circle'. The museum recently re-opened after a major renovation of the building and is a teenage tech geek's paradise. Numerous interactive displays and screens tell stories about cryptography and the history of internet in general. Now and then, helpful tips on how to protect your privacy both online and offline appear among the trivia. The exhibition is accompanied by a subtle intervention by photographers Alexander Gronsky (b. 1980) and Arseniy Neskhodimov (b. 1981) who captured the dilapidated interiors of the building before its renovation. Printed on semi-transparent curtains in the corridors or stuck discreetly on the walls, these photos are unobtrusive reminders of the past, and quite possibly they could be perceived as ominous warnings about a possible future. The once high-profile secret research facility of a world's superpower was abandoned and forgotten.
By coincidence, the new Livre d'Artiste museum is also linked to a hi-tech company. Lanit is one of the leading software developers in Russia. The museum is located inside its headquarters, so at the moment it can only be visited by the company's 15,000 employees. However, a public programme of talks and lectures under the brand Livre d'artiste Club is in development. According to the museum's curator, Boris Fridman, all the events will be open to the general public. He is an avid collector of livres d'artiste, limited-edition artist books published in France in the 20th century, and he has organised many exhibitions on the subject in leading Russian museums. Fridman passed on his passion for this genre to his friend Georgy Gens, the founder of Lanit, and helped him to build his own collection. Gens passed awary recently, and the museum has been created as a tribute. Works from his collection will be shown on a rotating basis in a modest-sized room with custom-designed display cases where lights are kept low, in order to protect fragile works on paper. Livre d'artiste Club has also launched a series of limited-edition artist books with top-tier Russian artists. The first volumes illustrated by Leonid Tishkov (b. 1953) and Sergei Shutov (b. 1955) are now ready for release.
The AZ museum, named after Anatoly Zverev, was founded in 2013 by businesswoman and art patron Natalia Opaleva. It is known for its impressive collection of Nonconformist art and for its ambitious multi-media exhibitions that bring together works by Zverev and his peers as well as contemporary Russian art. The museum launched its own Zverev Art Prize in 2021. The institution occupies a rather small, recently renovated three-story building in central Moscow. On December 21, 2022 it has opened a second venue on Maroseyka street. It measures a mere 100 sq.m., yet is even more central being minutes from Red Square. The new branch houses an exhibition of Fyodor Semyonov-Amursky (1902-1980), a VKhUTEMAS alumnus captivated by European Modernism who was condemned as a 'formalist' by the Soviet authorities. After World War II he became a teacher and a guru for a group of younger artists, and his students and followers, including Igor Shelkovsky (b. 1937) who has been promoting his art for many years. Paintings on view are displayed in sculptural frames hand-made by Shelkovsky himself. The exhibition will run until 26th of February, 2023, and a programme of future events will be announced in Spring of 2023. In Russia today, even the most die-hard optimists don't dare to plan too far ahead.
Museum of Cryptography
A Dreamer's Walk