News
Mazepa at Pushkin House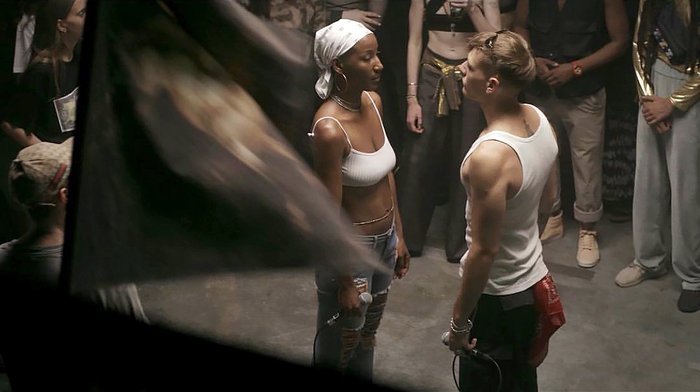 Mykola Ridnyi. The Battle Over Mazepa, 2023. Film still. Image from the artist's Instagram
A new thought-provoking film by artist Mykola Ridnyi 'The Battle over Mazepa' recently premiered at Pushkin House in London, examines a 17th century Ukrainian hero, Ivan Mazepa, casting a light on deeper cultural and historical aspects behind tragic events happening now in Ukraine and it can also be read as part of a wider reassessment of the legacy of colonialisation.
As a conceptual aperitif, I find myself sitting in the bookshop at Pushkin House in London before a viewing of Mykola Ridnyi's new film on the subject of Ukrainian hetman Ivan Mazepa (1639–1709). Among my companions are director Elena Sudakova and writer Dan Hicks, a curator of the Pitt Rivers Museum at the University of Oxford who recently published a book addressing issues of colonial violence and cultural restitution. We talk together mostly about historical British and Russian Imperialism, I argue that questions around Soviet cultural legacy in the form of monuments of Lenin and other communist figureheads, are still very relevant today as I remember well the toppling of monuments in the early 90s, it still feels real to me as though it happened only yesterday. I questioned how relevant British Imperial cultural legacy is now in contemporary thought, after centuries? Judging by the backlash of vehement opposition amongst young intellectuals of today, it is extremely topical, and I need to wake up a bit, if not go all the way (woke, a dreaded word among those of my generation). It seems that history is very much not over.
Of course, as individuals we can choose to leave history alone, but in the wave of tragic events happening around the world today, it is hard to deny the dawning sense that we are now dealing with events left unresolved in the past, including political and social accords once accepted now being questioned, is this not seeping into our present collective consciousness and shaping us today?
Today, our intellectuals are reworking the cultural heritage of colonization, taking a view on legacies by problematic historical figures, in Britain mostly those associated with slavery. One of the most recent public spats was in the 'Rhodes Must Fall' protest surrounding a statue of politician Cecil Rhodes at an Oxford college. Everywhere this colonial legacy is not only cast as stark reminders in the physical monuments we now argue over in public, but in a less material intellectual legacy in art and literature, and art history and literary criticism. And as Ridnyi shows us in his film, we have to reinterpret not only historical figures, but historical figures (they can be famous artists or writers) who created fictions around those historical figures. It is a complex web showing us just how subjective and fragile our own collective sense of history is, and how vulnerable it is to either collective social or political manipulation. In Mykola Ridnyi's powerful new 15-minute film 'The Battle Over Mazepa', two 19th century poets give their interpretations of this controversial historical figure, creating polarising myths which still persist today nearly two centuries later.
Ukrainian artist Mykola Ridnyi was born in Kharkiv in 1985. Although he graduated in sculpture from the National Academy of Design and Arts in Kharkiv in 2008, within a decade he was already experimenting with the moving image at home in Ukraine and broke onto the international scene in 2022 as a curator showing Ukrainian film and video art at venues across Europe, including Italy and Germany. Today his main focus has become photography and the moving image where he balances individual stories against wider social and political realities.
Ridnyi's film addresses some of the deeper nuances behind the current Russian aggression against Ukraine and represents both one of Britain's most famous cultural assets, Romantic poet Lord Byron, and Russia's greatest national treasure Alexander Pushkin. And Ridnyi moves the discourse to show us how implicated Europe is in what often seems like a local conflict, it seems he is aiming at moving the conversation about local problems of conflict. Mazepa betrayed the Russian Tsar, Peter I by siding with King Charles XII of Sweden in the decisive Battle of Poltava in 1709, which Ukraine lost, putting an end to the chance of independence the Swedes had promised in return for their support. It was a personal betrayal that had political consequences: Mazepa had heard rumours he was to be replaced by Menshikov, which promoted his defection. It is a reminder - if we need one - of past historical battles spilling far beyond borders.
Interest in Ivan Mazepa was revived in the 19th century when numerous cultural figures including Victor Hugo, Franz Liszt, Piotr Ilych Tchaikovsky were inspired to write, paint and create music about his life and exploits. But at the beginning of the century, it was Byron and Pushkin who sparked off this new interest and set the tone. The myths they wove flowed from English and Russian quills. For Byron, Mazepa was a heroic figure, flawed, passionate, and inspiring, an alter-ego, where he wiped out some of the murkier sides of Mazepa's conduct towards women which Ridnyi exposes in his film. For Pushkin, Mazepa was a traitor to the Russian Empire, a view that still remains today where he is outlawed by the Russian Orthodox Church.
Here's a rub: if we expect our artists and writers to hold up a mirror to contemporary life just how reliable are they in guiding us, the herd of readers and exhibition goers? Pushkin and Byron are poets shaped both by Romantic sensibilities and fashions, and by the politics of their day. How reliable a narrator does that make them when dipping into historical facts. Is there not a risk of perpetuating unhealthy falsehoods. Both visions of Byron and Pushkin are problematic on some level.
By way of setting records straight, Ridnyi's film is an unresolved battle between these two poets and their versions of Mazepa, he takes no sides. The young actors, Elly, Moka, Exo and Cassian are intentionally drawn from the most diverse communities from across the world (two are immigrants in Europe originally from the Cayman Islands and the Sudan) with different gender identities, and a crucial part of the work consists of a film shown on a loop in the anteroom of the actors who are taking to camera about their roles and their own understanding of Byron and Pushkin and how they see Mazepa depicted by them. One of the actors says of Byron 'he was a rapper, he dug into Mazepa's soul as opposed to Pushkin who was telling a story, he was a traitor to his country, but Byron wanted to do him justice'. Ridnyi couches the dialogue, which often feels spontaneous and unscripted, in rap, which brings a contemporary, offhand beat to the impassioned clashes between Byron and Pushkin and Mazepa and the Russian Tsar. Yet crucially, Ridnyi leaves interpretations open, it is us the viewers who need to do the thinking and take away what we want from the film. Pushkin House in London seemed like the perfect location for this film, at a time when its own name is being questioned by many, where answers are also in short supply.