News
Marina Loshak's stylish exit from the Pushkin Museum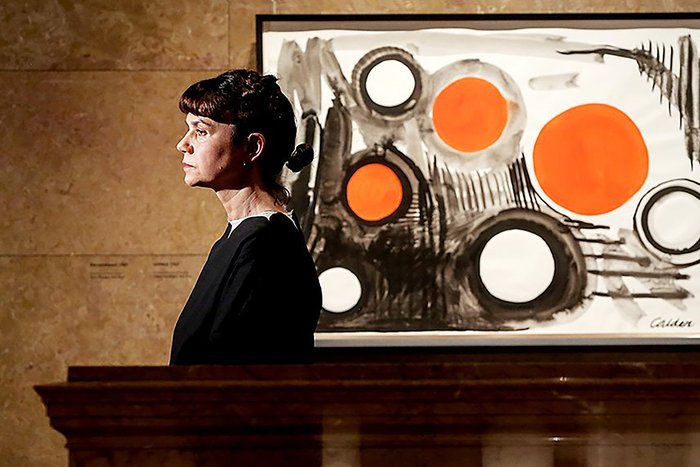 General Director of the Pushkin State Museum of Fine Arts Marina Loshak at a retrospective exhibition of the American sculptor Alexander Calder at the Pushkin State Museum of Fine Arts. Photo: Sergey Savostyanov/TASS
The director of the Pushkin State Museum of Fine Arts, has handed in her resignation. Marina Loshak will be succeeded by Elizaveta Likhacheva, Director of the Shchusev Museum of Architecture, which in turn will be headed by Natalia Shashkova.
The reshuffle of top staff in Russia's largest state museums continues. Following the departure of the directors of the State Tretyakov Gallery and the State Russian Museum, Marina Loshak, who has been at the helm of the Pushkin State Museum of Fine Arts in Moscow for a decade, has decided to leave her post before her term was due to finish.
"The museum is in great shape and there is a strong team culture. Exhibitions are scheduled until the end of 2025, there is educational programming in place as well as plans for the development of the regions. Construction remains a challenge: we depend on funds which the state has to allocate for its completion however I believe the state fully understands the importance of this," she said. According to Loshak, "the past ten years have been a very happy adventure for me personally and it has changed me for the better. More than anything, I love and will miss my colleagues at the museum".
Recently it became clear that Marina Loshak's tenure as director might be under scrutiny after the dismissal of Zelfira Tregulova, the highly respected and successful director of the Tretyakov Gallery, whose contract was not renewed. Marina Loshak decided not to wait for the Ministry of Culture to make its decision and handed in her resignation. Her contract had been due to expire in early April. "It needs to be my decision," she told The Art Newspaper Russia.
The unspoken creative rivalry between these two heads of Russia's most emblematic museums over recent years in fact led to a true museum renaissance in Moscow. They attracted new supporters into what is a rather conservative sphere as well as bringing world-class exhibitions to the Russian public.
It had been widely rumored that Marina Loshak was handpicked by the formidable and legendary Irina Antonova to be her successor. Antonova steered the museum with a steady hand for a record number of years and, even after taking up the honorary position of president, never stopped working at the museum until her last days. Loshak heroically took on the task of working under her elder colleague's scrutiny, yet diplomatically distancing herself and asserting her own understanding of the museum. From the outset, her manifesto pledged openness to new, fashionable and contemporary trends. There were interventions in the museum by international stars such as Wim Delvoye (b.1965) and Cai Guo-Qiang(b.1957) who created impressive installations outside and inside the museum for the centenary of October Revolution; and Viktor Pivovarov (b.1937) and Alexander Ponomarev (b.1957); or collaborations with Russian designers who created souvenirs for their exhibitions.
Loshak understood the need for change and created a special department at the Pushkin dedicated to media art under the curatorship of Olga Shishko. Their professional collaboration dated back to when Marina Loshak was art director of the exhibition space at the Moscow Manege and invited Olga Shishko to spearhead an innovative project by famous director Peter Greenaway, dedicated to heroes of Russian avant-garde. A celebrated achievement of the Pushkin's media department was the blockbuster exhibition by American video artist Bill Viola, whose works are a natural fit with the traditional subject matter of classical art.
The Pushkin was the first museum from Russia to draw attention to itself at the Venice Biennale, staging special exhibitions of art by contemporary artists reinterpreting classical art. The first was titled 'Man as a Bird. Images of Journeys', followed by 'There is a Beginning in the End. Tintoretto's Secret Fellowship' staged when the Hermitage took part in an exhibition in the Russian pavilion.
In general, Marina Loshak's directorship fostered a contemporary perspective on classical heritage, as a continuity of artistic experience, with the new being born out of the old. It became the museum's credo. Its apotheosis, the exhibition 'Odd Convergences' by renowned curator Jean Hubert Martin, brought together different eras and artefacts in the search for interesting connections and continuities. This rapprochement can still be seen in the activities of regional branches of the Pushkin State Museum, which were given to the museum after the dissolution of the State Centre for Contemporary Art. In the Arsenal in Nizhny Novgorod there is now an exhibition 'Labelled by Vasari. Renaissance', where Renaissance works drawn from the museum's collection are juxtaposed with works by contemporary artists.
Yet those for whom the Pushkin Museum is a place for traditional masterpieces of world art have not been disappointed. There have been numerous critically acclaimed blockbusters: a Caravaggio exhibition, a Gainsborough exhibition, the first London School exhibition in Russia, an exhibition of classical Japanese art, and a recent exhibition of Egyptian antiquities. Two exhibitions of French Modern art, part of an international, inter-museum project dedicated to the legendary Russian collectors Sergey Shchukin and Ivan Morozov attracted unprecedented interest in the public.
All of these exceptional art exhibitions were set against large-scale construction work. Several buildings are currently still in the state of reconstruction. Once completed, there will be an entire ensemble of buildings called 'Museum City'.
Now this gargantuan operation will lie in the hands of Elizaveta Likhacheva, director of the Shchusev Museum of Architecture. During her charge there she gained widespread respect, overcoming initial concerns about her professional background, and became known as an efficient trouble shooter, overseeing the transfer of architect Konstantin Melnikov's house to the museum. After its reconstruction is completed, it might finally become a museum dedicated to this great, pioneering Russian 20th century architect. Natalia Shashkova, who will take over from Elizaveta Likhacheva, will be in charge of continuing this work. Before her appointment she worked at the Shchusev museum as head curator and deputy director for inventory and storage work.
Elizaveta Likhacheva has an idiosyncratic style as well as an innate understanding of the role of a contemporary museum today. Now all eyes will be watching how she proves herself at one of the most legendary museums in the world, this time stepping not into the shoes of Irina Antonova, but those of Marina Loshak.
This article was first published in Russian on the website of The Art Newspaper Russia on 21 March 2023.