News
Feminist Artist Cleared of Pornography Charges But Battle Not Over Yet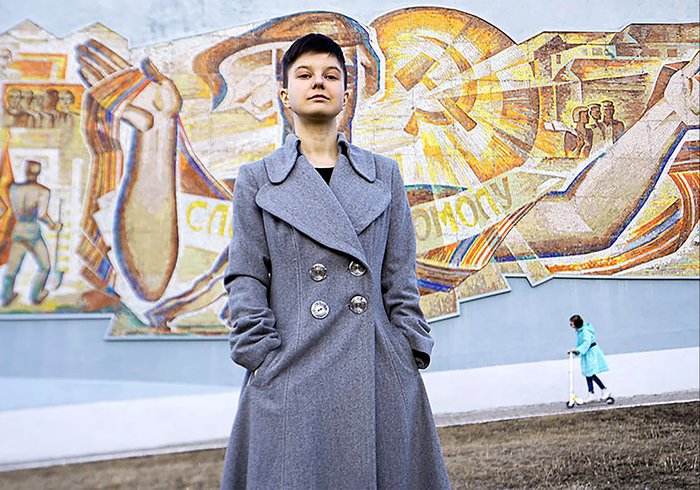 A court in Komsomolsk-on-Amur in the Russian Far East has acquitted Yulia Tsvetkova, a 29-year old feminist artist, LGTB activist and stage director, who was recently declared a foreign agent by the Russian authorities, of disseminating pornography charges.
The final hearing in the high-profile case of Yulia Tsvetkova, recently labelled a foreign agent by the Russian authorities, took place on Friday. The acquittal can be overturned.
"The trial which has gone on for three years has ended in victory for the defence. We are celebrating, however her ordeal is not completely over yet. Within ten days, the prosecutor's office can file an appeal," Anna Khodyreva, Yulia's mother, wrote on her Telegram channel.
The news came as a big surprise because only one percent of defendants in Russian criminal cases are acquitted.
Earlier this week, the prosecution requested a jail term of three and a half years for the Russian artist, who posted body-positive drawings online, for the "production and dissemination of pornography."
The charges arose from Tsvetkova's role as a social media administrator for an online community called "The Vagina Monologues." The project which came to the attention of the authorities features abstract depictions of female sexual organs made by various different artists, not Yulia herself, and aims at removing stigmas attached to women's bodies. At the current time there are over 3,700 followers on the project's dedicated page on Russia's leading VK social network.
The trial, which came on the back of two years of criminal investigation, has been dragging on since April 2021. It has been closed to the public and press at the behest of the prosecutors who had to show pornographic imagery as evidence. Tsvetkova held a hunger strike last spring demanding that the proceedings be made public, but to no avail.
"The investigation has been going on for two years. Two years stolen from my life. For reposting. I have a simple demand. I ask the state 'be a man!' Do you want to convict me? You are welcome, but do it openly. I ask you to open my trial to the public, the grounds for closing it are implausible," Tsvetkova wrote at the time.
The Tsvetkova case, which has been widely discussed both in Russia and internationally, goes back to November 2019, when Yulia was detained as a suspect for spreading pornography because of her body-positive drawings. The comic-like pictures the artist made as part of a series entitled "A Woman is not a Doll" were accompanied with captions stating it is alright for women to have hair on their bodies, to have body fat or to menstruate. Tsvetkova's apartment was searched and she spent four months under house arrest until March 2020, at which point she was released yet not allowed to leave. In the end, the experts could not find any illegal content in the drawings.
Nevertheless, Yulia and her mother Anna, who runs an educational club for children, said in various interviews that their confrontation with the authorities in Komsomolsk-on-Amur, a medium-sized city that once was a regional crime capital and a key perpetrator of the Gulag system, began even earlier.
In February 2019, the city council had raised concerns about the 'Blue and Pink', a play on gender stereotypes, which Tsvetkova planned to stage at Merak, an amateur youth theatre set up by her and her mother where children and teenagers put on plays about bullying, growing-up, as well as anti-war pieces. Police questioned some of the youngsters taking part in the project as to whether Tsvetkova had ever discussed LGBT issues with them during rehearsals. Apparently, the authorities were concerned by the title of the play, as the word 'blue' refers to a homosexual man in Russian slang. Following pressure, Tsvetkova ultimately cancelled the performance of the play.
After the investigation into the pornography case began, Yulia received several fines under the Russian law banning gay propaganda among underage people, such as a drawing titled "Family is where there's love. Support LGBT+ families!" showing same sex families with children.
Questions arose as to who could have initiated what became persistent persecution of this feminist artist. At least one of the administrative offence proceedings launched against Tsvetkova was based on a complaint filed by a St.Petersburg anti-LGTB activist Timur Bulatov. Some media outlets went as far as to call Bulatov's statements a key factor leading to the opening of the criminal case against Tsvetkova.
Yulia's mother believes that Bulatov's role has been exaggerated and that both administrative and criminal cases against her daughter were initiated by the FSB (the former KGB).
"I think that Bulatov is not connected to Yulia's cases in any way because the FSB had been looking for an informant for more than half a year. We know about several cases where people were threatened to or advised to testify against Yulia or file a complaint or recognize themselves as victims. No-one agreed," she told Russian Art Focus.
The Tsvetkova case has brought into the spotlight the fate of feminist artists and human rights activists in Russia, whose society remains polarized on LGTB issues. A 2020 referendum saw Russians supporting amendments to the constitution, one of which defined marriage as a union between a man and a woman.
Activists and public figures across Russia and the world have been voicing their support for Tsvetkova, who has been effectively grounded in Komsomolsk-on-Amur over the past three years due to travel restrictions against her. Amnesty International has repeatedly called for the end to all proceedings against Yulia Tsvetkova, calling the charges "absurd," while Human Rights Watch said that the case against her was a blatant violation of freedom of expression and "the state's crusade against non-conformity amid an escalating crackdown on any form of disagreement with official rhetoric."