News
Dressing up for a brave new world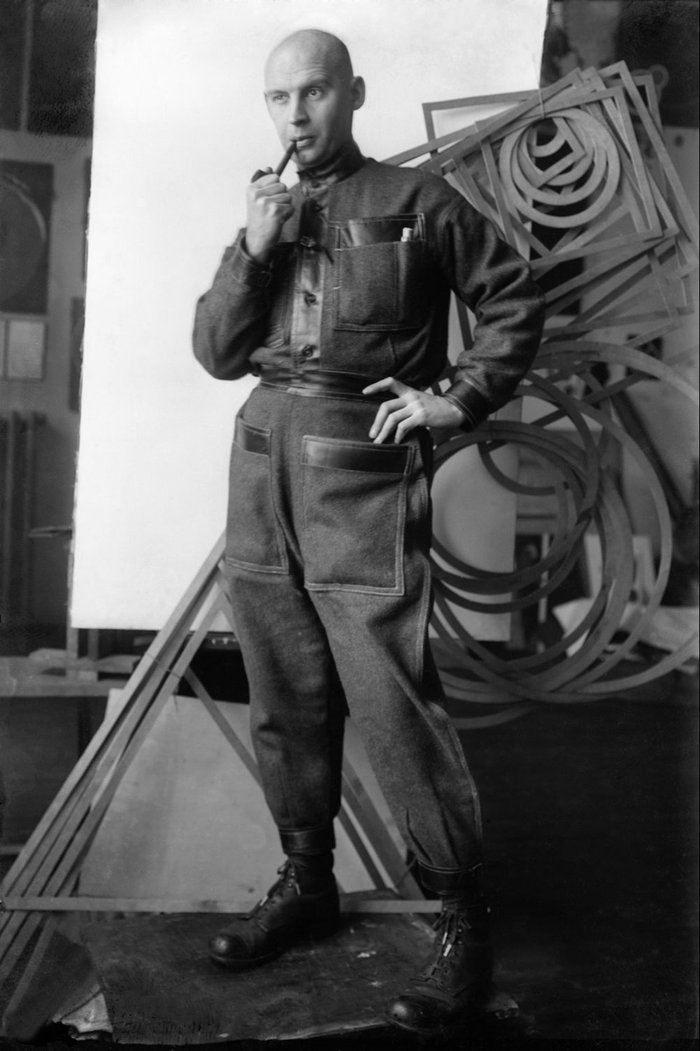 Mikhail Kaufman Alexander Rodchenko in a workshop in a production suit against the background of spatial structures, 1924. Modern print from the author's negative. Collection of Multimedia Art Museum, Moscow
The fashion choices of Russia's Avant-Garde artists' were no less diverse than their creative practices – they varied from modest imitations of workers' or soldiers' uniforms to daring decadence. An exhibition dedicated to the circle of the pioneering photographer and painter Alexander Rodchenko throws light on this lesser-known side of their life.
On September 14, 1913, in what has become a famous performance, Natalia Goncharova (1881–1962), Mikhail Larionov (1881–1964), Ilya Zdanevich (1894–1975) and Mikhail Le Dantu (1891–1917) strolled along Moscow's Kuznetsky Bridge, their faces painted with vibrant, primary-coloured Futurist designs. The young avant-garde artists observed the reactions of onlookers, who were shocked by their flamboyant display. Several years later, after the 1917 October Revolution, the same artistic avant-garde grappled with the question of how Soviet people should dress. The Constructivists reasoned that Soviet clothing should be functional, comfortable and easy to mass produce. Their boxy, androgynous designs, based on the simple geometry of Cubism, came to be known as 'prozodezhda' – a portmanteau of the Russian words for "industrial" and "clothing". The clothing was intended to serve as the post-revolutionary uniform of the future, a kind of anti-fashion that aspired to timelessness.
As it turned out, the avant-garde's utopian fashions never caught on. The experimental, ascetic prozodezhda did not appeal to the proletarian public for whom it was intended. Unpopular and therefore expensive to produce, it was only available to privileged members of the intelligentsia, who preferred Western fashion.
Between the 1920s and 1940s, however, the artistic avant-garde committed themselves to a kind of self-fashioning that combined ideology with practicality, and designated clothing as a symbol of the new social order. Alexander Rodchenko (1891–1956) would often teach his classes at VKhUTEMAS (the Higher Art and Technical Studios) dressed in worker's overalls. One of his students, Galina Chichagova (1891–1966), recalled seeing him for the first time in a "beige jacket of military cut" and "black cap with a huge shiny, leather peak" and thinking that he looked like "a combination of pilot and motorist – a new type of man". The avant-garde also retained the Kuznetsky Bridge group's penchant for shocking attire. The famous Soviet socialite and femme fatale Lilya Brik (1891–1978) owned a translucent black gauze dress, in which she would pose nude.
Art historian Alexander Lavrentiev, the grandson of Rodchenko and Varvara Stepanova (1894–1958), believes that aesthetic differences among members of the avant-garde can be accounted for, in part, by the different art forms which they practiced. According to Lavrentiev, filmmakers and cameramen dressed in functional, weather-proof clothes, as they were often outdoors and had to be visible to their crews, while photojournalists were more innocuously attired in military jackets and plain suits. Writers, he says, were more domesticated in their style – with the exception, perhaps, of the dapper poet Vladimir Mayakovsky, who liked to wear a suit.
It was Lavrentiev who curated the exhibition first shown at the Moscow Museum of Modern Art with photographs by and of people drawn from the circle of his grandparents. The portraits in 'Rodchenko's Circle: Stylish People' are both intimate and playful, suited to performance: Rodchenko poses in prozodezhda overalls, one hand on hip, the other holding a pipe up to his mouth; Stepanova reclines on a divan, coyly looking away from the camera in her plaid jumper and long string of pearls; Lilya Brik dons her black see-through dress and looks up defiantly from under her cloche hat. This exhibition has toured several Russian cities and is currently on view at the Kaliningrad Regional Museum of Fine Arts. In its eighth iteration, it continues to highlight this lesser-known side of early twentieth-century avant-garde life.