News
Bringing art across the iron curtain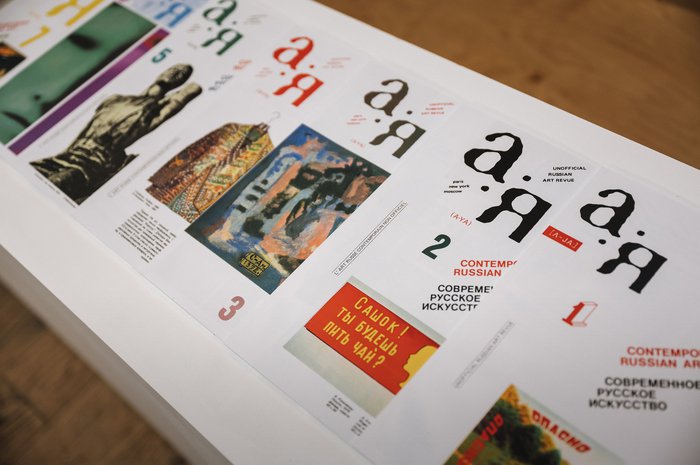 A-Ya', a magazine published by a small group of enthusiasts led by émigré Russian sculptor Igor Shelkovsky, allowed the world to discover the underground art of USSR. Recently, all eight issues of the seminal publication were reprinted – so that readers of today can touch the legend, too.
The famous magazine 'A-Ya' ('А-Я' in Russian, meaning A-Z) comes out for the third time and without a thorough understanding of its origins and its comprehensive influence on Russian culture of the late 20th century, it is impossible to see why so many people might wish to feel the texture of the new paper copy in the epoch of internet and digital technologies. 'A-Ya' was a magazine of contemporary Russian art that focused on unofficial Russian artists, its material was illegally prepared in the USSR and printed in Paris.
One secret lies in the power of its editor's identity, who during the period between 1979 and 1986, was able to regularly work on the magazine, which became the only link connecting the Russian underground and non-conformist artists with the Western World, as it was published in Russian, French and English. Igor Shelkovsky (b. 1937) not only selected the material by himself, but also designed and even crafted 'A-Ya' and the results astonished readers with its high quality and contemporary appearance. It was 'A-Ya' that revealed such important names as Eric Bulatov (b.1933), Oleg Vasiliev (1931–2013), Ilya Kabakov (b. 1933), Igor Makarevich (b. 1943), Alexander Kosolapov (b. 1943) and dozens of others to the world. However, one of the only artists never to be published in the magazine was its creator himself, the remarkable sculptor Igor Shelkovsky.
Throughout its existence, 'A-Ya' has always been tied to brave and altruistic people who were dedicated to contribute selflessly to the magazine. As did Alexander Sidorov, an editor who collected materials and passed them from Moscow and sent them abroad to France, despite the danger of KGB surveillance, while Alexander Kosolapov would then distribute the magazines in New York. Later, in the post-Soviet period, 'A-Ya' received support from patrons, such as Shalva Breus, publisher of ArtChronika magazine, who reprinted 'A-Ya' in one volume in 2004, and today, over forty years since it was first published, Natalia Opaleva, art collector, philanthropist and owner of the AZ Museum has carried on the legacy of 'A-Ya' by printing it for the third time in the most complete version. This includes the literature issue #1 that was originally released in 1985 between the issues #6 and #7 featuring Eduard Limonov (1943–2020), Dmitri Prigov (1940–2007), Vladimir Sorokin (b. 1955) and others.
Perhaps that is why with each reprinting, this magazine remains as powerful, relevant and moving as it was in the seventies, eighties and as it still is in our days, when despite the abundance of exhibitions, fairs and galleries, we lack a personal and philosophical magazine, in which artists can express thoughts on their work and their views on life and art as they did in 'A-Ya'. On a special visit to see Igor Shelkovsky at his dacha yesterday, he confirmed my feelings about 'A-Ya's core saying: "A magazine can be small or big, thick or thin, with coloured illustrations or without, the most important thing is the texts and who writes them." Hopefully the republishing of 'A-Ya' will once again boost interest in our contemporary non-conformist artists not only abroad, but also in Russia.