News
Archstoyanie: a breath of freedom, or a dream on bones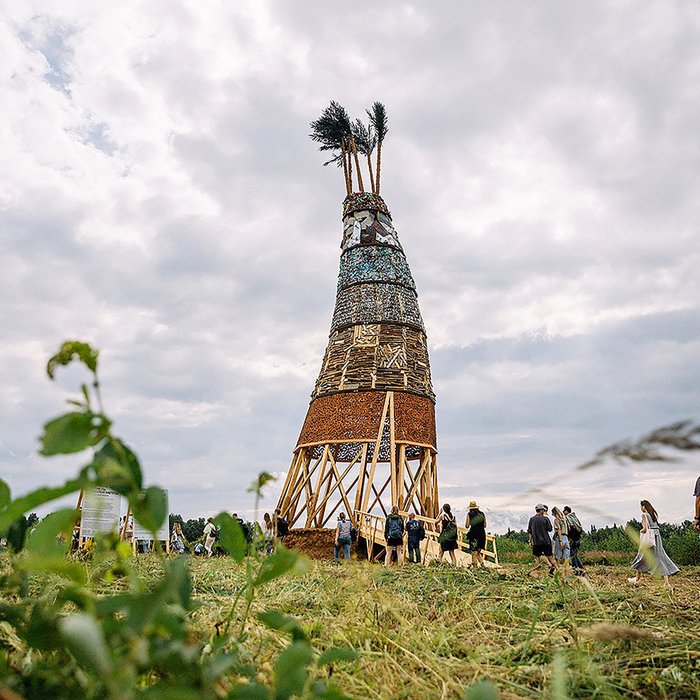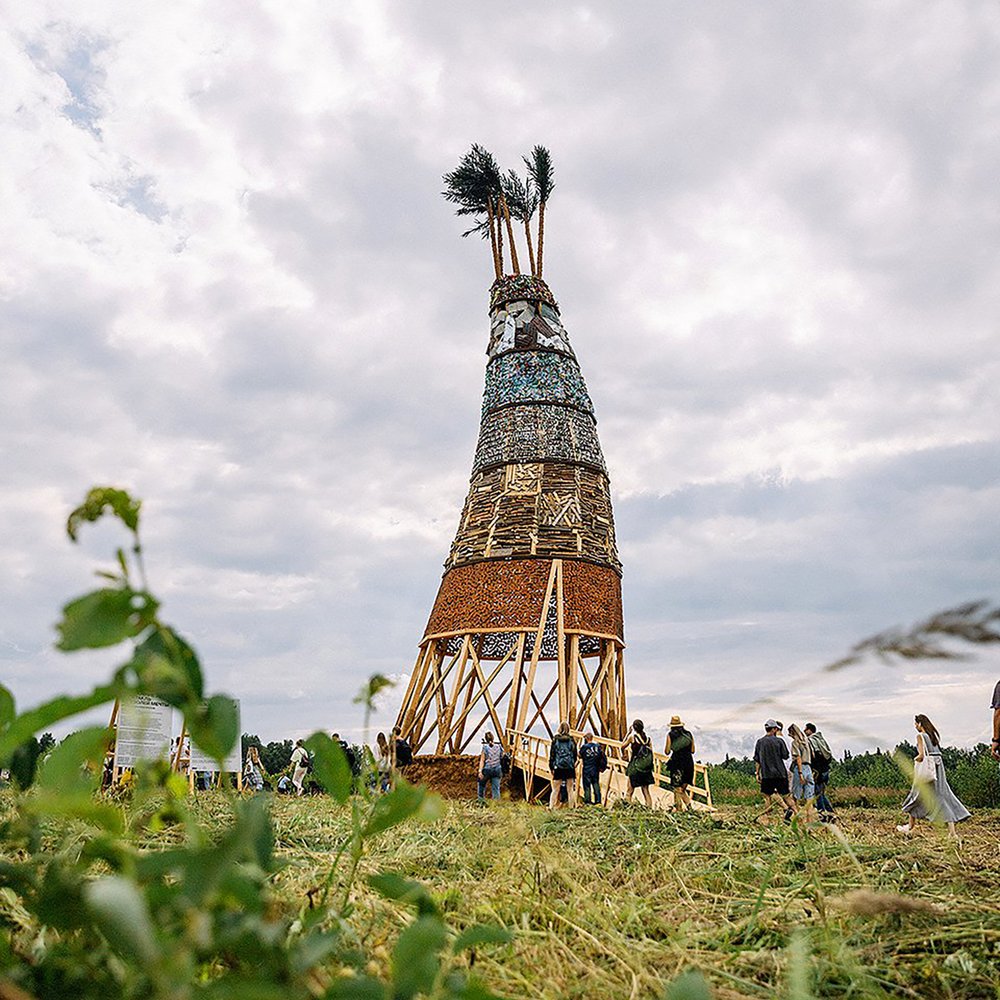 Totan Kuzembayev . Mausoleum of dreams, 2022
The 17th edition of Archstoyanie, Russia's open-air festival of contemporary art in the village of Nikola-Levinets, invited visitors to sleep, dream and roll about in mud.
'Today I dreamt there is no oxygen in Russia. It just disappeared, people couldn't breathe, they were falling down and dying of suffocation in the streets.' This was one of the dreams recorded in Roman Sakin's (b. 1976) project 'Sanatorium of Sleep' made for this year's edition of Archstoyanie. According to the artist it was a reminder that 'sleep is not only a state necessary for our bodies, but also a space of freedom'. Another dream reinforces his point: 'I dreamt about a statue of Stalin, somewhere in St. Petersburg. It was called the Hydra…it was in the Classical style… I saw Stalin's face, with shoulder-length hair and claws on his hands. He had a naked torso, which ended in octopus tentacles'. Sheets of paper with descriptions of dreams were attached to trees in the Book of Dreams Pavilion where you could sit down at a table and write down what you dreamt about the night before.
Spread out in a clearing in the forest, there were many facilities to choose from in the Sleep Sanatorium. There was a Confessional where you could get absolution; a Pharmacy of Smells where you could choose salts to bring on sleep; there was a café where you could sample and drink calming potions and eat purple biscuits to envigorate your eyes and tongue. You could relax in a hammock or on a bunk bed with white linen, listening to a soporific chorus of yawning angels or the measured tapping of knitting needles. Such therapy for these anxious times immersed the festival-goers in a much needed, liberating state of mind.
It is not easy to reach Nikola-Lenivets from Moscow, the drive takes at least four hours, and on the final stretch of road, which is only now being cleaned up, there is a gravel track. You find the village on a bend of the Ugra River, a site of the 'Great Stand on the Ugra River' a famous historical non-event that ended the Mongol-Tatar yoke in 1480, when Russian and Tatar armies faced each other from opposite banks of the river. It lasted a few days before both sides withdrew without a battle.
There are, however, no reminders of past military victories at Nikola-Lenivets, it is a place of exceptional beauty. Nikolai Polissky (b.1957) founded the festival back in 2006, and among the village's small, moving population he has sourced and trained craftsmen over many years to create the giant wooden sculptures and conceptual objects for which he is well known. Today the festival attracts thousands of visitors from the Russian capital and from the nearby city of Kaluga and it has spawned two new, parallel festivals: a children's Archstoyanie and a music festival called 'Signal'. Many visitors come for the day, others stay the night in local guesthouses and campsites, soaking up a spirit of cameraderie and togetherness that is not so easy to find these days.
'Happiness Exists' was a title for this year's festival, which art producer Yulia Bychkova and curator Anton Kochurkin had initially come up with, however, after the 24th February they decided to add a question mark at the end. The new title, 'Does Happiness Exist?' invites the visitors to think about the future as much as the present. This year, the Archstoyanie open call received 281 entries, and only eight new works were selected from a shortlist. Among them, 'Big Mud or the Black Hole of the County of Nikola-Lenivets' by Daria Lisitsyna (b. 1981) and Co. was a pit filled with healing sulphuric mud. Exuding positivity the artist sat in this pit and invited viewers to join her (fortunately there was a shower is nearby, and it is easier to wash dirt off your body than to whitewash your reputation). Perhaps the best piece from the open call was SON architecture's 'Black Stripe', a path of small shards painted in black leading to Polissky's monumental 'White Gate' produced in 2016, reminding us that every black patch, however long, does come to an end.
There are many works by Russian artist and architect Alexander Brodsky (b. 1955) at Nikola-Lenivets, and this year he created a new work called 'Six Acres', a symbol of Soviet happiness. Six acres was the standard size of a dacha plot for every citizen in the USSR. Here, building a two metre high brown metal fence, the artist closed in six isolated squares, three in each row. 'I chose the ugliest colour' admitted the artist; the work serves as a reminder of the isolation to which many aspire. Sergey Shekhovtsov's (b. 1969) 'Aquarium', an open metal minimalist, monumental sculpture 'volume' in the forest reminiscent of a fish bowl enlarged to a scale of 1:10, in part calls for solitude. It's a fish tank designed not for fish, but for people, made thanks to the sponsorship funds from Moscow's AZ Museum and its founder, art patron Natalia Opaleva.
This is an overture to a major new work commissioned for the sculpture park at Nikola-Lenivets, called 'The Mausoleum of Dreams'. It was conceived by Totan Kuzembayev (b.1953), and realised with funds given by art collector Peter Aven. Kuzembayev is one of the country's leading masters of wooden architecture and this is his first commission for the art park. He has created a multi-coloured construction which stands out here among all the wood, yet is perfectly suited to the spirit of Nikola-Lenivets. At nearly thirty metres high, it is the tallest structure in the park, a multi-storey, curved tower looking up into the sky which seems impossibly light despite being made from heavy, abandoned materials. On a basic level, it poses questions about ecology and the consumer crisis. A lower tier consists of bricks fixed in a metal net, then above this there are planks and there is a higher tier made out of glass bottles most of which the architect brought from home.
'The Mausoleum of Dreams' was dedicated to a similarly titled podcast play by Russian theatre director Dmitry Volkostrelov (who also came up with the 'Meeting/Place', a project consisting of twelve chapels in the forest, where actors were waiting for the viewers to arrive in what was a kind of interactive performance). Inside the Mausoleum itself there is a wooden table with words carved into it which read: 'Dreaming about happiness, don't make others unhappy'. The table has legs made from bones. Some visitors felt the artist's plea was a bit too obvious to be conceptual art - a blunt, no holds barred statement made head-on. For others, it was about something else, hidden in the foundations of the tower, it is as if our dreams are made on bones.