News
A New Book Records Natalia Opaleva's Collection of 1960s Russian Art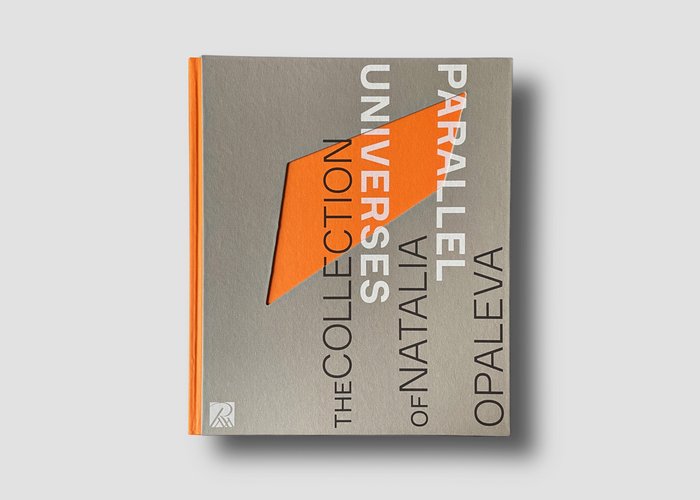 Parallel Universes. The Collection of Natalia Opaleva. From Abstract to Artefact. 2023. Courtesy of AZ Museum
Art patron and founder of the AZ Museum in Moscow, Natalia Opaleva has shown her art collection on a large scale at the exhibition 'Parallel Universes' at the State Russian Museum in St. Petersburg. The exhibition catalogue has recently been published in English and offers us a rare glimpse into her private vaults.
Russian businesswoman and patron of the arts Natalia Opaleva belongs to a small group of collectors who made a name for themselves at the turn of the 2000s and rehabilitated the art of the Soviet non-conformists, which in the new artistic context after the collapse of the USSR had fallen into obscurity. Natalia Opalev's greatest passion has always been for the work of Anatoly Zverev (1931–1986), a Moscow artist known for his rapid portraits and spectacular gestures, a colourful personality surrounded by myths. Opalev fell under his spell, buying her first Zverev in 2003 and building an impressive collection of his work although later adding many other names. 'Portrait' by Natalia Opaleva as a collector was shown at the recent 'Parallel Universes' exhibition at the Russian Museum in Saint Petersburg and now for anyone who missed the exhibition there is a dedicated catalogue which was published for this show.
It is by his lesser known works that Anatoly Zverev is represented in the catalogue. The artist is best known for portraits of people drawn from his inner circle but here there are many self-protraits about which art historian Alexander Borovsky wrote in his article for the catalogue, "the artist gradually reveals himself through the lens of the mythology of the Artist" and "in displaying himself in the image of the Artist, Zverev is setting himself tasks that expand beyond self-portraiture: he is looking at artistry per se". Then there are early graphic works referring to Malevich's Suprematism and avant-garde aesthetics, which are here in abundance. Gravitating towards non-objectivity, these sheets are executed in the spirit of the figurative abstraction of the Soviet non-conformists, as described by Borovsky. Geometric figures and colour planes here, unlike for the avant-gardists, do not refer to the image of the world of the budetlyane - 'people of the Future', according to the terminology of Russian Futurism - but are composed into domestic and portrait sketches and acquire not a quality ofsublimity, but a kind of everyday emotional colouring.
Opaleva's collection, Borovsky suggests, is formed around "connecting people". Pyotr Belenok's (1938–1991) work is a fusion of expressive abstraction, interest in pop culture and "new cosmism", embodied in Soviet art by Yury Zlotnikov (1930–2016) and in international art by the spatial composition-cuts of Lucio Fontana (1899–1968). Eduard Gorokhovsky's (1929-2004) work is a bridge between painting and photography. Works by Lydia Masterkova (1927-2008) "who expresses herself on a large scale in various hypostases, from creating archetypes to using psychedelic means" combine an interest in Modernist abstraction as well as local sensibilities and history: she often used lace and brocade found in abandoned churches in her non-objective works.
Masterkova is not the only female artist in Opaleva's collection. The catalogue offers a fascinating insight into the artist Rimma Zanevskaya-Sapgir (1930-2021), taken out of the immediate context of the 'Dvizhenie' (Movement) group to which she belonged and where she has often remained in the shadow of its other representatives, all founders of Kinetism art in the USSR. "We can now be sure that her name won't be forgotten," Borovsky observes in his article, which provides an excellent orientation through the complex cartography of the art of the 1960s, a cross-section of which is covered in Opaleva's collection. Since such representative cross-sections now exist in considerable numbers in Russian private collections, a comparative analysis of the various strategies of private collectors today is now sorely lacking (although this is hardly the subject of a catalogue article).
The AZ Museum, dedicated to Zverev and named after his initials which he used to sign his works, founded by Opaleva and opened in central Moscow in 2015, deserves a separate mention in the book. As art historian Mikhail Kamensky notesabout the museum's art director Polina Lobachevskaya, "[she] presented a new interpretation of the art of the Sixties that has allowed technology to illuminate and bring to the fore previously unknown [...] qualities in works that had been hidden from the viewer and were ignored over the preceding decades". A private collection is something which is mostoften hidden from view, and this exhibition, as well as its catalogue, makes it possible to introduce these works into new artistic perspectives, even when this art seems to have been already studied from all existing angles.
Parallel Universes. The Collection of Natalia Opaleva. From Abstract to Artefact. 2023
The book can be ordered on the website AZ Museum