Discoveries
Voices of resistance. Belarussian protest art goes global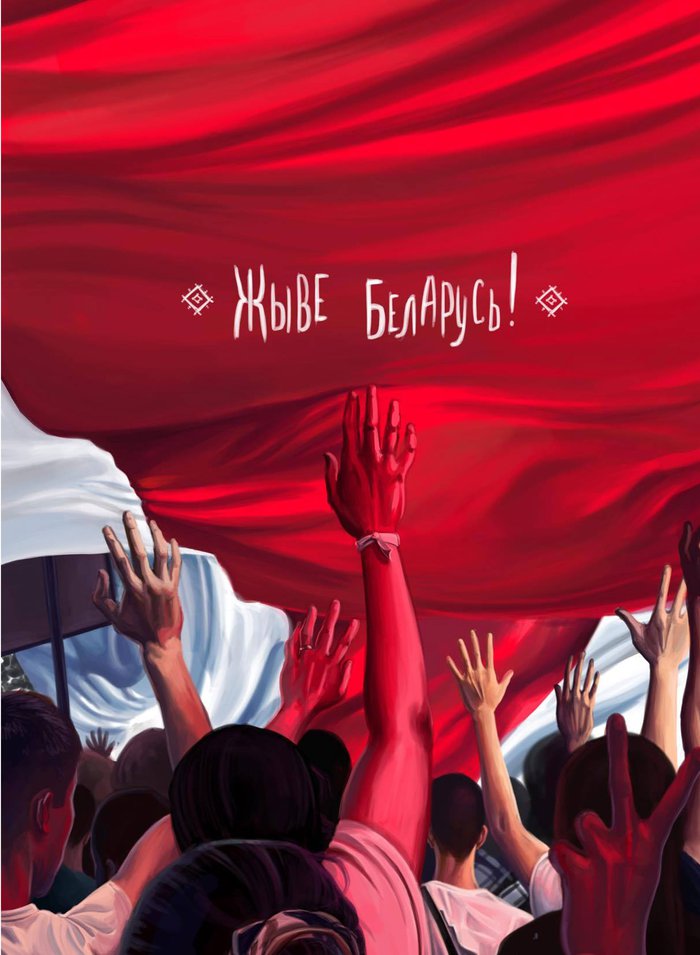 Nationwide protests in the small Eastern European country of Belarus have inspired a surge of political art and have given Belarussian artists unprecedented global visibility.
On August 10, 2020 , after the results of presidential elections were announced in Belarus, large-scale protests against the long-term leader of the state Aleksander Lukashenko started in Minsk and across the country. Civil outcry has since gone on for many months. Pro-governmental forces violently suppressed people who went out to the streets to express their discontent with the country's authoritarian rule. Thousands of protesters were put into jails, many were tortured, some even killed. And yet, this lawless cruelty was not able to silence the nation. It has probably been the most tragic and, at the same time, the most glorious year in the recent history of Belarus, as social turbulence triggered cultural mobilization on an unprecedented scale.
All over the world, especially thanks to social networks, art has become a powerful weapon of political resistance and an essential part of contemporary protest language. Belarus is no exception to the rule. Performances, poster art, viral photos and videos –Belarusian activists use all possible media to convey their message. Artist Antonina Slobodchikova (b. 1979) created the logo for the political campaign of Svetlana Tikhanovskaya, Lukashenko's main presidential rival. Her work 'Heart, Fist, and Victory Sign' (2020) became one of the most iconic images of Belarusian revolution. In the age of the pandemic, digital dissemination of protest art has become particularly important. Newly created Belarusian digital art magazines – cultprotest.me and Chrysalis Mag, as well as traditional social media, play an important role in spreading the word.
An outcome of the protests has been the sudden international visibility of Belarusian art and culture. Up until recently, Belarus remained a blind spot on the global cultural map. Today, the international community is gradually discovering Belarus's vast cultural heritage together with a vibrant contemporary art scene. A large-scale exhibition of Belarusian protest art called 'Every Day' opened on March 25 at one of Ukraine's largest art centres – Mystetskyi Arsenal in Kiyv – and numerous online events have been recently held in Germany, France, Poland and other countries. In the United States, activists and curators of Belarusian origin wrote about their country's protest art and open thematic exhibitions.
Among the most recognizable visual symbols of protest are the works by Prague-based Belarusian artist Rufina Bazlova (b. 1990). Her narrative digital embroideries where the artist uses age-old Belarusian cross-stitching aesthetics in order to tell stories about her country's contemporary condition and its struggle against the dictatorship went viral last autumn. They were featured in major articles about Belarusian resistance and were used as profile pics and loved by thousands of people across the globe. On an international scale, Rufina Bazlova today has become one of the best-known artists from Belarus. On March 3, 2021, Rufina Bazlova's large online exhibition opened on the library platform of UCLA. "While I don't know what the spring will bring us, I continue to draw a better future for the Belarusians," stresses Rufina.
The show is curated by L.A. based scholar and activist of Belarusian origin Sasha Razor. She is one of the most active promoters of Belarusian protest art in the U.S. She is trying to use her academic background in Slavic Studies to explain Belarus and its culture to an American audience. "In traditional Belarusian culture, there is a ritual associated with textiles called 'rushnik-abydzennik', which is a towel woven either overnight, from sunset to sunrise, or during the daytime, from the break of the day to nightfall. Women traditionally would gather in a group and perform this rite in order to make a sacrifice to ward off trouble in their village. In Belarus, the last time this ritual was used was during the World War II. It seems to me that, today, with the formation of a global diaspora, this tradition is continued not only by Rufina and me, but also by Belarusian artists around the world, who are creating their art for the sake of our country's better future," says Razor.
Another Belarusian project is the exhibition 'Face It. Faces of Belorussian Protest', which opened on March 27 in Newman's Fine Art gallery in San Francisco. It is the second show organized by Belarusian female art-activist collective 'Belarus SF Art' (Nadzeya Norton, Nadzeya Makeeva, Jenya Kirshtein, Anna Alexeeva and Katsiaryna Kacharova). The exhibition is co-organized by Chrysalis Mag and is dedicated to Belarus Freedom Day. It features protest posters by dozens of Belarusian artists together with documentary portraits of 288 protesters who are currently held in Belarusian prisons. "With the help of this project, we want as many people in the United States as possible to learn about the months-long struggle of Belarus against Lukashenko's regime, to show the faces of people sacrificing their freedom for the freedom of an entire nation," points out Nadzeya Norton, Belarusian activist currently based in Santa Cruz, CA.
Every Day. Art. Solidarity. Resistance
Kyiv, Ukraine
March 23 – May 4, 2021
Face It. Faces of Belarusian Protest
San Francisco, USA
March 27 – April 10, 2021