Discoveries
Vladikavkaz: contemporary art and ethnic heritage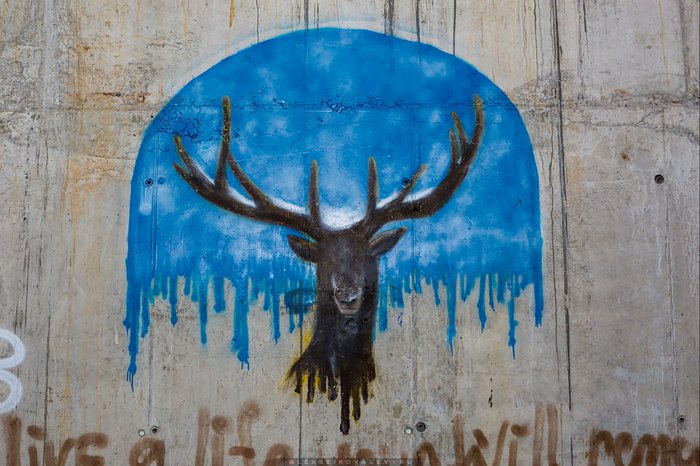 Courtesy of Portal Vladikavkaz
Even among ruins, there are blossoms. Unearthing a portal between the past and future, cultural life keeps growing in the North Ossetian capital.
In 2014, a woodworker and a student of metallurgy met at a frozen construction site in Vladikavkaz, the capital of the Republic of North Ossetia-Alania, which forms a fraught southern border between Russia and Georgia. The woodworker was Soslan Mouraov, a master craftsman of Ossetian musical instruments. He had managed to maintain his workshop at the National Museum of North Ossetia, despite the on-and-off construction. Albert Togoev, the student, felt awe in the presence of Mouraov for his unusual skills as a craftsman and his knowledge of Ossetian culture. An unlikely friendship grew between them. When Mouraov died unexpectedly that year, Togoev nevertheless went forward with what had become a cultural project with gathering momentum. He tapped into the woodworker's creative legacy, improvising concerts, conversations around bonfires and film screenings at the defunct lot.
This was the start of 'Portal', a free-form cultural platform that now brims with new life, as well as familiar anxieties. It draws out-of-towners and a young generation of Ossetians and neighbouring North Caucasians with the promise of a welcoming environment, where there is room for exploration and connections. Collaborators only need approval from their peers rather than dealers or funders. In a region with few exhibition opportunities outside the state-run Union of Artists, this may be Portal's most valuable asset. "This will be a carpentry workshop, this one for metalworking, here a ceramic studio and over there, the kitchen, and the stage." Togoev was showing me the circular courtyard of their new premises in a derelict block of workshops on the city's outskirts. Amidst crumbling brick walls, the interiors were bright and warm, filled with sketches, photographs and sawdust.
Over the years, the group has had to play cat-and-mouse with local authorities. Recently, however, Portal and the local government have found common ground in their mutual interest in promoting Ossetian heritage. Vyacheslav Bitarov, the president of the Republic, helped them secure their current workshop space. In 2018 and 2020, they also won Presidential Grants—funding that Togoev said they will use to repair the roof. Despite intermittent state funding, Togoev emphasized that Portal's modus operandi remains independent. "We welcome everyone with an appropriate proposal, who is eager to contribute their strengths," he told me as we looked at a mosaic taking shape across the floor of their showroom. Everyone who collaborates with Portal adds some pieces. Nationalism and religion have long been at the centre of North Ossetia's understandings of heritage. Today, ethnic Ossetians trace their identity and language to Alano-Sythian-Sarmatian tribes from the first century C.E., which developed through encounters with Monglol, Turkish and Russian cultures, among others. While over half the population today considers itself Eastern Orthodox Christian, there is also a significant number of Uatsdin (a Scythian religion) and Sunni Muslim believers.
Galina Tebieva, director of the North Caucasus branch of the National Centre for Contemporary Art, told me that as a curator and administrator, she must navigate the often-debated readings of tradition that exist within Ossetia and the surrounding Muslim-majority region. Mainly, she said she encounters a view of tradition as "dogma", which flattens rather than enlivens the past. "Rich in a historical and cultural sense, the Caucasus has nevertheless been abandoned by the creative and the educated: even modernity itself as a value," she emphasized, "is being lost."
Since 2007, Tebieva has organized the Alanica Festival, an annual exhibition and symposium that involves international and regional contemporary artists. Its online 2020 version invited artists such as Kazbek Tedeev (b. 1982), Anna Kabisova (b. 1984), Francisco Infante-Arana (b. 1943) and Nonna Goryunova (b. 1944) to create poetic digital interventions at historical Ossetian landmarks. This strategy may be the necessary bridge between the past and present — one which does not treat heritage as a falsehood or a nostalgic cloud, but rather as an idea to which artists can contribute their labor within a shared inheritance. Tebieva finds most potential local engagement among the younger generations, who constitute the majority of the NCCA's audience.
Tebieva said that the festival has cultivated a community of artists and curators who are eager to explore the complexities of their region in dialogue with the wider world. The artist Taus Makhacheva (b. 1983), whose work appears in leading international collections and biennales, often explores her roots in Dagestan and has participated in several editions of the Alanica Festival. Most recently, in 2017, together with ten students of GITIS (Russian Institute of Theater Arts), she helped create the project 'With Dagestan in Your Head'. According to Makhacheva, the goal was to consider "how to understand another culture with the help of the cultural code that you possess".
For its part, Portal's programming also suggests that "traditional" and "contemporary" culture need not be antithetical approaches. In the past two months, events have ranged from yoga classes to live concerts; to a 'Hikond' craft market (an Ossetian abbreviation for "homemade"); and a street mural depicting Ossetian sculptor Soslanbek Edziev (1865--1953) by artist-musician Zaur Gergiev.
Members of an earlier generation of artists who came of age aesthetically during the Soviet Union could also benefit from the cultural nimbleness to which Portal and the NCCA aspire. Boris Alborov (b. 1950), has been painting in Vladikavkaz for the majority of his career. During a recent studio visit, he explained that his bright canvases, which filter local cultural references through abstract colour planes, never fit with the Union's brand of realism. "Artists here are pulled between the mind — knowing what they should do to find public success — and the heart — what they fundamentally desire. I decided long ago that no matter what, I had to paint according to my heart."