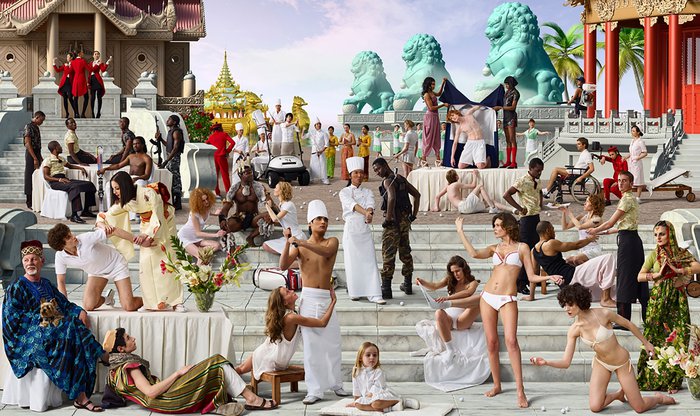 Art is the best way to train your mental powers. Meet five Russian artists inspired by sports who will help to keep your mind fit and agile.
AES+F
This quartet consisting of Russian artists Tatiana Arzamasova (b. 1955), Lev Evzovich (b. 1958), Evgeny Svyatsky (b. 1957) and Vladimir Fridkes (b. 1956) is known for its impressive video work. Each project is a separate universe with a multi-channel video installation at the core and complementary works in other media, mostly photography. The artists use the visual language of glossy magazines and advertising to tackle some of the most controversial issues in today's global world. In 'The Feast of Trimalchio', the second part of 'The Liminal Space' trilogy, a gaggle of glamorous characters arrives at a luxury hotel, where they indulge in various leisure activities. Typically for the group's aesthetics, sport is depicted as a sensual and decadent pastime, a prelude to the work's powerful climax - an orgy where the hotel guests and staff swap their social roles.
Alexander Brener
As one of the leading figures of Moscow Actionism of the 1990s, Brener (b. 1957) is infamous for his controversial performances in Russia and beyond: he once sprayed a dollar sign onto a Malevich painting in Amsterdam's Stedelijk museum. 'First Glove' (1995) is one of his best-known actions. Dressed in underpants and boxing gloves, the artist walked out onto the Red Square and challenged Russian president Boris Yeltsin to a fight, shouting "Yeltsin, come out!" in the direction of the Kremlin. According to Brener, it was an act of protest against a military operation in the rebellious Russian region of Chechnya, which had started the previous year. Yeltsin's controversial decision to invade Chechnya was criticized both within Russia and abroad. The artist chose Lobnoye Mesto for his performance, a place where decapitations were carried out under Peter the Great. Brener's action incurred no legal punishment. The artist was taken in by police, yet released the same day with no charges.
Ilmira Bolotyan
Moscow artist Ilmira Bolotyan's (b. 1980) project 'Immaterial Labour' focuses on the female struggle for perfection under the pressure of our society which expects women to be youthful and attractive – or to die trying. For two years, the artist explored different ways of enhancing her own appearance using various beauty treatments and attending a modeling school. As part of this project, she invented an activity verging on exercise and performance which she termed 'Princess-sizing'. This comprised a kind of aerobics practiced on the street by the artist herself together with non-professional performers wearing provocative costumes and flashy make-up. The movements are simple and easy to pick up, yet the challenge of attracting the attention of not-so-friendly passers-by is not for the faint hearted. The artist, however, claims that 'Princess-sizing' improves your mood, boosts self-confidence and can even cure depression.
Oleg Kulik
Oleg Kulik (b. 1961), best known for his 'Dog-Man' performances of the 1990s, works in many different media including painting and sculpture, photography and video art. His 2002 sculpture titled 'Sportswoman' was inspired by tennis star Anna Kournikova, although not conceived as an actual portrait. The real human hair and sports clothes, the waxen body of the tennis player caught in a moment of sudden, intense movement, all sparks an uncanny feeling in the viewer, it's a bit like the kind of experience you have when visiting Madame Tussauds Museum, a not unplanned comparison. 'Sportswoman' was created as the first sculpture in a series called 'Museum'. The artist originally intended for the tennis player to be followed by other popular icons cast in wax, among them Madonna, Bjork and Yuri Gagarin. However, the project was never fully realized. Two identical versions of the tennis player sculpture exist in the private collections of Ekaterina and Vladimir Semenikhin and Igor Markin.
Katrin Nenasheva
Young artist and activist Katrin Nenasheva (b. 1994) spent many years struggling to attract attention to the lives of people committed to various Russian state-run institutions that are walled-off and hidden from the public's scrutiny. In Russia, jails, orphanages and closed psychiatric facilities have a lot in common: residents are forced to stay there for years or even for their entire lives against their own will and their civil rights are often violated. As a part of her on-going efforts to help inmates of psychiatric institutions, Nenasheva has invented a form of activism called 'Psycho-squash'. The game is played with rackets and balls of different sizes, batted across the fence of an institution which is used as a net. Two teams, one consisting of the inmates and the other of volunteers approach the 'fence' from their respective sides and play until a security guard intervenes to stop the activity. Thus, 'Psycho-squash' gives inmates an opportunity to socialize with people from the 'real' world.