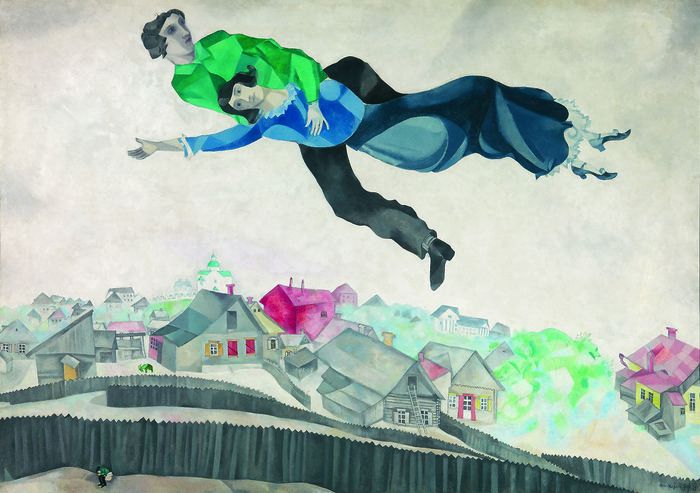 Marc Chagall. Over the city, 1918. Oil on canvas. 141x197 cm. The State Tretyakov Gallery
Marc Chagall left his hometown Vitebsk forever 100 years ago. Seeing this corner of the Republic of Belarus helps understand why the artist's subjects kept floating in the air.
A trip to an artist's birthplace is not just a tourist formality, but a path to understanding the nature of his art, especially that of Marc Chagall (1887–1985) who went on painting his native Vitebsk all his life, long after he had left it. He immortalized that town and its magical characters on canvas, but it only seems he mythologized them when he forced lovers to soar in the sky.
If you stand on the right bank of the Western Dvina river which crosses Vitebsk and look from there at the steep Assumption Hill, it seems people are walking right across the sky and could easily float up into the air. Reality in this town provokes imagination. Vitebsk stands on several high hills and its landscape contributes to optical illusions. From below, it may easily seem that a car (or a cabman in a horse driven-carriage, like Chagall's) is riding over the roofs. Apart from the landscape, little has remained unchanged since the artist's childhood and youth. 
Vitebsk, which had a flourishing Jewish community in Chagall's time, was almost obliterated during World War II. Its churches were destroyed earlier, after the 1917 Bolshevik Revolution. Today, they have been rebuilt and their golden domes once again shine as they did in Chagall's pictures. There were also many synagogues in the artist's time. Today, there is only a big new synagogue and the ruins of an old one. 
Vitebsk's pedestrian Suvorov Street is one of the few on which historical houses have been preserved. The street is crooked and creeps up like any other in Chagall's Vitebsk. There was once a market square here. Nowadays, it can be seen only in the artist's painting 'Market Square, Vitebsk' hanging at the Metropolitan Museum of Art in New York.
Only five percent of the city's residential buildings survived the war, but what is astonishing is that Chagall's parental home is one of the few which did. It is a very ordinary, but solid, one-story red brick house that was built in 1900 by the artist's father. The future artist was 13 years old at the time. The house consists of four rooms and a shop. 
There are no genuine family objects in the house, only their analogues, but they help to recreate the atmosphere of a large Jewish family. As Chagall wrote in his autobiography 'My Life', he always had a piece of bread and butter in his childhood, but only his father ate meat on feast days. 
That museum recounts Chagall's life, including his 1909 meeting in St. Petersburg with his future wife, Berta Rosenfeld (1895–1944). In art history, the name of Chagall's muse has simply gone down as "Bella".  
Another building associated with Chagall that survived the war is the Museum of the History of the Vitebsk Folk Art School. It stands on Marc Chagall Street whose houses are decorated with Suprematist murals. This is generally nonsense, but historically explicable. 
In 1918, Chagall returned to his hometown after a 10-year absence, as the 'Commissioner for Arts in the Vitebsk province', an appointment made possible by the previous year's revolution. Chagall created a Folk Art School. He invited the artist El Lissitzky (1890–1941) to teach there. Lissitzky in turn invited the leading Russian Avant-Garde artist Kazimir Malevich (1879–1935), who had until then been starving in Moscow. Malevich soon converted the Vitebsk artists to Suprematism. An embittered Chagall lost his students and left Vitebsk forever in May 1920.
There is a very romantic portrait of Chagall holding an easel and wearing a wide-brimmed hat which was painted after his return from France by an artist who had taught Chagall for two months in Vitebsk. The painter was Yudel Pen (1854–1937), an artist who opened a private art school in Vitebsk which Chagall shortly attended. That painting now hangs in National Art Museum in Minsk, the capital of Belarus. Sadly, there are no Chagall paintings at the Vitebsk Art Museum.
House-museum of Marc Chagall
A one-story brick house with four windows, in which Marc Chagall lived with his parents, one brother and five sisters from 1900 until his departure for St. Petersburg. It also housed a grocery store where the artist's mother traded. The long-neglected house was renovated and opened as a museum in 1997. The family's original things were not preserved, but the rooms recreated an atmosphere characteristic of a modest Jewish family at the beginning of the last century. There is also a small biographical exhibition and tours are conducted.
Marc Chagall art centre
It was opened in 1992 in a 19th century building. The first exhibits were edition Chagall's graphics donated by the 'Circle of Assistance to the Chagall House-Museum in Vitebsk' (Nienburg, Germany). The artist's granddaughters also made gifts. Pride of place in the collection are Chagall's illustrations of Nikolai Gogol's masterpiece 'Dead Souls'. There are also prints of the works of Fernand Leger, Henri Matisse, Joan Miro and Pablo Picasso. There is a library with art publications in different languages.
Museum of the history of the Vitebsk folk art college
vitebskavangard.by/muzej-istorii-vnhu
The museum, opened in 2018, is located in a mansion, where in 1918–1923 Vitebsk Folk Art School founded by Chagall was located. It is also where Malevich taught. On the ground floor there is an exhibition covering the cultural life of Vitebsk at the end of the 19th and the start of 20th century one. It also includes a room a room in a mock "Suprematist" design. Scientific seminars and conferences are held there.