Discoveries
The Art Ovrag festival: bringing art to the woods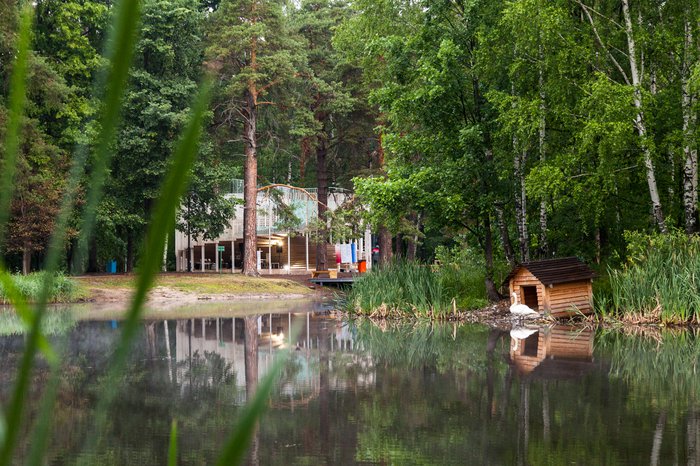 The Art Ovrag contemporary culture festival tries to change the life of the small provincial town of Vyksa, which is dominated by a giant steel plant, but the locals don't always share the curators' enthusiasm for contemporary art.
The town of Vyksa in Nizhny Novgorod region, almost 400 kilometers east of Moscow, does not give off the impression of a tourist mecca or a hipster paradise. It looks like (and in fact is) just an assortment of wooden cottages and bleak Soviet residential buildings, interspersed with patches of forest, all scattered around a huge metallurgical plant. Founded in the mid-18th century, this giant plant employs a quarter of the town's 53,000 residents. For many families, the relationship with the plant spans several generations. It is now part of the OMK group, whose owner, Anatoly Sedykh, occupies 115th place in Forbes Russia's list of the country's richest businessmen, with an estimated fortune of $900 million. 
In short, Vyksa is the most unlikely site for a multi-faceted cultural festival, boldly combining street art with avant-garde theatre, rap battles, electronic music and some skateboarding competitions to boot. Art Ovrag rose to national fame last year when some exceptional site-specific artworks were unveiled. Timofey Radya, a prominent street artist from Ekaterinburg, created a moving light sculpture called "This is not a dream" in a patch of wood previously favoured by local drunks. The simple words, emitting a subdued light, magically changed the place's atmosphere. That gloomy urban cluster of pines and shrubs has turned into an enchanted forest where young couples now walk hand in hand under the stars. Moscow choreographer Anna Abalikhina directed an impressive performance called "Martin's Passions," dedicated to the shutdown of an obsolete open hearth furnace, one of the plant's icons and its major producer of toxic waste. The show, which took place around the hearth itself, received a prestigious Sergey Kuryokhin Award for contemporary art and, recently, Russia's Innovation award, in the Project of the Year category. 
Yet the story of Art-Ovrag (Art-Ravine), which began 10 years ago, got off to a difficult start. As with almost everything in Vyksa, the plant was behind its creation. 
The initiative, led by the owner's wife, Irina Sedykh, was aimed at "diverting young people from bad habits," as she herself puts it. Drug and alcohol abuse are as big an issue in Vyksa as in any other small Russian provincial town – hence the strong focus on sports and the strictly teetotaling nature of the festival. Not even beer is permitted to be sold anywhere near its locations, and most events take place in daytime.
Every summer, Russian and international artists are invited to adorn the town with public art, which remain even after the festival is over. Well-known street artists Stas Bags (St. Petersburg), Slava PTRK (Kurgan Region) and many others sprayed impressive murals on residential buildings. Misha Most from Moscow created the biggest mural in Europe on one of the metallurgical plant's walls, measuring 10,000 square metres. Prominent Moscow artist Leonid Tishkov created a raft with a silvery Moon and set if afloat on an old factory pond that has the dimensions of a lake. 
However, the idea was not initially welcomed by those for whom the project was intended. In a godforsaken factory town with bumpy roads and polluted air, the idea of improving workers' lives by bringing in street artists from Moscow to paint philosophical murals on the walls of dilapidated Soviet-era houses was at the very least naïve, if not downright offensive. The residents complained to the city administration about illegally sprayed walls and even destroyed artworks. One of the three works by the legendary Russian street artist who called himself Pasha183 (1983-2013) was vandalised by the locals. Another was painted over by the city authorities. Only one his art work, ironically called "The Tale of Lost Time," survives. 
After a few years, the organizers realised their mistake. They shifted the festival's focus to food, sport events and open-air theatre shows and started to collect feedback from the residents. The programme of this year's June 14-16 festival, curated by Yulia Bychkova and Anton Kochurkin and entitled "When Today Becomes Tomorrow," included an exhibition of local talents chosen through open call. This featured stuffed animals and some amazing specimens of art brut sculptures created in wood and metal. One of the three public art objects unveiled this year was created by a local entrepreneur and amateur artist, Andrei Matchin. His "Binary Clock" which looks more like an abstract sculpture, can indeed tell time and will display the results of on-line polls about local issues. 
Yet the most impressive contribution to this year's edition was, as always, made by outsiders. The town's collection of murals was enriched by a new gigantic work by Moscow's Alexey Luka on the plant's premises. Moscow's Novoe architectural bureau unveiled a structure called "Pavilion of the Future" in the town park. It is an elegant, light and airy building which will house summer concerts, workshops and film screenings. AKHE, an experimental theatre company from St. Petersburg, staged a refreshingly absurd rendering of Boris Vian's "Froth of the Daydream." However, the town-folk seemed far more excited by other events on the programme, such as a concert from the Moscow rapper Feduk and the opening of a new skate park.