Discoveries
Sandra Frimmel's book on art-related trials in Russia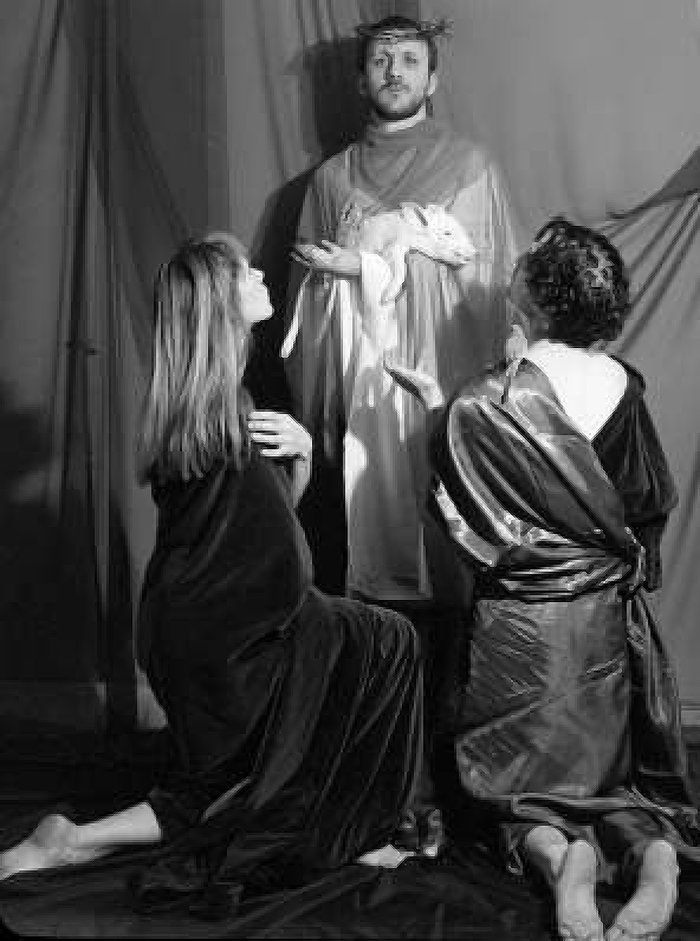 A book called 'Art Judgements: Art on Trial in Russia after Perestroyka', by Zurich-based art critic, curator and academic Sandra Frimmel was recently translated into English. It gives a broad socio-cultural context to two notorious court battles that raged in Russia between contemporary art and the orthodox church in the 2000s.
German cultural scholar Sandra Frimmel is no stranger to the Russian art scene. She studied art history and comparative literature in Berlin and St Petersburg and has collaborated with the National Centre for Contemporary Arts (NCCA) in Moscow, Ekaterinburg, and Nizhny Novgorod. Her interests as a researcher cover a wide range of subjects, including 19thcentury, modern and contemporary Russian art, as well as art theory, law and justice, power and society.
In her book, which evolved from a doctoral thesis at the Humboldt University of Berlin and was recently published by Vernon Press in English, she reaches deep into the inferno of the Russian judicial absurd. Briefly mentioning cases involving performance artists and activists such as Oleg Mavromatti (b. 1965) and the art collective Pussy Riot, she focusses her attention on two trials in particular which relate to headline grabbing art exhibtions in 2000s: "Caution, Religion!" and "Forbidden Art". Both of these shows took place at the Sakharov Centre, a human rights advocacy organization recently declared a foreign agent by Russian authorities and subsequently closed.
The organizers of both exhibitions,Yuri Samodurov and Ludmila Vasilovskaya; and Yuri Samodurov and Andrei Erofeev, were accused of "insulting the religious feelings of religious believers" and given hefty fines. Unlike other controversial art performances where political issues come to the fore, these two trials were about religious images and sentiments, strong language and pornography; notions of the sacred, the profane and the obscene. Frimmel paid particular attention to these trials because through them the Russian state openly attempted to define and dictate, by using its judiciary system, what art is and what art should be.
The moral and social climate in Russia back in the 2000s was very different. Those 'lightweight' times evoke almost nostalgic feelings, when artists in the country now are routinely convicted to jail terms of at least two weeks, and artist and activist Yulia Tsvetkova (declared a foreign agent by Russian authorities) was until last week facing up to three and a half years in prison for posting on-line feminist cartoons and semi-abstract drawings of female reproductive organs. Yet, Frimmel's meticulous analysis offers revealing insights into the mentality behind the court proceedings which might help us understand better the cultural realities in today's Russia. She studies the strategies and arguments of both the prosecution and the defence with the equal, seemingly detached eye of an academic researcher, drawing unexpected parallels with lawsuits filed against Constantin Brancusi (1876–1957) in America, Georg Grosz (1893–1959) in Germany and Natalia Goncharova (1881–1962) in Imperial Russia. For instance, Goncharova's 'Evangelists' were removed from the 1912 Donkey's Tail exhibition by the Holy Synod (the public authority for ecclesiastical affairs) because their religious subject-matter was incompatible with the exhibition's title. Frimmel comes to unexpected, often daring conclusions such as that "the understanding of an image as an icon was and still is by and large dominant in Russia", as opposed to a Western, more secular approach. She highlights the similarities between official Soviet art with portraits of political rulers being reproduced in their thousands and the mass production of icons.
Much of the book is dedicated to the staged nature of these art trials, where, "the guilt of the defendant is already recorded in the indicments". For the author this is reminiscent of Stalin's infamous public trials of "enemies of state". Despite the fact the verdict in such trials was (and is) more or less predictable from the start, Frimmel seems fascinated by what may look like a battle between a medieval frame of mind and a contemporary one, where every time the old wins out over the new. She quotes extensively the statements of "insulted" witnesses and defendants and analyses their positions from socio-cultural, legal and historical perspectives, in an almost heroic, though futile attempt to make sense out of the nonsense. Yet, sometimes naïve, and sometimes overflowing with details as it is, the book is a treasure trove of facts and documents that otherwise would have remained buried in Russian court archives forever.
Art Judgements: Art on Trial in Russia after Perestroyka'