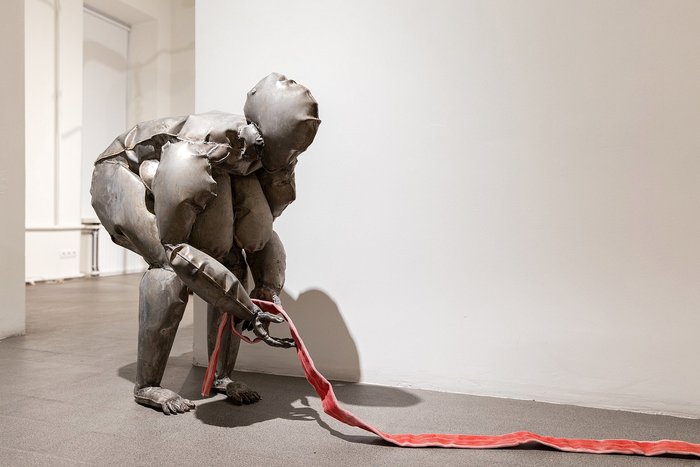 Wilgeny Melnikov. Grace No. 3, 2021. Steel. Exhibition 'Melting Point' at Art Square Gallery. St. Petersburg. Courtesy of Art Square Gallery
An array of exhibitions have opened this Spring in Moscow, St. Petersburg and Berlin which show the ways in which contemporary Russian artists from different generations are working with metal.
Artists who trained initially as sculptors have played an important role in shaping contemporary Russian art such as Boris Orlov (b. 1941), Dmitry Prigov (1940–2007) and Oleg Kulik (b. 1961). But it was Anatoly Osmolovsky (b. 1969), who studied metal-cutting machines at the ZIL Higher Technical School in Moscow who went on to set the trend for sculpture over the past decade. In 2006, he won the Kandinsky Prize for his bronze tank turrets series; in 2014 he created a two metre sized bronze figure called 'Ukrainian Woman' for the solo exhibition, 'Dis-Membering' at the Triumph Gallery in Moscow; and between 2015 and 2017, he curated the collective project 'Hurray for Sculpture!' in Moscow and St. Petersburg, after which young sculptors, including those with academic art training, began to create a collective voice in the Russian contemporary art field.

In St. Petersburg, a desire for modernity was manifested in the department of artistic metalwork at the Stieglitz Academy, the alma mater of many artists who have been prominent in Russian contemporary art circles over the past fifteen years. In what might once have been seen as a more male discipline, now there are increasing numbers of female students there, in recent years most notably Liza Bobkova (b. 1987) who graduated in 2011 and has had critically acclaimed exhibitions in several media. Her works made of brass melted shell casings from her 2018 series 'Dungeon Children's Toys' currently on view in a group exhibition at the Mokh Landscape School in Moscow feel unexpectedly topical.
The exhibition 'Melting Point', which is now on show at the Art Square Gallery in St. Petersburg, has brought together sixteen artists from the city, all former graduates of the Stieglitz Academy. As well as stone, steel can serve as a metaphor for longevity, although these young artists are still mostly working out their ideas in small scale works.
The most established artist on view is Dmitry Zhukov (b.1972), who works with forging and welding techniques he invented himself, his trademark is complex structures which resemble crystals. In the summer of 2021, his 'French De Sade' work along the facade of GUM on Moscow's Red Square echoed the art of Heinz-Rudi Giger (1940-2014). Zhukov had a joint exhibition with Vlad Kulkov (b. 1986) - a virtuoso millenial painter, who practices baroque abstraction - and experimenting with metal, he created biomorphic casts with minimal intervention. It's an exceptionally light touch as most practioners in the medium are absorbed by the material, exploiting its unique qualities and driving it to extremes. Drawn to abstraction over the figurative, Konstantin Novikov (b. 1981), Anton Shulgin, Pavel Kleshnin (b. 1985), Ilya Shalashov (b. 1988), and Katerina Veselovskaya together wove an impressive canvas out of an extraordinary twelve thousand shining stainless steel discs with nearly fifty thousand rings connecting them. This love of 'pure form' is unsurprising: bringing out the plastic qualities of any material is considered a defining criterion of professionalism in the academic tradition so at the academy all the years of study are focussed on both formal experiments and technical improvements.
Some of the works in the exhibition are copies of objects in metal in the vein of pop art, such as Anton Vlasov, (b. 1984)'s hamburgers, Nikolai Bakulev's boots or a sewer manhole made by Anastasia Kanischeva. Wilgeny Melnikov (b. 1984) can be classified as 'post-pop', replicating in his works slightly deflated inflatable dolls, using the technique of blown metal. Although, since Jasper Johns (b. 1930) and his 1960/64 painted cast, the repetition of random objects in timeless materials lost its meaning and gained nothing new.
Undoubtedly, all of these extensive stylistic references come from the young artists' desire to show off their hard won mastery and their diverse interests. In fact, an exhibition, timed to coincide with the 35th anniversary of the Department of Metal Art, shows the limits of traditional craftsmanship. Decorativeness, an enduring value, which the Stieglitz Academy still promotes today as a valid aesthetic strategy is only bypassed by a few of the artists. Those artists who identify with arts and crafts are rather more under the influence of the absolute notion of quality in art which they do not question.
Running parallel with 'Melting Pot', Anya Zholud (b. 1981), who took part in the 53rd Venice Biennale, has a solo exhibition at the PA Gallery called 'Another Icon' which includes paintings, drawings, and objects made of metal. Zholud catalogued the world around her with welding and metal rods in the mid-2000s; her 'Iron Wedding' exhibition was held at Aidan Gallery in Moscow in 2008. In the current exhibition introductory text the artist states: 'Now I am making garages from metal bars and draw a kettle again, only with some differences. And a ladle and a pot. … I believe in the object, I believe in materiality, I believe in composition, in balance'. At the forefront of these works is spatial freedom and confidence and mastery of form. She is an artist who with true Scandinavian laconism does variations on a single theme.
In a completely different style, Andrey Krasulin (b. 1934), a sculptor whose art has always been marked by poetic minimalism, is holding a retrospective at the Volker Diehl Gallery in Berlin, where he is drawing a line between works he made in the 1960s and 1970s to those he has been producing over the past two years. Alongside paintings and works on paper, Krasulin's sculptures are made from metal, wood, stone and ceramics in which he explores the tradition of the 'found object'. The pursuit of poverty is an existential and creative choice, one that many artists of his generation have had to defend, consciously resisting both social opulence and artistic descriptiveness.
Artists who are able to transcend the boundaries of genres, techniques and materials, uniting them in a single statement, prove that the contemporaneity and relevance of art does not depend on its age and is not defined by the medium.
MYTH and MOKH
Moscow, Russia
23 May – 4 July, 2023
Melting Point
St. Petersburg, Russia
24 May – 31 August, 2023
The Other Icon. Anya Zholud
Moscow, Russia
19 May – 27 June, 2023
Andrey Krasulin. Unicorn. Works from 1960 until 2023
Berlin, Germany
12 May – 30 June, 2023