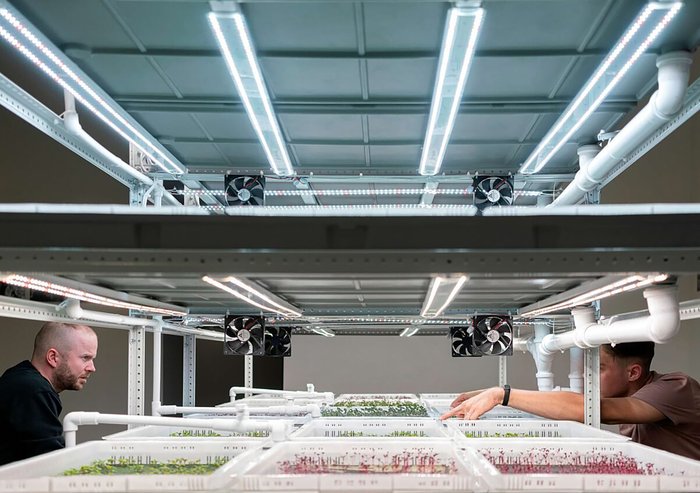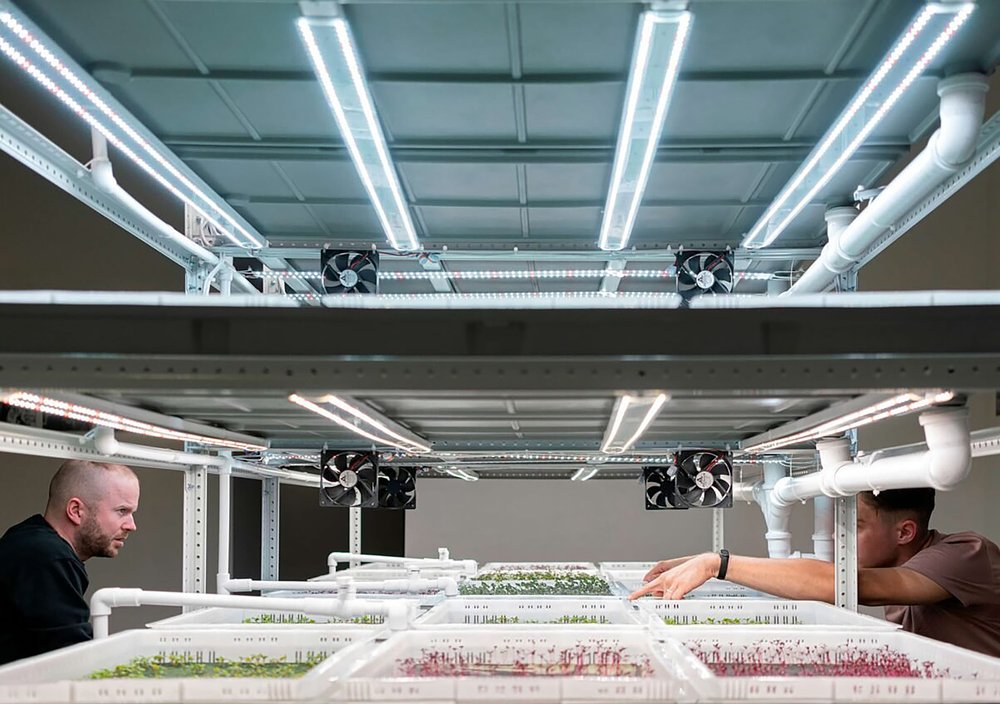 Vasiliy Kononov-Gredin. 'Seven Plagues of the Seven Angels' in ART4 museum, exhibition view, 2022 © Vasiliy Kononov-Gredin
Many young Russian artists today are embracing plant life in search of inspiration and eco-awareness. The current solo exhibition of photographer Anastasia Tsayder at Moscow's Ekaterina Foundation gives us a glimpse into a post-Utopian world, where plants take over the remains of a failed Soviet Utopia.
Spring is in the air. The Ekaterina Foundation in Moscow marks its arrival with a solo exhibition of Anastasia Tsayder (b.1983) called 'Arcadia' in which the artist has brought together for the first time several smaller, previous shows. They all relate to an ongoing project called 'Arcadia', (also the name of a book she published in 2021) evoking dreams of an earthly paradise. This paradise is a failed Soviet project - a 'garden city' - in a wonderful country, the best that you can find (according to the lyrics of a Soviet song), yet transformed by Tsayder into a story about the post-Socialist reality of ruins and ubiquitous prefabricated apartment blocks covered in lush greenery. Her project is based on photographs she took in cities across Russia, from Apatity in the North and Sochi in the South to Vladivostok in Far East, as well as in capital cities outside Russia, such as Bishkek, Riga and Tashkent. These structurally homogeneous photographs – architectural fragments of the past in an all-conquering flora – are neatly arranged on the walls of the gallery. In one of the exhibition spaces there is an installation of light boxes showing the same images; one shows a video with a pyrotechnic fountain against a background of thick shrubbery.
Tsayder's vegetation blends into an indistinguishable green sea inundating in the ruins of the Socialist world and is perceived as something sublime, an uncontrollable element. Taisia Korotkova (b. 1980)'s work shown in the 'Dark Forest' exhibition in 2021 at the New Tretyakov Gallery similarly explored post-Soviet reality and plants, yet she presented a completely different picture of the world. Korotkova selected concrete objects from the whole heritage of the USSR, military buildings such as radar stations, submarine bases, intercontinental missile silos, or test towers at military ranges. All the vegetation is drawn in careful detail and made concrete – the names of plants are noted correctly, their useful properties and areas of growth are described. In the artist's works one can find both common species, such as weeping willow and dunlin, and rare trees such as Vottovaara and Tirlich-grass. In Korotkova's project, the flora does not absorb military objects, but paradoxically, due to the observance of precise botanical taxonomy, recodes them and takes them beyond their utilitarian framework, turning them into magic fairytale locations
Alina Brovina (b.1987), who started out as a theatre set designer, made her visual arts debut in 2019 with the 'Palus Florens' project at Moscow's Winzavod Contemporary Art Centre. She constructed a bed of artificial flowers, which she made from plasticine on top of a wire frame. In 2021 the exhibition 'To the Right: White Forest' was held on the grounds of Peredelkino House of Writers in Moscow, where Brovina created pink and white ceramic objects imitating plant organisms or mushrooms in the gaps in the bark of a tree. These projects show the evolution of the artist's thought: at first she is interested in orderly human-planted flora, but later she moves on to a hypothetical consideration of life that appears against human will and invades the habitable space. Brovina says that in her art she is concerned with three closely intertwined themes: memory, the corporeal and the vegetable. The artist's father worked as an agronomist in the Lower Volga Region sparking off her own interest in plant life. Every summer as a child she spent in the countryside.
Like Brovina, many objects by Sasha Nesterkina (b.1990) imitate living organisms. However, she assembles representatives of the animal kingdom from plant parts, such as dried withered snags. Similar works can be seen at her last solo exhibition 'Weltschmerz', which was held in the Triumph Gallery in Moscow in 2022.
The now defunct 'Urban Fauna Laboratory' collective explored and examined the life of plants as its chief artistic goal. Member Alexei Buldakov (b.1980) was fascinated by cow parsnip and the geometric shapes found in its structure, as well as the rapid and unstoppable spread of this expansive species, which displaces almost all life it encounters in its path. Another member, Anastasia Potemkina (b.1984), explored the idea of rehabilitating weeds and other plants with a tainted reputation. For example, as part of her 2016 performance 'Bad Seed Renaissance' at the Triumph Gallery, she offered salads to visitors to the gallery, whose ingredients included a rich representation of field weeds. 'The oppressed ruderal flora', as the artist put it, demanded not just liberation, like any other minority, but a real re-revolution, an overturning of existing foundations.
Vasily Kononov-Gredin (b.1990), whose central artistic line is connected with the idea of futility of existence, opened an exhibition 'Seven Plagues of the Seven Angels' at ART4 space in 2022. Key to this project was an archive of recovered photographs showing the richness of village life, traces of which seem to be hidden by weeds in abandoned houses. One work was an installation in which edible greenery was grown in pressed soil on which the images from those same photos were applied. Visitors were able to taste it. Kononov-Gredin, known for his deep interest in religious symbolism and ritualism, literally invited visitors to commune with the past by means of a substance that, according to the Bible, accompanied mankind in an earthly paradise – plants.
Moscow's Vadim Sidur Museum is known for its elaborate architecture and for a pharmacy beneath it, although previously it was a florist. In 'The Floral Project of 2021, Ekaterina Yushkevich (b.1987) dedicated an exhibition at the museum to this page of the building's history. Together with Yegor Tsvetkov (b.1995), she made a historical and documentary installation, with video interviews, historical chronicles, a time line and statistical infographics. And, naturally, there were fresh flowers, bought periodically at retail outlets in the Perovo and Novogireevo districts.
In the same museum space a few years ago there was an exhibition called Blazing Archipelago by Ilya Dolgov (b.1984) who has been working with plants for a decade. The artist lived in a suburb of St Petersburg, Kronstadt, which was under contruction for many years where an unexpected ecosystem, with trees, began to appear on what was once a seabed, and is now part of the mainland. Dolgov brought some of its soil to the Sidur Museum, where he began to grow sea buckthorn seedlings, which visitors to his exhibition were invited to pick and plant in Perovo. The artist has always believed that growing plants is something highly aesthetic in and of itself.
Ivan Karpov (b.1986) and Daniel Koronkevich (b.1991) concur. From March to May of 2021 their exhibition 'Spring 21' was held in Marina Gisich's gallery with hydroponic (devoid of soil) plant installations grown by Karpov. Dimming and lighting the space with smells and the sounds of the flora, which became audible thanks to Koronkevich, created the effect of total immersion in a world of non-human life.
Arcadia
Moscow, Russia
16 February – 2 April, 2023