Discoveries
Montenegro Becomes a Haven for Street Artists in Exile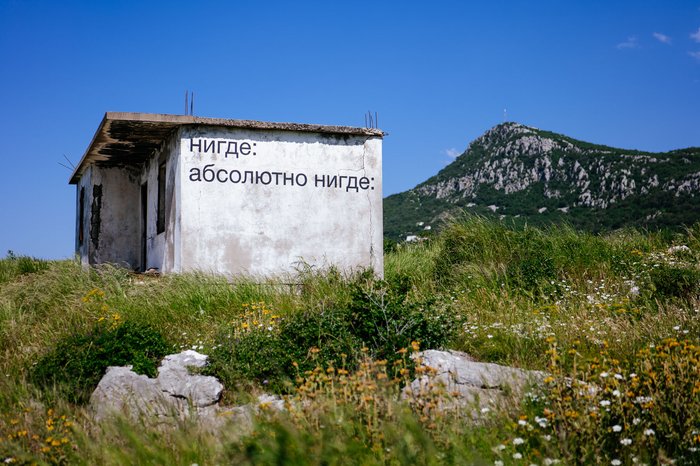 Vladimir Abikh. Nowhere, 2023. The house on the mountain gallery. Sutomore, 2023. Courtesy of the artist
Russian artists are invigorating the street art scene of this small Balkan state and a collaborative project called 'House on the Mountain' has recently been unveiled in Sutomore.
To get to the 'House on the Mountain', called by its founders Montenegro's first street art gallery, you have to love two things: contemporary art and trekking in the heat. Or at least you need to have a rather strong liking for one of them.

The House on the Mountain opened at the beginning of July on the top of a deserted hill in Sutomore, a resort town in Montenegro. Essentially, it is a collection of private villas, well looked after, surrounded by mountains and fields scattered with cows grazing. Except for the scorching heat, it is an idyllic scene. And you can't ignore the heat because even if you arrive in an air-conditioned car, at some point you have to get out and walk for 15 minutes up a bumpy path.

Of course this pastoral scene does not fit with the usual context of urban street art. The walls of small hotels and villas are poorly suited for street art, and at this time of year the sort of people who might be most interested in this kind of art prefer to be on a beach than on the street. So, Montenegro, the all-Balkan holiday resort, is not the most obvious choice for a street artist who is used to creating art in large urban spaces. Even in the capital Podgorica, street art is represented more by graffiti addressing the favourite topic of football. And the most interesting works that you sometimes find here do not form any specific trend. In fact, lovers of street art tend to go into neighbouring Serbia, like eco-activist Andrej Josifovski (b. 1990) who has been creating large-scale works there for a long time.
Around the middle of the 2010s, the situation began to change when former Moscow gallery owner Marat Guelman, (declared a foreign agent by Russian authorities) moved to Montenegro and decided to open the Montenegro European Art Community project (formerly Duckley European Art Community) based around Duckley Garden, an elite residential complex in Budva. The project included a gallery and a residency for visiting artists open to applicants from all over the world. It was thanks to him that the large pedestrian tunnel leading to the complex was turned into a street art display with works on the theme of Montenegro by many different artists, including Anatoly Akue (b. 1986), who still lives and works in the country today.
Individual masterpieces unfortunately did not develop into a whole movement. "When I arrived, I didn't see street art as such here. Well, there was some graffiti, but nothing serious," says artist Anton Ketov (b. 1978), one of the participants in'The House on the Mountain', who came to Montenegro in 2022.
There was a particularly tangible impulse after the start of the Russia's 'special military operation', when many people, including artists, fled abroad. In 2022, the works of Ilya Mozgi (b. 1988), a well-known artist from Ekaterinburg, began to appear in Montenegro, and last winter he was joined by Slava PTRK (b. 1990) and Vladimir Abikh (b. 1987). Both independently and together they began to transform the Montenegrin art landscape, focussing on abandoned buildings, of which there is no shortage.
"For the short time I was in Montenegro," said Vladimir Abikh, "I managed to do about ten street works. The favourable conditions in Montenegro are very conducive to this."

"There are a lot of empty spaces waiting to be painted, and walls both within the city and in abandoned areas, inincredible surrounding beauty; the absence of housing and utilities workers (Ed. who quickly paint over illegally made street artworks in Russia); and the hands of talented artists who continue to give their creativity", explained one of the artists from DUartstreet association, who also worked in the new gallery.
It was this trio from Ekaterinburg that was the driving force behind the House on the Mountain. "Work on the project has been underway since last winter," said Slava PTRK, the only one of the three who still lives in Montenegro. "The first drawing was done by Ilya Mozgi, a Kolobok that set the tone and theme for the whole project. A picturesque place far away from civilisation is well suited to the opening of a 'self-organised gallery'".

Once on the top of the hill, overlooking the dazzling blue sea, the first thing you see is a burnt out stump in the roadbehind which lies the house, a concrete hut. This fairytale theme continues, when you see Kolobok painted on a wall facing you, a round loaf of bread that came alive in a Russian folk tale claiming it ran away from its Grandpa.
"The House on the Mountain is an experimental format in which we bring works by street and easel artists together in one place," explains Slava PTRK. "The idea was to create an exhibition on an abandoned site, with open access for everyone at any time. This is the first object in a planned series of outdoor gallery projects in a similar format where the theme of the exhibition is set by the object itself. In this case, it is the concept of home - its loss, search for and finding one's home or relocation and emigration."
Work by Slava PTRK is in the room to the left of the entrance. Unlike the bare, shabby rooms in the house, here the walls are freshly painted. On the wall opposite the entrance is a figure of a boy with a car in his hand, a line snaking above it. "A child's photograph passed through the morass of neural networks + an actual car in his hand + a car route from Shadrinsk in Russia to Sutomore in Montenegro above the character's head. Next to it on the wall is a picture of a father and son found in the house. Above the drawing is a nest of swallows, which appeared and grew during the work".

On another wall is a painting of a house and an apple tree, the apples look like bloodstains. There are real apples scattered all over the house. "The name of the work is 'Our Old House', says the artist Anton Ketov, "the theme of the house - the home – is relevant today, because some people have had to leave it, and for others it has ceased to exist. I found a reference to Sergei Parajanov's film 'Shadows of Forgotten Ancestors' which is why there are apples scattered around the house, which seem to have fallen out of the work itself".

Outside, on another wall of the house is Vladimir Abikh's work 'Nowhere', made along the lines of a famous meme. "In general, what I do on the street can be called visual poetry," Abikh told Art Focus Now. "I look for locations that have a certain gaping void, a potential for filling, and I add text, less often an image that will harmonise with the place, enter into some kind of poetic relationship with it, form a whole with it. In this case, the place is a very secluded, an abandoned little house on a mountain. And now, imagine, a traveller reaches it and finds himself nowhere, absolutely nowhere. That's how poetic situations in life are born."

These are by no means all the works in the gallery, there are about a dozen of them. According to Slava PTRK, "there will be more such galleries, and each one will be unique".

Does the project with galleries mean a broadening of perspectives for street art in Montenegro?
"I don't see any prospects for street art here globally," Anton Ketov says, "because only artists who have come from other countries here are engaged in it. And who will do it if or when they go somewhere else again? Life is changing, after all."
Vladimir Abikh disagrees. "The prospects for street art are potentially great because Montenegro has a lot of abandoned buildings, that traditionally attract street artists, and there is a mild, pleasant climate that allows you to paint on the street all year round. I think that if there were some kind of programme to support such initiatives, it would be possible to create a lot of new sights with quite modest financial investments".

Marat Guelman has an even more optimistic view: "In general, such projects speak of the emergence of Montenegro's own 'context'. Not yet a full-fledged artistic environment, but as a foundation for it. And street art is read differently here than in the big 'northern' cities. In Montenegro it is very difficult to get the public indoors. Art in the open air, art in the context of nature, it all looks very natural here. The interventions of artists here (and the exhibition on the mountain among others) look like a reflection on space, be it nature or ruins. So it's quite a working hypothesis – Montenegro as a centre of street art".