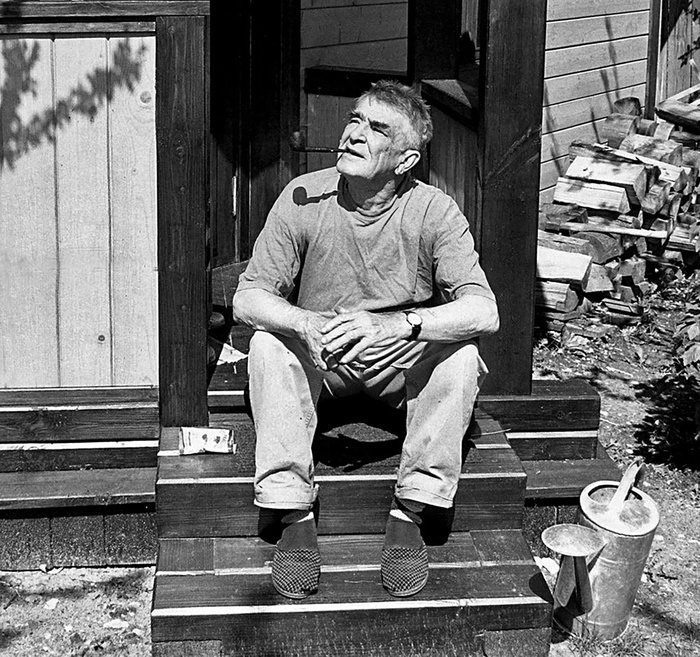 A solo retrospective dedicated to the late non-conformist Russian painter Eduard Steinberg has recently opened at the State Tretyakov Gallery in Moscow.
From Moscow to Tarusa, from Tarusa to Paris and back to Moscow, this itinerary of Eduard Steinberg's (1937-2012) life is the basis for a solo show that has just opened at the New Tretyakov Gallery to mark the 85th Anniversary of the artist's birth. Its title is: 'Eduard Steinberg. Moscow. Paris. Tarusa'. However, it is not a celebratory anniversary exhibition in the traditional sense. It strikes a rather sad note because this year is also the 10th anniversary of the artist's death, and the show provokes reflection on how the content of his art has turned into the dust of memories of times and people long since gone.
"I am in fact a symbolist," Steinberg admitted in one of his interviews. "And I didn't discover anything. I simply deciphered another angle of Kazimir Malevich, which only now has begun to be observed by students". This text was published in the catalogue of Steinberg's retrospective at the Tretyakov Gallery in 2004. Indeed, he carried Malevich (1879-1935) on his shoulders through the era of his total ban and into the future. This future, for Steinberg, came in the 1960s. It was then that he rediscovered Malevich and for Steinberg it sparked off a never-ending debate between the two artists, living and dead, which raged throughout the whole of his career.
Steinberg's abstractions seem in constant dialogue with Malevich. Of all his Moscow non-conformist contemporaries, heroes of unofficial Soviet art in the 1960s and 1980s nicknamed 'The Second Avant-Garde by artist Mikhail Grobman (b. 1939), Eduard Steinberg earned this status fairly and squarely. He is the direct heir of the Avant-Garde artists.
He is their heir because his visual language developed in the same way as the avant-garde language of the early 20th century, beginning with complex figurative landscapes, and portraits layered with many different elements. He gradually switched to ascetic metaphysical compositions and still-lifes with birds, stones and shells. From 1964, after visiting the house of the art collector George Costakis, where he first saw works by the Avant-Garde, the birds and stones in Steinberg's canvases began to change into geometric figures, referring to Kandinsky (1866-1944) and especially Malevich. Yet there was an important difference: it is as if Steinberg exchanged the 'minus' of gloomy Suprematist negativity for the 'plus' of another alternative to the real world: the space of light.
This marked the formation of Steinberg's mature artistic method. He coined the name "metageometry", basically put, geometry full of meaning. Although Steinberg followed in the path of Malevich, he could not quite agree with him. There was the episode in 1981, at the exhibition 'Moscow-Paris', when he first set eyes upon the 'Black Square' - he was shocked by what he saw was the painting's sense of tragic muteness and wretchedness. Although Steinberg's 'Rural Cycle' alludes to Malevich's 'Peasant Cycle', it is not about nature of reality. This is not a detached typology of the peasantry, but stories about real people. With Steinberg you get a requiem for the real inhabitants of the dying village of Pogorelki. In this village, he, and his close friends Ilya Kabakov (b. 1933) and Vladimir Yankilevsky (1938–2018) bought their dachas in the mid-1980s. There they found birds, graves, crosses, names on crosses and this is when words and text first appears in Steinberg's paintings.
The desire to live on the land and to have a home of one's own was ingrained in him since his childhood spent in Tarusa, a town on the Oka River, which by and large formed the artist Eduard Steinberg. He was born in Moscow on the 28th of March 1937, but his parents took him to Tarusa as a baby and he always later said this was in some ways his real birthplace. The artist's father, Arkady Steinberg (1907-1984), a poet and translator, began building a house in Tarusa in 1937, after his son was born, but was soon arrested. He returned there briefly, but in 1944 during World War II where he was serving at the front he was arrested once again. Only in 1955, after Stalin's death did Arkady Steinberg return to Tarusa, which by this time had become home to many prominent people who had miraculously managed to survive the repressions. Former inmates of Russian Gulags were not allowed to live closer than 100 km from large cities: Tarusa lies exactly 101 km from Moscow.
As a child Eduard encountered many writers and poets at home such as Konstantin Paustovsky, Nikolay Zabolotsky, and Ariadna Efron, the daughter of poet Marina Tsvetaeva, who spent all her childhood in Tarusa. It was also there that Steinberg received his first inoculation with the avant-garde from his father, who also dabbled in visual art having studied at the VKhUTEMAS. Eduard, who had no special education and as an artist is an absolute autodidact, studied with his father and Boris Sveshnikov (1927-1998), another repressed artist who settled in Tarusa in the 1950s. It was from them that he gained an understanding of the possibilities of non-conformism, as well as knowledge of the Russian Avant-Garde, which was impossible to get elsewhere at that time. And there was the lesson of living a life in quiet resistance to the regime, which he, Eduard Steinberg, also had to confront.
For 20 years, he was not accepted into the Moscow Union of Artists. He became a member only in 1988, when it was decided to put on an exhibition of his works in Paris. It was Paris where Eduard Steinberg lived for the last 20 years of his life, where he exhibited at the Claude Bernard Gallery and where, now, his works are in the collection of the Pompidou Centre. But despite these close ties to the French capital, he always returned to Tarusa. His itinerary did not change, and he would spend the summers in Tarusa, visiting Moscow where the Tretyakov Gallery held two of his lifetime retrospectives, and where, in March 2012, according to the artist's will, his last farewell took place in the Church of St. Nicholas in Tolmachi.
Eduard Steinberg. Moscow. Paris. Tarusa
Moscow, Russia
May 20 – July 31, 2022