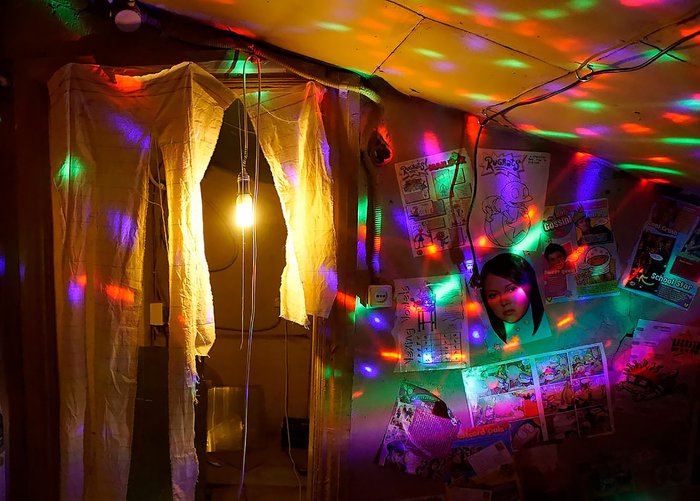 Lisa Chukhlantseva. You Are Like Me in Youth, Only Better, 2017. Сurated by Alexander Burenkov at the ISSMAG gallery
Artist-run spaces are rare in Moscow due to aggressive real estate development and prohibitive rental costs. Nevertheless, several informal and independent exhibition venues manage to survive in the city's concrete jungle. Often, they lurk in the most unlikely places, ranging from a garage to a private lavatory.
The Electrozavod gallery, a studio and exhibition space well known to Moscow's art lovers, is hidden in the maze of NIIDAR, the former premises of the Scientific and Research Institute for Long-Distance Radio Communications. This cluster of mostly derelict buildings some 10 kilometres from the city centre has now become an informal art hub due to low rental rates. Many young artists have their studios there. The gallery was founded in 2012 and initially located in an electric equipment factory, hence its name. The gallery is run by a community of ten resident artists. Five of them, Victoria Malkova, Dima Filippov, Sergey Prokofiev, Liza Veselova and Lev Nikitin, are involved in its activities and exhibitions on regular basis. Half of the gallery's 200 square metres is reserved for exhibitions, the other half serves as the artists' studio. Group and solo exhibitions, staged at irregular intervals, are curated by the residents themselves and guest curators. The gallery aims to discover new names but also stages shows of established mid-career Russian artists such as Rostan Tavassiev (b. 1976) every once in a while. The programme, which is focused on conceptual art, includes works in different media, from objects and paintings to large-scale immersive installations and video works. Shows teem with young crowds on opening nights and can be visited by appointment after the vernissage. The next group exhibition 'Alter Ego', curated by Victoria Malkova and Lev Nikitin, will take place from 17th until 31st of January.
'Dom Byta 'Zarya'', a studio created by the artistic couple Gosha Ostretsov (b. 1967) and Ludmila Konstantinova (b. 1980), is a quirky museum in itself. Most of the furniture there, adorned with painted glass and expressive graphics, is made by Ostretsov himself. The studio, located in one of Moscow's dormitory suburbs, occupies the top floor of a clumsy two-storey building dwarfed by the high-rise residential blocks around it. A remnant of the Soviet era, the structure once housed services such as hairdressers, dry cleaning, shoe repairs etc. and still has a beauty parlour on the lower floor. Ostretsov and Konstantinova's former studio was located in a former plastics factory close to the centre and became a popular bohemian hot-spot housing weekly exhibitions and parties. Now the programme is more relaxed, yet thematic group shows are still occasionally staged at the venue. Carefully curated by Ostretsov, they include works by well-known artists such as Georgy Litichevsky (b. 1956), Olya Bozhko (b.1974) and the hosts themselves. The studio can be visited by appointment.
Amazing but true: the works of Russia's living classics, including the founders of the Moscow Conceptualist movement, can be obtained without any middleman at affordable prices. Muscovite collectors looking for bargains or artsy gifts head to MosKoop, a Sunday market held sporadically at the studio of the artistic couple Muriel Rousseau-Ovtchinnikov (b. 1966) and Nikola Ovchinnikov (b. 1958). This cosy basement in the Moscow city centre hosts group exhibitions of Russian art, with prices indicated unequivocally on the labels. Graphic works by stars such as Andrei Monastyrski (b. 1949), Igor Makarevich(b. 1943) and Elena Elagina (b. 1949), as well as a host of established younger artists are always available. The shows feature works in various media, but graphics, painting and photography account for the main part. Concerts of experimental music often take place at the same venue. To find out the dates of the next event, check Muriel Rousseau-Ovtchinnikov's Facebook page.
Moscow's most unusual exhibition space is called One Viewer's Gallery (GOZ). It gives its visitor the possibility of an intimate, one-to-one contact with art. The gallery is not easy to find: it is located in the lavatory of a private apartment belonging to the conceptual artist Arkady Nasonov (b.1969) in a typical Soviet residential building. You have to know the host in person or at least through social media to get inside. The exhibitions tend to last for a few months each and mostly include small-sized graphic works and paintings of mid-career Russian artists.
The ISSMAG Gallery was founded as a space for young experimental art by artist and gallerist Disha Yuldasheva in NIIDAR in 2015, but moved closer to the city centre shortly after its opening. It now occupies a garage hidden in the courtyard of a residential building in the heart of Moscow. An impressive granite door sign shows the way to a small two-storey space, where installations and videos created by emerging artists are displayed on a highly irregular basis. Visits are by appointment only.
The Agency for Singular Investigations (ASI) is either an art group pretending to be an institution – or the other way around! The works of its founders Anna Titova (b. 1984) and Stas Shuripa (b. 1971) often take the shape of fictional research projects with a complex and highly developed mythology. The Agency occupies its own space at Fabrika, a former factory that has become a popular artsy hotspot not far from Moscow's centre. (Its official title is the Fabrika Centre for Creative Industries). This former paper factory houses exhibition halls, artist studios, an art residency and office spaces. It is there that this dynamic duo organizes exhibitions of young Russian and international artists, film screenings, artist talks and other events.
Russia's artistic community is not limited to Moscow alone. Many independent art venues thrive or manage to survive outside the capital. The artist-run spaces of St. Petersburg and other Russian cities will be covered in the future issues of Russian Art Focus. Stay tuned!
Electrozavod Gallery
Moskoop
Issmag Gallery
Agency for Singular Investigations (ASI)