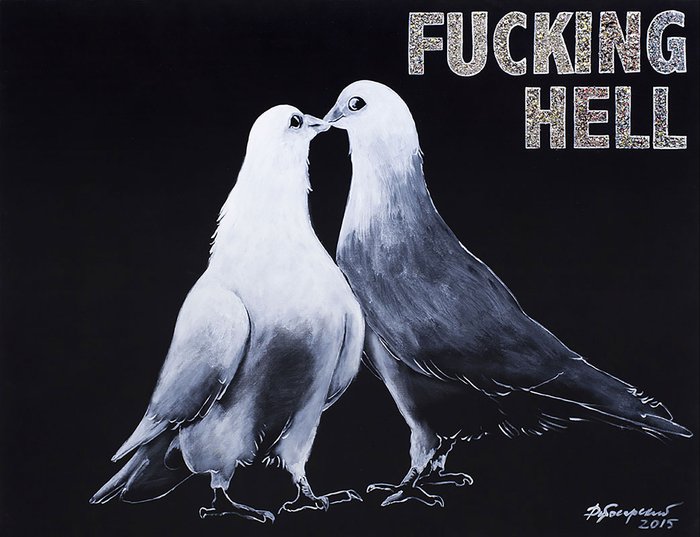 As St. Petersburg wakes up from a year-long sleep induced by the Covid pandemic, a host of new gallery and exhibition spaces prove that a full recovery is not far off for the city's art scene.
The St. Petersburg art scene remains, as it has been for the last five years, under the sway of the city's uncertain economic future. Wealthy real estate investors, not yet ready to embark on major reconstruction projects, have handed over a number of large properties – what the locals call "clusters" – for the temporary housing of bars, restaurants, shops and, typically, exhibition and gallery spaces. Spend a day or two hopping between these venues and you'll visit 18th and 19th century mansions, converted belle etage apartments, reformatted industrial facilities and reinvigorated warehousing spaces and get a feel for what the local curators and gallerists are currently showing into the bargain.
Bluzhdayushaya Galleria
Housed in Sevkabel, one of the city's best fashionable new venues – once a port and warehouse complex on the shore of the Finnish Gulf, now turned into restaurants, bars, cafes, various pop-up markets and an ice-rink in the winter – the Bluzhdayushaya Galleria seeks to make the most of its location. Within Sevkabel the gallery moves around different spaces as they become available or are renovated, hence the title which literally means the "Wandering Gallery". Curator Liza Savina has come up with the idea of a series of paired exhibitions, in which she partners an established artist with a younger talent. From now and until March 15, that means a hike up a very narrow stairway to a cavernous space where you'll find well-known artist Vladimir Dubossarsky (b. 1964, formerly of the duo Dubossarsky and Vinogradov) and young figurative painter Mika Plutitskaya (b. 1983) engaged in a visual dialogue on the mythologizing of historical memory.
The Art & Science centre at ITMO
This new venue, located at the University of Information Technology, Mechanics and Optics (ITMO), presents projects at the meeting place between art and science. The university runs related Masters degree programs, which are supervised by Dimitri Ozerkov, director of the Contemporary Art Department at the State Hermitage Museum and exhibitions are often put on by the students. The gallery has proved itself to be strong on cutting-edge digital technologies, although its most recent show 'From the Life of Bacteria and Lab Mice' also hints at subjects covered at ITMO. It hosts a diverse lecture and discussion program featuring an excellent range of speakers.
The Art & Science Centre at ITMO
24X4 Gallery
Situated in an archway rather than inside a building, the gallery is accessible around the clock. '24x4' is a crowd-funded, private gallery that features media art and promotes new technologies. It has not shied away from political issues – a recent exhibition focused on the "cyber-partisan" resistance being offered up to Belarus's President Lukashenko through the use of hacking. The gallery is located in another new urban cluster, the Berthold Centre, a hipsterish hive of activity where you will find LCD displays, B-movie screenings, videos shot on mobile phones, forests of artfully groomed facial hair and youngsters in sweaters sipping cappuccinos.
Styd (Shame)
The brains behind 'Styd' are on a mission to avoid the shopworn paraphernalia of your average gallery in St. Petersburg: noisy openings, group visits and free entry. These are all great for the social scene, but are far from ideal when you want to create an experience which focuses on the art itself. This means that you need to book ahead. Each visit costs about 300 rubles, lasts just 20 minutes and has to be done alone. Rules and detailed instructions are only issued once you've bought a ticket. You might think that all of this is tailored to socially distanced pandemic conditions, but the concept was developed long before Covid hit and will continue to run from March 2021 onwards.