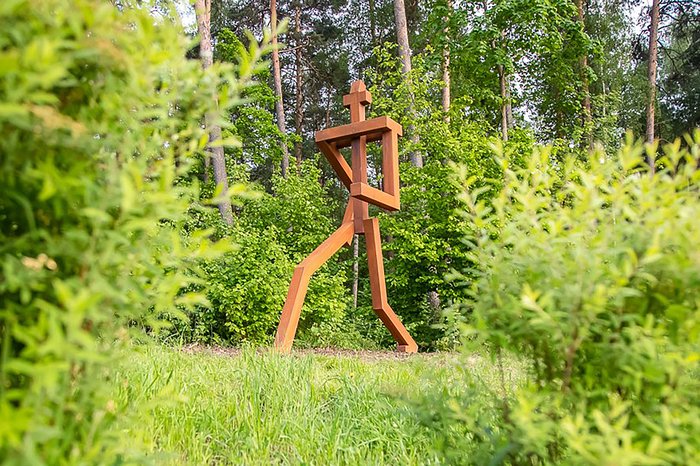 While major art forums in Russia are being cancelled or postponed, due to lack of funding, the absence of international participants, logistical challenges and general uncertainty, public art festivals and events seem to be in full bloom. 
One by one, the Moscow Biennale, the Moscow Biennale for Young Art and the Ural Industrial Biennale have each disappeared from the calendar of Russia's leading art events. While the Moscow Biennale was famously cancelled by its host institution the State Tretyakov Gallery just one day before the VIP opening, others went quietly into hibernation. At the same time, the open-air Biennale in Moscow called Artmossphere is alive and well, and even managed to attract some participants from abroad. This year's line-up includes artists from Brazil, Argentina, Germany, Armenia and Belarus. Over the years Artmossphere has evolved from a street art biennale to a public art event with a much broader focus to include street sculptures, installations and even video art, scattered all over the Vinzavod (a former winery turned into a cultural centre) and its surrounding streets. Works range from purely decorative murals and subtle interventions such as Misha Most's (b. 1981) metallic sculpture – a life-sized human figure sitting on the roof of Vinzavod, to bold statements that radically transform the cityscape, such as an immersive installation by architect Filipp Kitzenko on a pedestrian bridge over the Yauza river. Here passers-by now walk through portals made of metallic bright yellow chains chiming in the wind. The theme of the festival is 'Communion – Partnership – Collectivity – Utopia'. There's definitely something utopian in the very idea of launching an art event on such a scale in the heart of Moscow these days. The opening took place on the day after an unsuccessful drone attack on several of the city's luxury suburbs along the Rublyovka road and a residential block inside the city itself.
Drones or no drones, the city's most affluent suburb now has an open-air contemporary art show of its own. Works by a dozen of Russia's top-tier contemporary artists art lurk in Malevich Park on the outskirts of Moscow. A forested plot turned public park in the posh Rublyovka area dotted with villas of oligarchs and government officials now boasts site-specific works by Leonid Tishkov (b.1953) and Francisco Infante-Arana (b.1943) and Nonna Goryunova (b.1944). Sculptures by Aristarkh Chernyshev (b.1968), Igor Shelkovsky (b.1937) among others were brought here to be exhibited temporarily in the project which has been managed by the State Tretyakov Gallery. The artists address unchallenging, eternal subjects such as the human figure, nature and celestial bodies, while some venture into abstraction, notably Roman Ermakov (b.1985) and Grigory Orekhov (b.1976) with his three-dimensional homage to Malevich's (1879–1935) Black Square. The artworks have arrived in two batches, the first in Autumn 2022 and the second in early June 2023 and all will remain in the park until the end of this year.
Far from the capital there is a strong the focus on time-based arts. The Vyksa Festival (formerly Art Ovrag), once known for its large-scale murals by top Russian street artists, is leaning more and more toward site-specific theatre performances and participatory projects that involve the local population. Situated somewherein the woods surrounding Nizhny Novgorod in Central Russia, Vyksa is a so-called mono-town whose life revolves around a huge metallurgic plant, which is also the driving force behind the festival. The event's newly-appointed curator Katya Bochavar has put together a programme rich with promenade-style performances and immersive theatre shows. A new collective public artwork will be unveiled this year – a huge glass mosaic made out of wine bottles, that Bochavar co-authored with Vyksa residents. It was two years in the making.
In this age of tightening budgets and spiralling inflation, festivals try to split the costs and responsibilities with other institutions. Archstoyanie, the country's oldest public art festival in the Kaluga region, 200 kilometres away from the capital, has chosen a somewhat vague but still relevant topic 'Game of Predictions' for its 2023 edition. This year, it has introduced a new concept. The organizers have invited a few private art institutions and even the State Pushkin Museum to set up their own 'camps' in the vast Nikola-Lenivets land art park. Each institution is to be responsible for its own programme. Samara's Viktoria gallery, owned by gas tycoon Leonid Michelson, even launched a quest for visitors reminiscent of an artsy egg hunt. With the help of a telegram bot, they will be able to search for artworks hidden in the woods and fields – and even take them home! Volga-Fest in Samara, a festival of public art on the embankments and beaches of the Volga River, has applied a similar cost-effective solution. But here, it's the city's museums and other state-run institutions who have put up their camps. 
The trend of bringing art to unconventional places sometimes goes to extremes. Exotic initiatives spring up, such as the country-wide Factory Night. It was launched as an online event in 2020 by ZA ART group, the team behind the Ural Industrial Biennale. The collective has a long track record of partnerships with the region's industrial giants on artist residencies and site-specific art projects. The main project of the Biennale itself used to occupy the spaces of a closed or even functioning factory. The inaugural edition of Factory Night involved five plants in the Urals. This summer, things are getting bigger. Site-specific performances will take place in 18 working plants and other industrial spaces all over the country. Some shows will be produced by the Biennale team and others by local cultural institutions and even factories' own staff. For some of the factories, it won't be their first foray into the performance art domain. Energomash plant in Chekhov, a town near Moscow, has already housed a site-specific operatic-circus-dramatic-performance on the 60th birthday of its owner, businessman Alexander Lebedev who also owns UK's newspapers 'The Evening Standard' and 'The Independent' together with his son Evgeny. Will these unusual locations spur the emergence of newer and fresher ideas? Time will tell.
Artmossphere Biennale
Vinzavod, Artplay and the surrounding area
Moscow, Russia
31 May – 31 July, 2023
Malevich Park
Moscow region, Russia
Vyksa Festival
Vyksa, Nizhny Novgorod region, Russia
23-25 June, 30 June – 2 July, 2023
Archstoyanie
Kaluga region, Russia
July 28-30, 2023
Volga Fest
Samara, Russia
15-18 June, 2023
Factory Night
Kaliningrad, St. Petersburg, Tver, Moscow, Perm, Chelyabinsk, Ekaterinburg etc., Russia
12 August, 2023