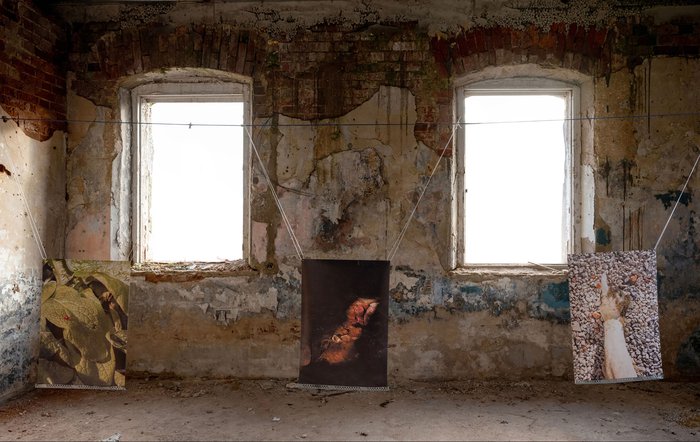 Seventeen young artists staged a one-day, site-specific exhibition at the Borovsk Prison Castle, a former jail in Moscow Region.
Russian contemporary artists often choose unusual locations for their projects, ranging from a former nuclear laboratory to an observatory and abandoned country houses. This time, the focal point was a former prison in the town of Borovsk in Moscow Region. Built in 1866 and surrounded by a four-metre wall, it is known as the Tsar Prison Castle. Once upon a time, the building, now a complete ruin, had cells for 63 prisoners, a kitchen, a sauna, a club and a prison church with frescoes that have not survived. The church could be visited not only by prisoners, but also by residents of Borovsk, who attended services there on feast days and even had weddings there.
After the Bolshevik Revolution of 1917, the building served as a prison until 1930, when it was converted into living quarters for workers of the Red October textile plant. A local legend says that, at first, prisoners and workers had to share the same building, as prisoners had not yet been sent away. Since that time, the house has been dubbed 'Dom Udarnika' (Shock Worker's House. During communism the most productive workers were awarded the title 'udarnik' – shock worker). So, workers and their families lived in this building without any modern conveniences and with bricked-up cellars (probably former torture chambers) until 2014. Despite this fact, the local legend goes on to say that these families left their homes with great sorrow. Since then, the building has been abandoned.
This year 'Dom Udarnika' was bought from the state by a new owner, in order to create a tourist zone there. This fact attracted the attention of curators Anya Leonova and Daria Senicheva, who came up with the idea of using the site as an art residency before the start of its reconstruction. The artists had only three days to explore the space, create works and set up a one-day exhibition called 'UDAR' (Blow). Seventeen young artists responded to an open call and presented their experiences of interaction with this powerful place in a very polyphonic way.
The first great impression was made by the site itself: its cold air (it is six degrees Celsius colder in the building than outside), endless corridors with rooms that have neither windows or doors, shabby walls (somewhere we can see Soviet newspapers peeking out from underneath the peeling paint), cracks everywhere and wall texture that was a subject of several installations. So, Alisa Smorodina collected the textures of different surfaces found inside the building and recreated them with incongruous material – chocolate – on the walls of the former bakery of the Prison Castle.
An immaterial object displayed in another room was related to the history of prisons and their inmates in Russia. It was a sound sculpture 'Polybius Square' by composer Misha Marushkin. He put a special device in an adjacent cell that knocked out the poem of one of the participants of the 1825 Decembrist Uprising through a wall in special code language.
Some works are connected to personal stories, like the installation by Katya Yanova, a symbolic photo 'corridor' of doors she ran past to escape some criminal as a little girl. He was not caught. This kind of memory is so familiar for everybody.
The exhibition organizers had to take into account the Russian Orthodox history of Borovsk, so that local residents would comprehend contemporary art and not be frightened by it – the atmosphere of eerie candle-lit rooms could elicit all kinds of suspicions (in fact candles were used for lighting since there is no electricity in the building). Anton Andrienko in his work 'I wander through two squares' placed some drill details on the wall, so that, from a distance, they look like a cross. The idea is that things are often not what they seem to be.