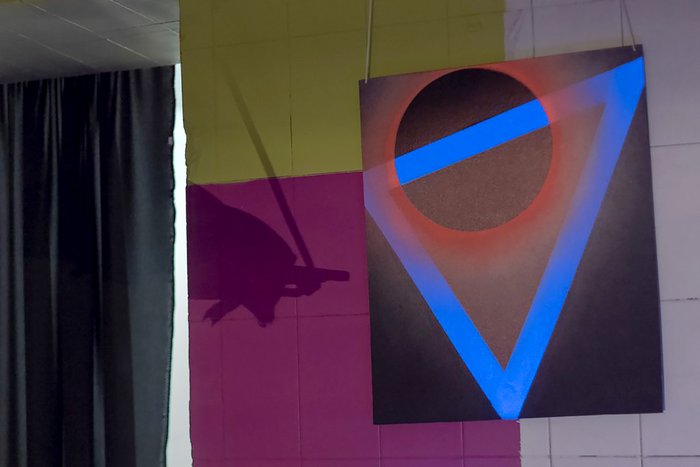 Self-organized initiatives are forming new contemporary art centres in remote corners of Russia, thus challenging Moscow's and St. Petersburg's monopolistic claims.
Had you asked an art critic two years ago to predict where Russia's next contemporary art scene would blossom, the answer would unlikely have been Zheleznorgorsk, a city of 100,000, located in Kursk region, some 450 kilometers South of Moscow. This industrial city was built in the 1950s beside a newly discovered ore mine. Nowadays, it accounts for almost 20% of total mining production in Russia, while the majority of its population works at its 20 industrial factories.
Despite its lack of big cultural institutions, Zheleznogorsk hosted its first contemporary art biennale in 2018. The event was decidedly civic and cosmopolitan. One of the organizers, Aleksandra Dorofeeva, now heads Tsikory ("Chiccory"), a not-for-profit art platform and collective in one of the city's former canteens. Tsikory has already attracted the attention of Muscovites, receiving the 2020 'Institution of the Year' award from Cosmoscow, Russia's largest art fair. A second Zheleznogorsk biennale is being planned for this year. 
What is remarkable is the number of independent art spaces created by artists and socially-engaged thinkers in Russia's smaller cities. This has given the "peripheries" a creative energy of their own that challenges Moscow's and St. Petersburg's claims to be the main sources of creative art in the country. The following is a list of some of the provincial art centres that focus on this new trend: Gallery Kh.L.A.M. (Х.Л.А.М.) in Voronezh has proven to be one of the most robust initiatives, producing what some gallerists and art writers now refer to as the "Voronezh wave". Established in 2008 by Aleksei Gorbunov and the artist Sergei Gorshkov (b. 1958), the gallery heralds its contributors in its name. "Kh.L.A.M" is an acronym for the Russian "Artists, Literati, Actors, Musicians". It also has a touch of humour as the Russian word "khlam" also means "junk". The gallery's success can in part be attributed to its founders understanding that in order to support local artists, they must build a local dialogue around art. Thus, alongside exhibitions, free public lectures, performances, public art events, and a bookstore are part of its regular programming. Some of the group's stars, such as Kirill Savelyev (b. 1989), Kirill Garshin (b. 1990) and Ivan Gorshkov (b. 1986), show no signs of wanting to move to Moscow, which is just 500 km from Voronezh. On the contrary, they enjoy the surplus space and lower rents, while building their own networks with other Russian cities and abroad. And why leave? As Gorbunov said of the Voronezh community in a recent interview, "There's the Union of Artists, but what are they doing in their studios? They drink and whine, drink and whine, repeating the 19th century. But these artists [in Voronezh] are free and happy people."
Like Kh.L.A.M.'s participants, it was the desire for community and a lack of available exhibition opportunities that motivated the artists Alina Belousova (b. 1982), Anastasiya Kolesnikova and Aleksei Trubetskov (b. 1964) to found in 2015 the IMHO Gallery in the city of Saratov on the Volga. With a handful of supporters, the trio has organized happenings, meetings, lectures, film screenings, and shows, all in an unused stairwell in the city's former 'House of Art Workers'. The Moscow artist and curator Diana Machulina (b. 1981), one of their collaborators, has called the space "our Guggenheim", an affectionately ironic moniker. As productive as the stairwell space has been, however, growing pains and accessibility difficulties are being felt, and IMHO is exploring new formats.
If IMHO thrives on the mobility offered by being marginal, the Smena ("New Generation" or "Change") Centre of Contemporary Culture in Kazan, the capital of Tatarstan, has worked to expand its visible brick-and-mortar footprint. The centre opened in 2013.  Smena's programming model and legal status as an autonomous non-commercial organization has proven nimble, allowing it to stage exhibitions, lectures, festivals, and publishing playlists and essays through their virtual editorial arm Rupor Smena. They manage this through a combination of grants, expanding partnerships (most recently with the Moscow's private Garage Museum for Contemporary Art), and their own book and records store. 
Smena, Kh.A.L.M. and IMHO all demonstrate that a great deal of structural dexterity, resilience, and urgency is required of these spaces if they wish not only to survive but to remain relevant. Anastasiya Kolesnikova of IMHO argues that relevance is difficult to ascertain "from within". Instead, she says that "our relevance is ultimately judged by the people who do or do not come to our exhibitions".
On the other hand, the Levaya Noga ("Left Foot") Gallery, a non-commercial space and haven for the full gamut of creatives in the Siberian city of Omsk, has thrived since 2008 on being contrary. They take pride in their space's open exhibition policy and consider their success without a driving concept as proof-of-concept. But, as of February 2020, a city clean-up act of "blagoustroistvo" has threatened to strip their building, owned by Left Foot's founder, the artist Dmitry Virzhe, of the eclectic sprays and installations on its façade. A petition circulating online has come to Left Foot's support.
As museums worldwide are struggling to connect with audiences while their doors remain closed, these self-organized spaces can provide object lessons in how to continue the conversation. The way Tsikory's Dorofeeva puts it is: "We just believe in art as a reason to be together."
Kh.L.A.M. gallery
Voronezh
IMHO Gallery
Saratov
Levaya Noga gallery
Omsk
Tsikory, Zheleznogorsk Centre for Contemporary Art
Zheleznogorsk
Smena Centre for Contemporary Culture
Kazan