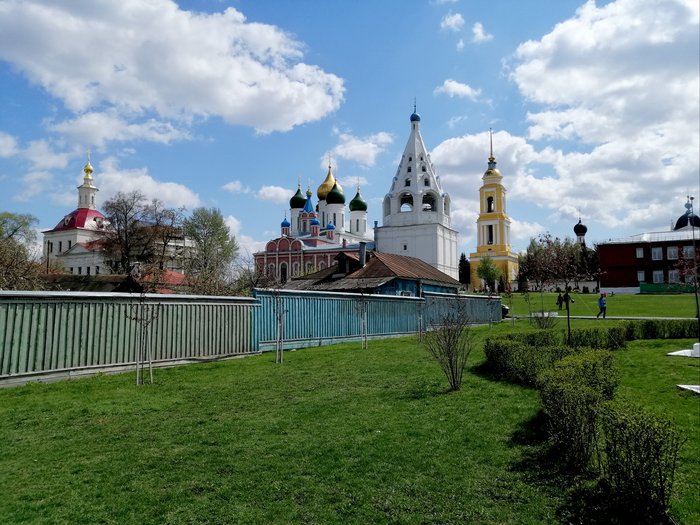 A modern art museum lurks in an ancient town 100 km away from Moscow. Russia has always had a tradition of surprising, burying its treasures where it is least expected.
Kolomna is a quaint 12th-century town 100 km away from Moscow, with its own Kremlin and a nunnery that until recently took care of a camel named Sinai in its gardens.  It also hosts a modern art museum, founded with the help of the same Orthodox nuns after the fall of the Soviet Union, which has attracted leading Russian contemporary artists.
The "Museum of Organic Culture" is housed in an old wooden mansion that used to belong to one of Kolomna's well-heeled merchants. The idea of organic art was one of many experimental concepts thought up by the Russian Avant-Garde before the outbreak of World War One. The idea's originators were Mikhail Matyushin (1861-1934) and his wife Elena Guro (1877–1913). Both were artists, poets and musicians.
On entering the museum's courtyard, visitors are struck by the soft, eerie sounds created by artist Vyacheslav Koleichuk (1941-2018), made by the wind tickling a series of wires. His installation, "Bells" (Kolokoliy) installation, brings together mobile kinetic sculpture and a musical instrument, producing a minimalist sound reminiscent of the very gentle Orthodox bell-ringing which was long banned during the Soviet period.
This little-known provincial museum boasts a remarkably large collection of works by 20th- and early 21st-century artists, starting with Matyushin and Guro. They include the outstanding painter Vladimir Sterligov (1904-1973), who viewed landscapes as the gem of the world, as well as two Soviet proponents of kinetic art, the late Vyacheslav Koleichuk and Francisco Infante-Arana (b. 1943).
A special place in the museum is reserved for two contemporary sculptors, Andrei Krasulin (b. 1934) and Igor Shelkovsky (b. 1937). "A single line on paper or a few strokes on canvas are enough to see the once-weathered landscape" — this is how Krasulin, who is also a painter, explains his approach.
Krasulin's minimalist art, bordering at times on abstraction, is created from simple materials and is practically poetry in space. He has installed "Barrack," a wooden monument recalling one of the greatest Soviet poets who died on a railway siding in Vladivostok on his way to the Gulag. The poet was Osip Mandelstam (1881-1934), but the monument is a symbol dedicated to his tragic life, rather than to the poet.
Igor Shelkovsky, who fought for artistic freedom during the Soviet period, created a whole garden of "white trees" for this museum. His trees, a combination of constructivism, suprematism and conceptualism, are the artist's calling card. In each of his works, the image is simple. The flowers in the vase are flowers and the trees are trees. It is a similar approach to that of Matyushin, who always returned to the basic shapes of nature after going through a long series of analytic experiments, arguing that everything was fundamentally either a crystal or a flower.
Museum of Organic Culture