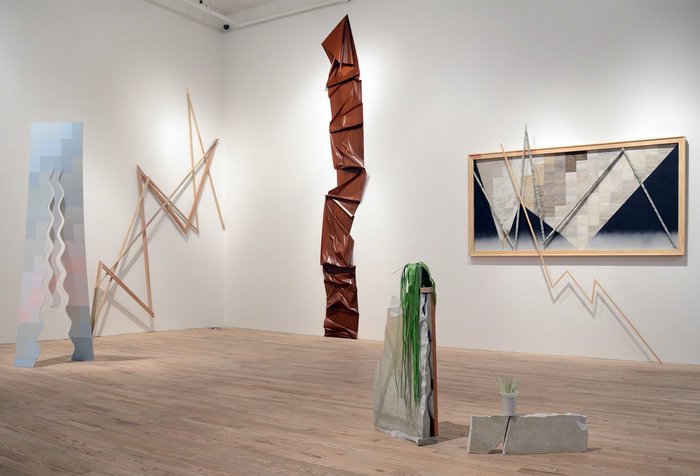 Daria Irincheeva. Continous Function. Exhibition at the Moscow Museum of Modern Art, 2019.
Moscow art dealer, collector and art historian Sergey Popov argues that now is when the Russian government should purchase Russian contemporary art for the state museums located outside the capital.
I recently wrote an open letter to Russia's Minister of Culture calling for funding to be provided, so that the country's state museums could launch a systematic programme of purchases of Russian contemporary art. As expected, the Minister did not reply to my letter. However, my goal was to ring an alarm bell that would be heard by all those who care about culture. 
My gallery has regularly acted as a seller of works of art to our museums. The largest such buyer is the Moscow Museum of Modern Art (MMOMA). What troubles me is why regional art museums are not among the regular buyers. Russia is the world's largest country. Its cities are thousands of kilometres apart from each other. They deserve an independent and relevant cultural policy, not one imposed by the centre. Its goal must be to preserve modern culture.
Lack of money is not the problem. The problem is the lack of will and methodology. What is lacking is understanding that contemporary art can and should be acquired, so that regions and cities can compete and interact with each other. This approach is not in line with Russia's policy of centralization, which actually contradicts the federal structure of the Russian state. 
An additional problem originates in Russia's Ministry of Culture and its system of priorities. In that institution, contemporary art occupies a subordinate place. Ministry officials are used to talking about art dismissively, viewing it as something incomprehensible, optional and dubious. It is time to get rid of these monstrous stereotypes and to raise this issue openly everywhere.
Even if there are conflicts, contemporary art can act as a space for dialogue, rather than a source of diffident silence. Officials, for some reason, do not speak in the same way about contemporary literature, nor do they complain about the incomprehensibility of contemporary academic music or dance. It seems to me that that they feel an implicit threat from contemporary art. However, if you don't tackle these stereotypes, if you don't try to understand the problem, it will only get worse.
Of course, we're not talking about Moscow. Our priority is to launch a regional programme, so that a dialogue between cities can start, ranging from Vladivostok and Yuzhno-Sakhalinsk to Kaliningrad and Sochi. The museums in these cities have good collections of classical and/or Soviet art as well as some have individual works by contemporary artists. However, many provincial museums do not even own a single work of art created after the fall of the Soviet Union. It is not just a question of buying the works of one or another author. What is at issue is the structure of Russian contemporary art of the last five or six decades and how to determine what place certain artists occupy and what their work represents. 
A dark cloud hangs over contemporary art. The management of many art museums is not familiar with how to store and display not only video, but also installations, conceptual documentation and even photography. This knowledge is not learnt overnight. It relies on the methodical work of professional teams, including working with audiences, educating them, something which in today's situation, is probably the most important task. Remember how long it took to change the cities that are now perceived as the new capitals of Russian contemporary art, such as Perm, Yekaterinburg, Voronezh and Krasnodar. And what kind of debates it generated, not only in the provinces themselves, but also in Moscow. 
What was very important then was the crucial role played by various institutions, which appeared there not only to support, display and popularize contemporary art, but also to purchase it, such as PERMM in Perm and the 'Peace Square' Museum in Krasnoyarsk. In these cities, public discussion of contemporary art is no longer frustrating, even for the authorities. But in the vast majority of big Russian cities, contemporary art is still a painful subject. What is at issue is how to change the environment and cultural policy. However, what causes really serious resistance is how to be part of the contemporary world. 
Finally, it is important that this conversation continues, so that we don't revert to a diffident silence after the epidemic has subsided, so that we don't pretend this is a temporary emotional outburst caused by a lack of funds for galleries or artists. No, what is needed is a coherent programme, one that makes us part of the civilized world.