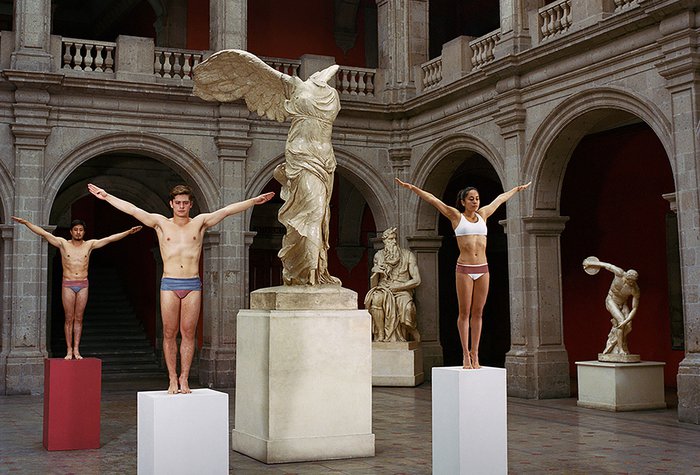 With borders slowly opening up as the COVID-19 restrictions begin to gradually be relaxed, Russian art makes its way to art fairs in Europe. And there is a silver lining to the pandemic year: Russian art fairs now have online versions, where international collectors can buy art — without a visa!
viennacontemporary
The first event to kickstart this autumn's art fair marathon is viennacontemporary, re-imagined as "more than just a fair" under its new creative director, artist and curator Boris Ondreicka. This year, it is moving from a former market hall on the outskirts of the Austrian capital to a more intimate location at the Alte Post, a historical post office building in the city centre. Five galleries from Russia are taking part this year. 'Iragui' is bringing works by Pavel Pepperstein (b. 1966), 'Triumph' is showing works by the internationally acclaimed 'AES+F' group, among others, while 'Syntax' brings linguistically inventive paintings by Valery Chtak (b. 1981). 'MYTH' from St. Petersburg and the Ural Vision Gallery from Ekaterinburg have given over their booth space to young artists from their respective cities. The fair itself will be complemented by a far-reaching programme of events at locations around the centre of Vienna, where galleries are now opening their doors after the summer break. One of these events is hosted by our publication. On September 3, two Russian Art Focus prizes will be awarded to a journalist and a researcher writing about Russian contemporary art in English. An online edition of the fair is organized in co-operation with Artsy.
viennacontemporary
Alte Post
Vienna, Austria
September 2-5, 2021
Cosmoscow
The main Russian contemporary art fair is already in its 9th edition with 80 galleries taking part, the largest number of participants ever recorded. Despite all the travel restrictions, art dealers and gallerists from 13 countries are planning to be in Moscow. The majority of galleries come from the Russian capital itself. XL Gallery will present works by two Russian artists of international acclaim, Irina Korina (b. 1977) and Ekaterina Muromtseva (b. 1990) (both recently had their works included into the ambitious Diversity United exhibition at the Berlin's Tempelhof) and sculptor Alexander Povzner (b. 1976). Szena Gallery will unveil new works by young artist Igor Samolet (b. 1984) that were made especially for the fair. Glaz gallery will sell photos by Alexander Rodchenko (1891–1956), along with works by young contemporary photographers. An online version of the fair, hosted by the new Russian art marketplace 'TEO', allows visitors to browse works and prices both locally (finally, no need to wait for a dealer or a consultant at the booth to answer all these pressing questions!) and from overseas. The online edition will run for a solid two weeks.
Cosmoscow
Central Manazhe Exhibition Hall
Moscow, Russia
September 18-20, 2021
Blazar
The new satellite fair of Cosmoscow, launched last year, is a welcome addition to the Russian fair calendar. In the spacious halls of the Museum of Moscow 50 emerging artists who do not have any gallery representation will be selling their works directly to the public. Some of them have already made their mark on the local art scene. For instance, textile artist Fedora Akimova (b. 1987) had a solo exhibition at the Moscow Museum of Modern art last Spring and took part at the 2nd Garage Triennale in 2020. Video artist and sculptor Elena Artemenko (b. 1988) took part in the 6th Ural Biennale (2019), the 6th Moscow Biennale for Young Art (2018) and was nominated for the Kandinsky Prize in the 'Young Artist. Project of the Year' category for three years in a row. The lucky few are chosen by the fair's expert board. Prices start from a very affordable 12,000 rubles (approx. $160). A dozen gallery booths are also present, where top Russian dealers, including '11.12' from Moscow and Marina Gisich from St. Petersburg, present younger talents from their artist stable. The fair also has an online version, a rare opportunity for collectors living outside Russia to buy works by young Russian artists without going via a gallery.
Blazar
Museum of Moscow
Moscow, Russia
September 8–12, 2021
Photo London
London's art scene is slowly re-awakening after lockdown. The new seasons starts with Photo London fair at Somerset House – the first IRL photography fair in 18 months, according to its organizers. And you can even find Russian art here, if you know where to look for it. London's Marina Shtager gallery offers a selection of works by photographers from post-Soviet countries at its booth. Among them is Gregori Maiofis (b. 1969), an established Russian artist who creates vintage-looking prints with a surreal twist. The booth also includes works Belarus-born Valery Katsuba (b. 1965), the late Georgian Sandro Mamasakhlisi (1933–2009) and Japanese photographer Yusuke Akamatsu (b. 1967). An extended online version of the fair runs until September 28.
Photo London
Somerset House
London, UK
September 9–12, 2021