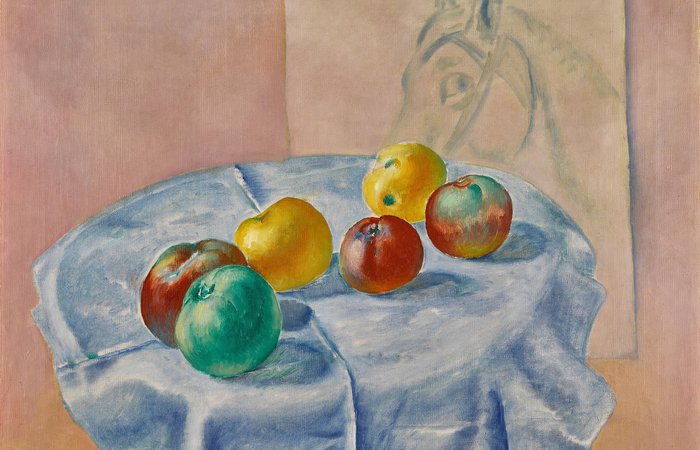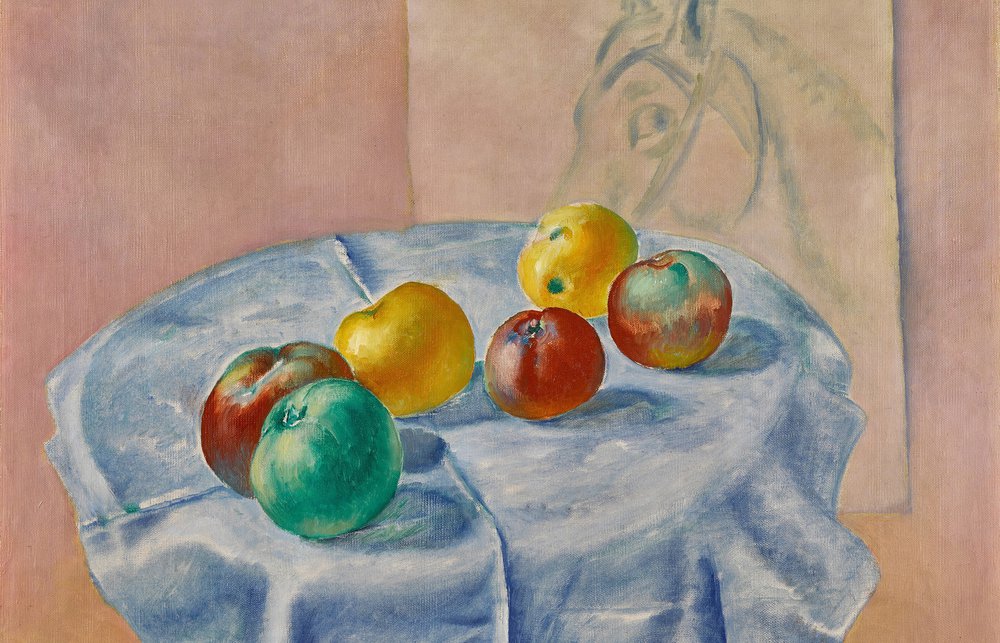 Kuz'ma Petrov-Vodkin. Still Life with Apple, 1912. Oil on canvas. Courtesy Sotheby's
With the Russian auctions in London this month welcoming everyone back after a long break, could there be over $10 Million of sales in Russian contemporary art this year?
London is all Hokusai right now. Not Shishkin-Hokusai, but the great wave maker whose current exhibition at the British Museum is bringing a taste for all things Japanese. On the crest of this, comes Russian Art Week and even it curiously has its share of japonaiserie. At Christie's, the fabled Faberge collection belonging to the late Harry Woolf is up for sale, after cut-throat competitive bidding between the houses. With its humorous netsuke inspired hard-stone animals, some of the finest and yet most comic figurines ever produced in Europe, there is a whole section of the catalogue dedicated to 'Faberge and Japonisme'. Pieces include a miniature frog and cricket, which are almost exact replicas of netsuke carvings. It is easy to forget how cosmopolitan Faberge's taste in design was. Faberge is timeless and iconic – one of my most memorable visits to a collector in New York in recent years was to the house of an American businessman, who has an elegant cabinet of Faberge sitting beside paintings by Andy Warhol and Peter Doig.
Being contemporary in our cultural life, we can embrace the fine and decorative arts as part of a panoply of everything. We have learnt now, for over a century, to appreciate design alongside art and there is a place for embracing eclecticism. It is the mark of a broad mind and cosmopolitan outlook, something to be celebrated. Russian week in London in the late 1990s may have been the gathering of a kind of resistance to Soviet Russia, a more politically edited cut than today, but you could experience a germane sense of timeless and fabulous style just visiting the house of my predecessor Sotheby's Russian expert John Stuart, where he held legendary parties after the sales. The white-washed icon clad walls on the ground floor of his Notting Hill home felt like a spiritual hang-out, yet, elsewhere, his house had all the elegance of a palace in a Russian Imperial estate. This contrasting of styles felt contemporary in spirit and ahead of its time: he had suites of rooms in different themes, Kabakovean luxe, where he communed with white Russians dead and alive.
One of Tate Britain's iconic paintings, Turner's 'Burial At Sea' depicting his artist friend David Wilkie, finds local echoes for me in Oleg Vasiliev's (1931–2013) 1999 painting 'Flight: In Memory of Boris Sveshnikov', which is one of the star lots in Bonhams Russian sale. Here was an artist whose life represents in perpetuity a symbol of the fate of the Russian non-conformist artist or writer; Sveshnikov (1927–1998) spent a decade in a Stalinist labour camp, yet, even there, he found inner freedom and carried on drawing. It is a miracle not only that he, but also his art, survived. 'Flight' was painted the year after Sveshnikov passed away and shows the two artists like brothers-in-arms flying together, high up in the sky, surely a statement about how things were for a whole generation and not only the personal memory of a friend and colleague.
It is topical, too. A contemporary art exhibition at Pushkin House in London during Russian Art Week reminds us just how pervasive this fate was for artists during the Soviet times and how young artists today are both seeking catharsis and finding relevancy in retelling stories from this dark chapter. Moscow artist Ian Ginzburg's (b. 1988) most recent work, 'A Barrack Named Desire', is part of an exhibition called 'Desire International' exploring queer history past and present in Russia. Ginzburg's project examines the life of book illustrator Victor Duvidov (1932--2000), who was imprisoned for being a homosexual. Like Sveshnikov, he created art during his imprisonment and Ginzburg explores the notion of beauty in grossly squalid conditions. The exhibition also includes works of Yevgeniy Fiks (b. 1972), Russian artist with a successful international career, who is based in New York since 1994.
From meditations on captivity to escape. Sotheby's most successful dedicated non-conformist art auction to date (these auctions are still called 'Escape Artists' after the first one in 2018, timed to mark the 30th anniversary of the Moscow sale) grossed $2.58M of sales in October this year and if you add this to the total amount of Russian contemporary art sold in the June auctions across all London houses, you reach a respectable $7.28 million. One of the stellar lots in Escape Artists was Ivan Chuikov's (1935–2020) 1985 'Fragment Postcard – Self Portrait', which had sold previously in the John L Stewart collection at Phillips in 2007 and, it turned out, the buyer in that auction made a great investment, doubling their money. A great investment? You might need to do a double take here: When has anyone ever pronounced these words with any sense of conviction when talking about Russian contemporary art?
Crossing the threshold into the eight-digit sphere for the Russian contemporary art market might not feel to you yet like a coming-of-age moment, but it is significant. We're talking of a segment of the market which shows unprecedented growth, we all need to adjust our thinking and dare to be optimistic. Sotheby's leading lot in this category coming under the hammer during Russian Art Week is Erik Bulatov's (b. 1933) 1985 'Sky and Sea', which is part of a single-owner collection of Russian non-conformist art which will be sold on December 1, 2021.
With arguably conservatively placed estimates of £600–800,000, the owner might be taking a big gamble, but it is a calculated risk: with records previously made during the Russian art boom now being outstripped with some consistency in this area of the market, the original purchase price of $1.8 million, achieved when the work was last up for sale at Phillips in 2008, does have some chance of being met. If this happens and other lots prove the buoyancy of this market, it could well bring Russian contemporary art this year over the $10 million mark.
Outside the 'big four', there is a special Russian art collection for sale at Sworders (a small auction house I had not heard of either) of property from Iconastas, a quirky shop in Piccadilly Arcade which specialised in icons and soviet design and closed a few years ago. The sale is led by two icons once in the Hann collection, originally having been sold off by the Soviets in the 1930s. The auctioneers have enthusiastically embraced the Russian spirit by photographing the lots on the backdrop of contemporary textiles by London based designer Nathalie Farman-Farma. She has a range of gorgeous fabrics inspired by Ballets Russes and Slavic designs.
Online bidding is possible at all the sales (except Sworders), which is no surprise nowadays. Yet, for those not able to fly to London for Russian Art Week, MacDougall's is trialling a new hybrid auction format this season. There will be a large group of works of art on display, which will not be sent over to London physically, yet, which are included in the Russian auction sale catalogue with a pre-sale exhibition in Moscow and bidding room set up in Zubov House on the day of the sale. This is, in part, a response to the conservative step made by the Russian authorities earlier this year in banning the export of artworks created prior to 1946, which will surely further hamper the growth of the Russian art trade. Thankfully, Russian contemporary art remains exportable, you can bring it in and out of Russia and it may represent meantime a safer investment.
Dates for Russian Art Week, autumn 2021
November 29, 10.30 am GMT
Christie's, London
November 29, 1 pm GMT
Selection of Fabergé Masterpieces from the Harry Woolf Collection
Christie's, London
November 30, 2 pm GMT
Sotheby's London
November 30, 2.30 pm GMT
Russian Works of Art: Fabergé and Icons
Sotheby's, London
December 1, 2 pm GMT
MacDougall's, London
December 1, 10 am GMT
ICONASTAS: Fine Russian Art & Antiques from the Renowned London Gallery
Sworders, London
December 1, time tbc
Bonhams, London
November 19–30, 2021 (online only)
Soviet Political & Propaganda posters. The Sergo Grigorian collection
Bonhams, London
November 24, 2021 – Feburary 7, 2022
Desire International exhibition
Pushkin House, London