Art Market
Russian contemporary in the London salerooms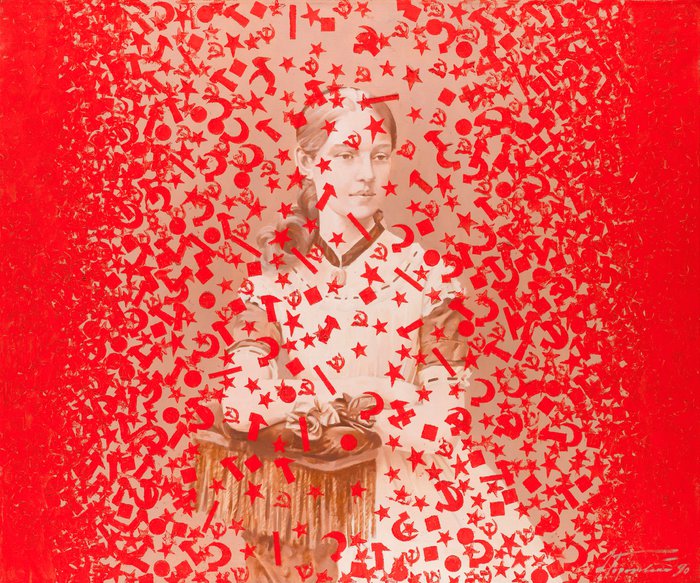 Eduard Gorokhovsky. Red Flies, 1990. Oil on canvas
Where a 1949 still life by the late Vladimir Weisberg went for the same price as an undated painting by the president of the Russian Academy of Arts, Zurab Tsereteli: £100,000
Russian Week in London (3-5 June) saw 83 contemporary works on offer, generating a total £2.35 million, thanks largely to Sotheby's (£1.1 million from 27 lots) and MacDougall's (£927,000 from 32 lots).

Auctioneers seldom name their consignors, but Sotheby's made an exception with noted Non-Conformist collector Michael Karminsky, who hails from Chernovtsy (now Ukraine) but has lived in Offenbach near Frankfurt since 1980. His early, relatively colourful work by Vladimir Weisberg (1924–1985), "Loaves and Apples on a Burgundy Tablecloth" (1949), fetched £100,000 at Sotheby's, which also included three monochrome Weisberg still lifes from private collections. Those from 1967 and 1971 made £35,000 apiece, while a "Still Life with Tanagra Figurine" (1976) reached £75,000.
Although Karminsky was close to his fellow Western Ukrainian Eduard Gorokhovsky (1929–2004) and even designed his Offenbach tombstone, he was not the consignor of this Russian Week's four Gorokhovskys.
Two, at MacDougall's, came from a Swiss collection: "Sad Day" (1986) fetched £43,200 and a 1989 "Untitled" brought in £37,800. His 1990 "Red Flies" made £52,500 at Sotheby's, a modest increase from the £45,000 paid by its UK consignor in 2013. However, Gorokhovsky's "Frame-2" from 1989 failed at Christie's against an £8,000-12,000 estimate.
Accompanied by his son Misha, who previously worked with the Erarta Galleries and who now manages St. Petersburg's Fabergé Museum, I met Vladimir Ovchinnikov (1941-2015) in his studio at Pushkinskaya No. 10, a few months before he died. There was something of the erudite peasant about Vladmir, who paid homage to his commute into town in his "Shuvalovo Station" (1977), sold at Christie's for £37,500, down from the $96,000 (around £48,000) its consignor paid at Sotheby's New York in 2007 (despite its prestigious former ownership by Alexander Glezer and Roman Tabakman).
Four more Ovchinnikovs, all imbued with his Pythonesque surrealism, sold at MacDougall's:"Noah's Ark" (2005) for £54,000; his 1998 "Morning in the Old City" for £16,200; "Judgment of Paris" (1977) for £19,500; and "Interior with Stove" (1988) at £10,100. The two latter prices again represent a drop from the market's heights of just a decade ago: back in 2008, the works sold in New York to their UK consignor for $73,000 and $61,000 respectively.
Ivan Chuikov (born 1935) earned Russian Week's top contemporary price at MacDougall's: £175,500 for "Hotel Ukraina" (1989), which came from a Swiss collection. An equally large (180x130cm) Chuikov from a Californian collection, "TV-8" (1995), went for £52,500 at Sotheby's.
There was continued strong demand for Oleg Tselkov (b. 1934). His pink "Woman and Cat" (1983), from a U.S. collection, and his green "Soldier and Animal" (1984), consigned by the Costakis family, each made £137,500 at Sotheby's. Bonhams secured £125,000 for his purple "Couple with Scissors" (1985), from an Oregon collection, but his toothy skull from 1964, once owned by the poet Yevgeny Yevtushenko (and later, amusingly, by his wife's Italian dentist), failed against an estimate of £30,000-50,000. MacDougall's had two 1977 Tselkovs from an American collection, each featuring a mask, dragonflies and a curtain; one with a dark blue ground made £44,500, one with a red ground £57,000.
Russian Week yielded three other six-figure prices for contemporary art. A 1989 Faibisovich, "What Time Is It?", went for £135,000 at MacDougall's, while a market-fresh Shvartsman, "Wine of Amazement" (1975/77), scored £112,500 at Sotheby's. Meanwhile, £100,000 was lavished on Zurab Tsereteli's undated "By the Window" by someone who clearly had the commercial interests of the 85 year-old Georgian very much at heart.