Art Market
Roubles Make a Comeback in New Look Cosmoscow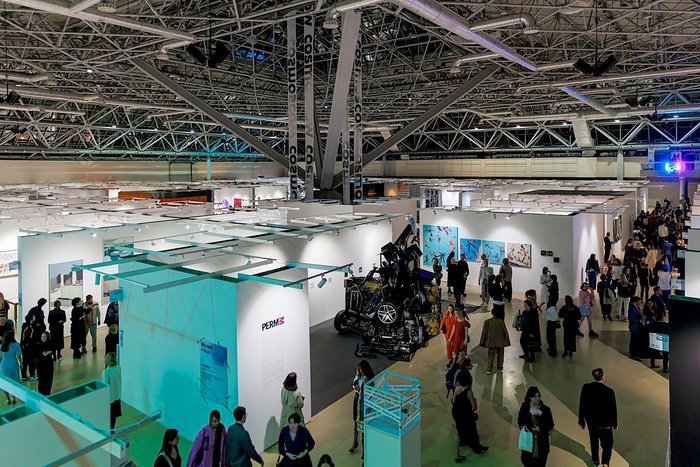 The 11th Cosmoscow International Contemporary Art Fair. Exhibition view. Moscow, 2023. Courtesy of Cosmoscow
Russia's leading fair for contemporary art is now in its 11th edition in Moscow and is drawing the usual crowd of art lovers, this time to a new location away from the beating heart of the historical city. It might be business as usual but the nation's current state of affairs is addressed by numerous works in indirect ways.
Russia's leading contemporary art fair has moved from the historical building of Gostiny Dvor tucked behind Red Square to the Expocentr, a soulless 1970s congress building on the bank of Moskva River. The move did not bother everyone: "The further from the Kremlin, the easier it is to breathe", remarked Igor Markin, owner of Moscow's ART4 museum and gallery. The generous parking spaces at the new venue were also widely seen by visitors and participants as a boon.
Seventy-five galleries from Moscow to Vladivostok made it to the fair this year. Some, such as Artwin run by Mariana Guber-Gogova, have no permanent exhibition space yet pop up regularly at Cosmoscow. Others, like Alisa Gallery, are in a stage of transition: gallery owner Alisa Bagdonayte has recently moved from Moscow to Dubai and her business will relocate with her.

Prices have gone down. Six-figure prices are a thing of the past … actually, six and seven figure prices abound because most dealers are now quoting their prices in Roubles, instead of US dollars or euros which had become commonplace. ("Too bad the price of the booth is still in Euros", quipped one dealer). The Rouble has slumped over the past few months but there is a silver lining in every cloud. With the current rate of both the Euro and Dollar hovering around 100 roubles, the currency conversion is simple for even the most mathematically challenged prospective buyer.
One of the most expensive works at the fair is a diptych by Soviet sculptor Ernst Neizvestny (1925–2016), offered by Vellum for 60,000 US dollars. 'Pointing Centaurus and Centaurus With No Hands' (1967–1985) felt hauntingly topical: it shows mutilated mythical creatures writhing in agony, witnesses and victims of some unnamed atrocities. Another highlight on Vellum's booth is a new mosaic by Olga Soldatova (b. 1965) depicting Moscow City, a cluster of skyscrapers near the Expocentr, with an aircraft approaching from above. Priced at 3,000,000 roubles (30,000 euros), it was sold to a private collector during the first few hours of the fair's VIP preview. It was hard not to draw parallels between this work and recent events. Throughout the summer, Moscow City was a target for drone attacks, when a few offices, including those of the country's Ministry for Digital Developments, Networks and Mass Communications, were burned down by a series of explosions. Although airplanes often feature in Soldatova's work, inspired by Alexander Deineka's plane mosaics at Mayakovsky metro station, the artist finished the mosaic just three days before the first attack, it felt prescient. Gallery employees darkly nicknamed the mosaic "A Drone over Moscow City". Among other stand out pieces at the fair, a rare early painting by Evgeny Mikhnov-Voitenko (1899–1969), a pioneer of post-war abstraction on the Soviet underground art scene and priced at 4,500,000 Roubles (45,000 euros) was also sold on the opening day by pop/off/art gallery.

For new collectors looking for works at the lower end of the price range there are bargains to be found. ArtTube is offering edition prints by mid-career artist Valery Chtak (b. 1981) at an exceptionally modest 8050 Roubles (80 euros). Knitted slogans by Olga Bozhko (b. 1974) – brightly-coloured letters forming the Russian words 'gloomy', 'nasty', and 'sickening' are offered by state-run GROUND-Solyanka gallery at 41,800 Roubles each (418 euros). It may be surreal, but a gloomy, nasty and sickening reality does manage to seep into the otherwise festive ambience of the fair, without ruining its usual cheerful mood. There are large, eye-catching artworks reflecting the dark spirit of the time scattered around numerous booths. There is 'Nomad', a sculpture by Andrey Syailev (b. 1982), depicting a grotesque headless figure of a Russian emigré carrying all his belongings, offered for 1,500,000 roubles (15,000 euros) by PA Gallery. An installation 'Universal Chest of the Homeland's Art' by artist Roman Sakin (b. 1976) who emigrated to Israel after the armed conflict between Russia and Ukraine began, was sold for 2,000,000 Roubles (20,000 euros) by Agency.Art Ru gallery on the preview day. A giant chest is divided into four compartments: 'War', 'Revolution', 'Gulag' and 'New Year and Christmas', each containing a selection of small artworks suitable for those occasions – the artist's idea was to create topical, relevant art for every possible socio-political situation in Russia. Even in these darkest of times the nation's artists have not lost their dark sense of humour.
Cosmoscow
Moscow, Russia
29 September – 1 October, 2023
29 September – 1 October, 2023