Art Market
New Eastern European Art at viennacontemporary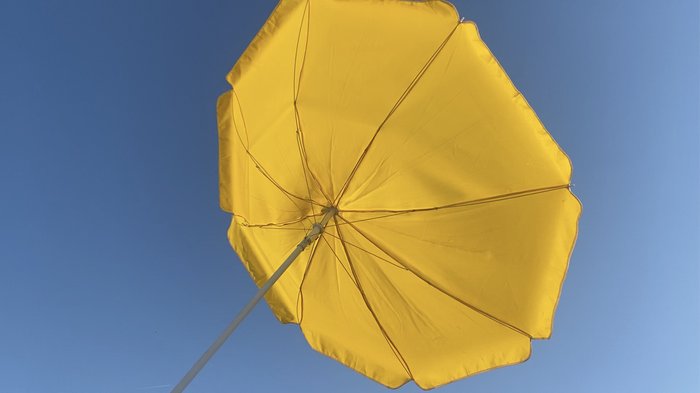 Abdul Sharif Oluwafemi Baruwa. Schirm, 2023. viennacontemporary art fair, 2023. Courtesy the artist
Despite its downscaling in recent years viennacontemporary has not abandoned its ambitions as a commercial link between Eastern Europe and the art market in the West. Its latest edition offered a varied selection of affordable art from across the region and a preference for aesthetics over politics.
Now in its eighth edition, Viennacontemporary is always one of the first art fairs to kick off the new season, opening its doors in the first week of September. One of its main emphases since it was founded in 2015 is its role as a cultural and commercial crossroads between Europe of the East and Europe of the West. Regular visitors to the fair first met a scaled-down version last year, and this year's edition took place in this same boutique location in the Renaissance vaults of the Kursalon in the Stadtpark, a picture-perfect green oasis in the heart of Vienna. Among the 61 galleries participating this year, nearly half were from Austria, while the rest came from nineteen different countries, including – it goes without saying - a good number from Eastern Europe.
The first floor was divided into three sections. The first brought together galleries from Austria, such as CRONE and Galerie Kandlhofer; Kisterem from Hungary; annex14 from Switzerland; Giorgio Persano and MLZ Art Dep from Italy and Ukraine's Voloshyn Gallery. The latter stood out from the crowd for its art with a strong political message - the other galleries on this floor were mostly offering up a staple selection of works dominated by more aesthetic preoccupations around form and abstraction. There were prints by Mykola Ridnyi (b.1985) on display at Voloshyn, priced at 3,500 Euros each, showing photos of war-torn Ukraine, images partially covered with black circles. Referencing scotoma, an ocular disease which creates blind spots in the eye, Ridnyi connects the disruption of vision with the atrophy of critical thinking caused by manipulations in the mass media. The theme of propaganda continued in a large-scale work on paper by Nikita Kadan (b. 1982) priced at 12,000 Euros. It relates to a photograph taken during the Lviv Pogrom in 1941, depicting violence against the Jews and once exploited by the Nazis for propagandistic purposes.
The second section had an altogether stronger Eastern European presence. Polish gallery Pola Magnetyczne showed two particularly striking works by Warsaw-based German artist Sebastian Winkler (b. 1979), the first a large canvas made from photographs of body parts including medical stitches and cuts arranged to form a heart (priced at 2,700 Euros). The second, a sculpture of a tattooed head with no eyes, a grimace of pain, an open mouth with a tongue hanging out referring to Orpheus, who, according to legend, was killed by a woman suffering from unrequited love (priced at 2,000 Euros). The work reflects on the artist's own homosexuality and the predicament of those in our societies living with minority rights. Works by Czech Millennial artist Jacub Choma (b.1995) was on view at the Polansky Gallery booth where visitors encountered cables, tubes, metal sheets and wires, the sort of stuff you might stumble across in your grandfather's garage had it not all been assembled in the form of a skeleton. In a stroke of curatorial dark humour, this chaotic, ghoulish display found itself on view alongside postcards showing puppies and kittens at the neighbouring booth of the German KOW gallery. The section ended with 'The Naked Room', a Ukrainian gallery showing a series of works by Lucy Ivanova (b. 1989), at 5,000 EUR each, inspired by a medieval village in Italy where she lived for a time, in which she offers up a contemporary interpretation of traditional religious iconography.
Dialogue between contemporary art and classic tropes carried on into the third section in the booth of Polish gallery Krupa who were showing work by Ukrainian-born artist Kateryna Lysovenko (b. 1989). Using a classical approach to the body and landscape, Lysovenko deconstructs their canonical meanings by adding anachronistic elements and disturbing allusions. You can see a mother and children, depicted as satyrs, on a train. A pastoral landscape becomes an eschatological nightmare strewn with naked bodies and ruins instead of an idyll. Her large-scale works were on offer for 5,000 Euros each. Next to Krupa, established Romanian gallery Ivan showed two works by Florina Coulin (b. 1947), one depicting a group of youths in an urban environment dressed in vintage fashion from the 70s and 80s.
If visitors to the fair had, on the whole, positive impressions - it was well-organized and curated with a rich programme of public lectures - where it fell short is in its central mission as a bridge between 'East' and 'West'. Despite the plethora of Eastern European galleries taking part, and the essentially non-hierarchical mix of galleries through the spaces, with no focus on any one particular geography to the exclusion of any other, when looking for deeper connections in terms of content this was vaguer. Fundamentally there exists a lack of consensus on what now exactly constitutes the West and the East, how to describe the heterogenous region of the East, with its shared recent histories yet different cultures and complex politics; how to define the exact nature of the gap between East and West and then how to bridge it. These questions were left open to the visitors themselves.
viennacontemporary art fair