Art Market
New contemporaries meet again in Vienna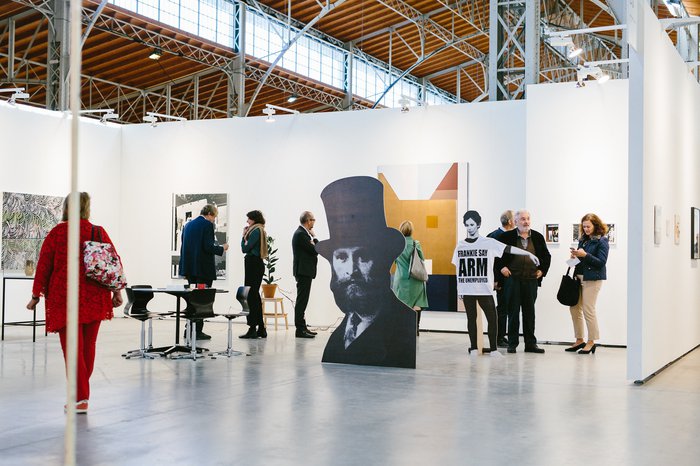 Long a cultural and commercial crossroads between East and West, Vienna will stage the new edition of viennacontemporary, Austria's largest art fair, which will highlight established and emerging artists from Central and Eastern Europe.
From 26–29 September, Vienna will once again host an international array of visitors and exhibitors at viennacontemporary in the stunning Marx Halle, a sweeping, cast-iron building that once housed a meat market. 
The art fair will feature some 100 exhibiting dealers, with a significant portion of galleries and artists stemming from Central and Eastern Europe, as well as from as Russia. 
Several galleries will not only feature established Russian artists, but also provide many opportunities to discover practitioners that one rarely finds at other international fairs. 
The Moscow-based Galerie Iragui, which specializes in contemporary Russian art, will show works by Alexander Vinogradov (b. 1963) and Petr Kiryusha (b. 1978). Since the 1990s, Vinogradov has used his art to explore and critique mass media and its heroes, creating a distinct aesthetic blend of Pop Art and Soviet Socialist Realism together with a fellow artist Vladimir Dubossarsky — the two worked as a duo from 1994 until 2014.
In addition to a new group of canvases that play with the contemporary world's obsession with social media at the gallery's booth, visitors might also spot his work in some of Vienna's key contemporary collections such as the MAK Museum and the Secession exhibition hall.
Kiryusha, an admired artist born in Dushanbe (now the capital of Tajikistan) and currently based in Moscow, often turns his focus to the sensorial properties of objects in space. His featured works will include several small-format canvases, in which partially abstracted shapes seem both to shine while simultaneously fading away.
Szena Gallery, an exhibition and project space also located in Moscow, will show recent work by Kirill Garshin (b. 1990), Alexey Taruts (b. 1984), and Igor Samolet (b. 1984).
Garshin's striking paintings and watercolours are characterized by a unique combination of hyper-real human figures centred and set against seemingly arbitrary, impersonal backgrounds.
In comparison, Taruts' video and the audio projects feel surreal, perhaps even creepy. Trained as a filmmaker, the young artist splices up horror-film soundtracks with home-made videos and other footage and has described his work as a process of both disorientating and awakening viewers.
The nature of human relationships is what stimulates Samolet's photographs and installations. His newest work places the artist's own emotions and psychology front and centre, creating both comic and poignant juxtapositions that will make you question where your own boundary between the personal and the public lies.
Visitors seeking artists less widely known outside of Russia, should not miss the fair's "Explorations" section, which focuses on transformative art practices in the aftermath of World War Two.
Its curator is Harald Krejci of Vienna's Belvedere Museum. There, the Pop/Off/Art Gallery will show paintings by the artist and architect Alexander Pankin (b. 1938), whose works blend the mythological and mathematical aspects of the Russian Avant-Garde and who staged a one-man show at the Moscow Museum of Modern Art in 2019.
Artworks by Yuri Zlotnikov (1930-2016), one of the pioneers of postwar Soviet abstraction, will also be featured in that booth. His earliest pieces from the late 1950s and 60s reflect not only the artist's interest in advances in cybernetics and nuclear physics, but also a brave effort to reinvent the work of an earlier generation of modern artists for his contemporaries at a time when this was still largely barred by Soviet art institutions.
Viennacontemporary will also provide opportunities for exchanges of ideas. Alongside the fair's curator-led exhibition tours for adults and families, Russian Art Focus has invited some of the art world's most astute commentators to discuss the status and potential of contemporary art in the former Soviet republics during a public talk on September 28 at 2:00 pm. Nicolas V. Iljine, Advisor to the Director of the State Hermitage Museum; Samuel Keller, Director of the Beyeler Foundation; Jean-Hubert Martin, art historian and curator; and Hans-Ulbrich Obrist, Director of International Projects at the Serpentine Gallery, will consider the challenges faced by the transformations taking place in these cultural and political landscapes during a panel discussion moderated by Richard Wallis, Editor-in-Chief of Russian Art Focus.
viennacontemporary
Vienna, Austria
26 – 29 September 2019