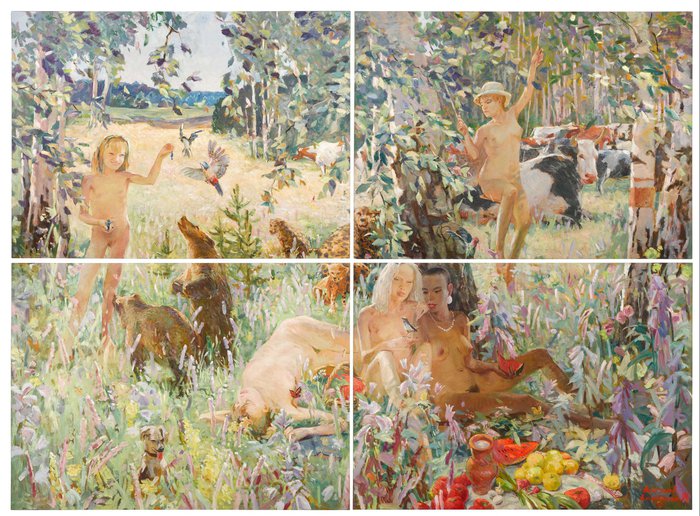 Vladimir Dubossarsky and Alexander Vinogradov. Big Paradise, 1994. Oil on canvas. Courtesy Sotheby's auction
The recent Russian art week in London raised not so much cash, yet a lot of questions. Is the traditional Russian art sale model keeping up with the times?
At first glance, the Russian contemporary auction season appeared to be the tale of a battle between two giants: Ilya Kabakov (b.1933) and Erik Bulatov (b.1933). Yet, the biggest story of auction week was surely the strong performance of the Russian contemporary art market. Combined sales of this segment at all four London auction houses accounted for $4.7M which, to put into context, is over 90% of the entire annual total of Russian contemporary art sales for both the spring and autumn seasons combined of 2020. When compared with just the spring season of previous years, the total was three times more than that of last spring and a rise of 47% on the spring of 2019. Further, the statistics show this rise in the contemporary segment was not matched by the classics where a higher percentage of works were left without buyers. The growth trajectory has been consistent over the past few years except for the pandemic year, suggesting maybe a shift in taste.
However, if tastes are changing, they are doing so with baby steps and a few little tumbles along the way. The star lot of the week by Ilya Kabakov, 'Empty Painting' is surely a contemporary masterpiece, so did it fetch a masterpiece price?
It may be an empty painting, but the new owner gets a lot more than they bargained for. Kabakov first worked in plain white on Masonite boards from the mid 1970s forming one cornerstone of what is a tightly managed conceptual practice spanning over five decades. Explorations around the void, nothingness, spiritual and conceptual space within the tradition of painting, as well as similar artistic adventures in other genres, such as John Cage's '4'33 min' (1952) are a genre all to their own within 20th century international conceptual art. Kabakov's most minimal "white" paintings are players in this field and 'Empty Painting' is a textbook work. As such, to my mind, its final selling price at Sotheby's of £402,200 ($560,100) is, say, at least a fifth of what it should really be worth, but monetary value and art historical importance are seldom bedfellows. The new owner of 'Empty Painting' has luckily grabbed him or herself a bargain.
The price for Erik Bulatov's 'Vault of Heaven', sold down the road at MacDougall's in St. James, however, did not disappoint. It was a real test of the market, since there has not been an important oil by the artist at auction since his 'Freedom is Freedom II' work was sold at Christie's during the market slump for around $400,000 in 2014 — seven years ago. 'Vault of Heaven', the same size and a similar date to the Christie's work, soared well above the pre-sale estimates, hammering down just shy of $1 million. Often, there is a sense that markets need to be constantly fed with works to boost confidence among buyers to invest in them, however, here it seems that tastes and times have evolved even in the absence of market results. And it points to a small truth, clear to those on the inside, but worth saying, because it is unusual in the market for contemporary art in general: the Russian contemporary art market at this moment in time is not driven by investors or speculators, but by private art collectors.
And so, Kabakov and Bulatov sat at the top of the Russian contemporary art market this season. Fair game, they are the two living artists who not only have successfully created a name and career for themselves outside Russia, but also whose contribution to Russian contemporary art history is hard to overestimate. I was only left wondering what life would be like if their works had been placed in the context of an international contemporary evening sale alongside the likes of Ed Ruscha (b.1937) and John Baldessari (1931–2020) flying the white, blue and red Russian tricolour among the stars and stripes, the Union Jack and so on. These two paintings, the 'void' and the 'vault' have international appeal, it is art for our times, Nekrasov's Cyrillic lettering easy to explain to anyone, painted in France about life anywhere. Kabakov's shoddily executed, battered and poorly assembled, empty painting, in which however a perfect void is there to be discovered; and Bulatov's heavenly vault, words plastered across the skies, in a perfect circle, a perfectly blue sky with fluffy clouds, a journey into the heavens from the prosaic day to day. Having retreated into our homes gazing from down below, rarely flying in the real skies, we can endlessly explore the cryptoworld or reflect on the meaning of art and life in front of conceptual paintings.
Amid continuing trends seen last year setting this new pace to the market, a world auction record was set for Ivan Chuikov's (1935–2020) 'Window LI' (2000), a mature work from his window series, impressive in scale and with two windows placed side by side, a sort of vernacular diptych. As it was with Bulatov's vault painted in the late noughties it seems that now Russian collectors are becoming perhaps less focussed on the date of execution, where previously they fought exclusively for pre-perestroika works. At least it seems that there are other elements, such as scale and style which are becoming of equal importance, something in common with the American contemporary art market. And, with the march of time, even the year 2000 seems to belong to a bygone era.
Artist duo Dubossarsky (b.1964) and Vinogradov's (b.1963) Big Paradise was shown at Expander at the Royal Academy in London during Frieze week in 2004. A four-panel epic work from the 1990s, defining the heady Yeltsin zeitgeist, fetched a record £239,400 ($331,930) against pre-sale estimates of £20–30,000. It seems it is possible to find so called 'sleepers' on the Russian contemporary market, works which are under-priced, hiding quietly semi-dormant among the hundreds of other lots on offer during the auction week. There was no tempering the appetite for works by Natalia Nesterova (b.1944), as the market absorbed nearly all her works. However, here a sobering reminder of how far the market slid after the 2008 economic crash: Despite the renewed vigour in the market today, neither of the top performing works at Sotheby's reached their original sale price (The Fountain sold for £36k ($73k) and Dancing for £24.5k ($49k) at Sotheby's in 2008).
The small group of first-rate paintings and drawings from the prominent Levy estate collection offered for sale at Christie's were "old friends" I had seen on a trip to meet Mireille Levy in her Swiss home over a decade ago. Grisha Bruskin's (b.1945) 'Memorial' came from auction royalty, having been among those offered for sale in the legendary 1988 Moscow sale where the Levys had purchased it. It is well known that this auction helped to forge the career of Grisha Bruskin in the West at lightning speed and brought him to the attention of the Marlborough Gallery in London. The Levys remained in contact with Bruskin over the years acquiring further works. However, this time around, 'Memorial' appeared to sell to only one fortunate bidder at Christie's hammering down at a very modest £68,750. Digging out the original sale price from my treasured '88' auction catalogue at home, it transpired the Levys paid £35,200 in 1988, over 30 years ago, a terrible return for an otherwise great painting. One moral of the story is that it does not pay to buy art where there is a lot of hype.
But perhaps the Bruskin was also lost in an auction otherwise focussed exclusively on 19th and early 20th century painting and decorative arts? The positive story of the upswing in the contemporary Russian art market I think falls on deaf ears amid the noise of a conglomeration of competing arts, media, and genres. The Russian sales are a huge mixed bag of art from early medieval icons to seascapes by Ivan Aivazovsky to Faberge bellpushes and even MacDougall's were selling an NFT twin of a landscape by Ivan Shishkin trying to combine old and new in one appealing package. Is there only so much 'colour' we can all take at any one time?
In the 'all-in-one' Russian sale approach there lies a great charm for Russophiles, such as myself. It is a formula dating back to the late 1980s, expanded over the past two decades to include Soviet Realism and non-conformist and post-Soviet Contemporary art, although Christie's remains closer to the original mix offering very little post-war art. Yet, the growing success of contemporary Russian art is certainly off the radar of international collectors, which both could prevent Russian art from being represented in international collections and put a cap on the market itself for prices of Russian artists. If we are seeing a gradual shift in taste, which the sales seem to bear out, it may be time one day to reinvent the wheel in terms of how contemporary Russian art is sold in the West.