Art Market
Igor Tsukanov: bringing Russian art to Great Britain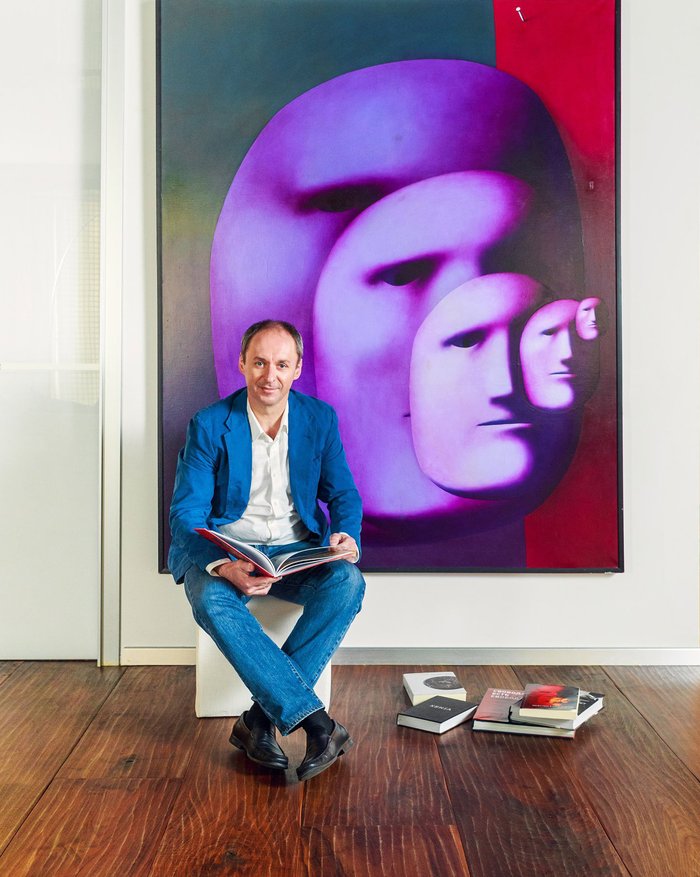 A peek inside the home of London-based Russian businessman and art collector.
When I walked into Igor Tsukanov's Kensington home, the first thing I saw was an enormous stuffed bear standing on its hind legs and donning an ostentatious fur coat and red beaded bag decorated with Soviet insignia. 
The bear turns out to be a recent work by Russian contemporary artist Dmitry Tsvetkov (b. 1961). Russian customs officials didn't see it that way, however, and held that trophy at the border until its hunter had been tracked down and had signed the necessary paperwork. "It's a funny story", Tsukanov says. It's also an insight into the colourful life of this London-based collector of Russian art.
Tsukanov, who was wearing a denim shirt, jeans and pair of blue loafers when I met him, was born in Moscow in 1962. After graduating from Moscow State University, he went to work for the Institute of World Economy and International Relations in Moscow, before crossing the Atlantic to advise US banks on the collapsing Soviet system. Soon afterwards, he returned to post-Soviet Russia as a fund manager, which is how he made his millions. 
He began buying art in 2000 to decorate the walls of his London house, but it eventually turned into a business. Now it has become a passion through which he supports under-recognised artists and promotes post-war Russian art. By the time Tsukanov moved to his current house a decade ago, the art had taken centre stage. 
His boxy, über-contemporary home, which sticks out loudly in a row of grand white townhouses, was designed to look like an art gallery. It is decorated with understated beige and grey furniture and its large white walls are covered in art, from floor to ceiling. 
"The house tells a story", Tsukanov says. That story begins in the dining room and the Soviet Union of the late 1950s and it ends in the swimming pool and contemporary Russia. His art works are displayed chronologically rather than thematically — with the exception, perhaps, of ceramic plates by Erik Bulatov (b. 1933) that hang in the kitchen. 
Although Tsukanov owns some contemporary works, his collection mainly focuses on a 30-year span starting in 1960. He tries hard not to dilute that focus. The fact he owns three houses in England, Russia and France probably helps, although all are by now full to the gills.
Tsukanov has clear favourites among his post-war artists. One of them is the painter Oleg Tselkov (b. 1934), who was a member of the Non-Conformist circle in Moscow until a KGB raid on his first solo exhibition in 1966 led to him emigrating to France: initially to Paris, and later to Champagne. 
While Tselkov was still in Moscow, international cultural celebrities used to make pilgrimages to his studio. Among them were Louis Aragon, David Alfaro Siqueiros and Arthur Miller, who hung one of Tselkov's paintings in his office. 
For 10 years, Tsukanov unsuccessfully tried to persuade Miller's estate to sell him that work. The painting was finally put up for auction in a Christie's Summer Sale in June 2018. There wasn't much competition and he nabbed it for £200,000, the middle range of Christie's estimate. "I would've bought it at any price," the collector confesses. It's a peculiar painting: five bald fat-fingered men face the viewer, wielding sword-like knives and a large watermelon. Like all of Tselkov's works, it's disturbing but also utterly compelling.
Tsukanov proudly tells me he owns the largest collection of Tselkovs from this period of any individual or institution in the world, and says he has also managed to do the same with the works of six other artists, including Oscar Rabin (1928-2018), Lidiya Masterkova (1927-2008) and Alexander Kosolapov (b. 1943). 
His ambition is to create the most significant collection of post-war Russian art in the world. And he says there are still around 20 paintings on his wish list. 
Although Tsukanov clearly takes personal pleasure in his art works, he is keen to emphasise that his is a "public collection." Not only because of all the journalists he allows to traipse through his home, but also because he is constantly loaning works to exhibitions in public museums. "There's never not been something on loan," he says. It explains the occasional gaps in the otherwise jam-packed walls of his house.
For a while Tsukanov flirted with the idea of founding his own museum, along with three other London-based Russian collectors who had amassed works from other decades of the 20th century. Everything changed, however, when he found an exhibition space in the form of the Saatchi Gallery.  
Tsukanov's first collaboration with Saatchi, who pioneered a form of collecting which straddles both the public and private art sectors, took place in 2012 with "Breaking the Ice: Moscow Art, 1960-80s." 
The exhibition, which showcased Tsukanov's burgeoning collection and had a purple-hued Tselkov painting as its poster image, brought a record number of visitors to the gallery and led to a partnership between the two collectors. 
They next collaborated on an exhibition about Pop Art in Russia, China and America, then staged a retrospective featuring the Azeri-Russian artist Aidan Salakhova (b. 1964) and last year created a group show of contemporary Russian performance artists, including Pussy Riot, Pyotr Pavlensky (b. 1984) and Oleg Kulik (b. 1961).  
Some of the pieces were commissioned for the exhibition, and because Tsukanov had paid for them, they were de facto his. 
They aren't the only works that Tsukanov owns, but are not included in his collection. I ask him about a row of glimmering Jeff Koons balloon animals which stand on a low black chest in his dining room under a wall of abstract Vladimir Nemukhin (1925-2016) paintings. 
"Oh, those aren't part of the collection," Tsukanov explains. He acquired them recently at a charity auction and will probably sell them off soon, no doubt for a tidy profit. Tsukanov may be an art collector, but he also remains a businessman.