Art Market
Facing the East: Russian Art Week in London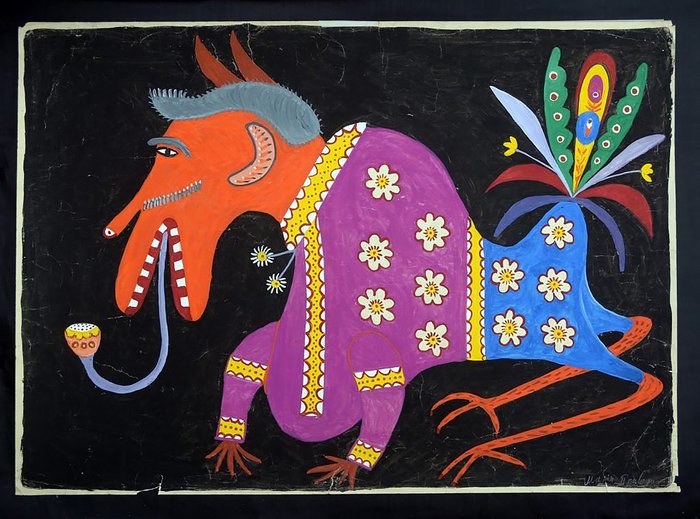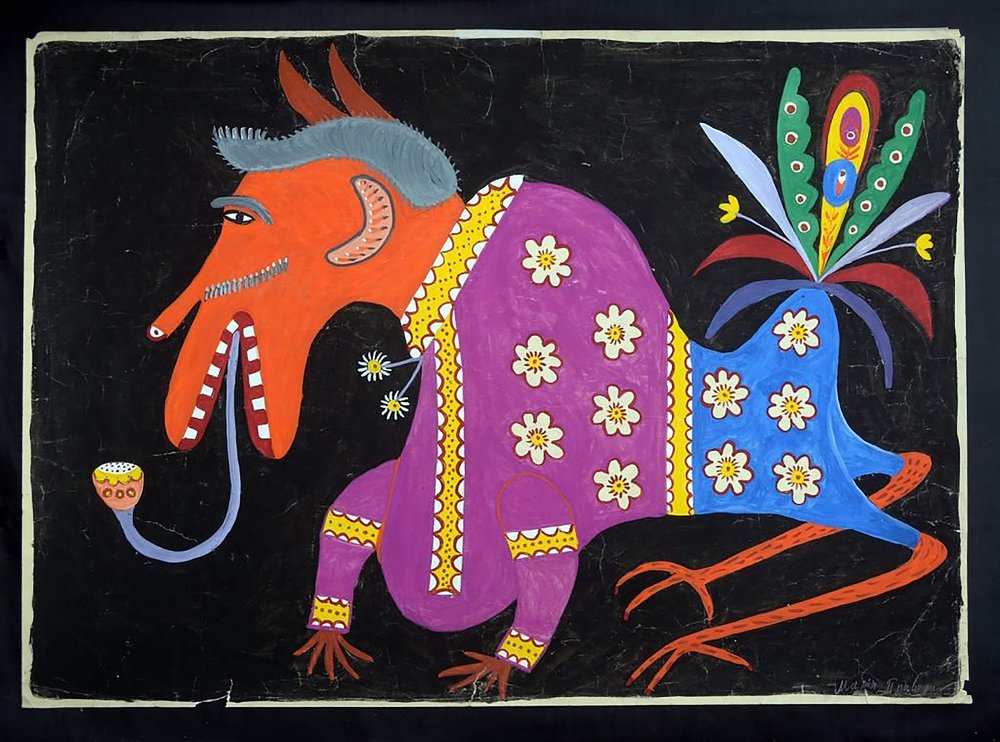 Maria Primachenko. Gorgove scarecrow, 1967. Gouache on paper. 1024 x 760 cm
The British capital celebrates Russian art, from auction sales to gallery shows and film screenings.
Russian Art Week has become a staple bi-annual event for London's Russian art connoisseurs, culture vultures and socialites alike. Getting its impetus from the auction houses and the influx of art-minded Russians in town, it has grown from strength to strength, unfurling satellite events around the city. The forthcoming edition is due to take place from November 22 to 29.
Expect auction houses to be buzzing. Once the previews and parties are out of the way, the bidding begins... Christie's Russian department, which is celebrating its 50th anniversary, will launch sales at its King Street auction rooms on November 25, with a top lot by Nikolai Fechin (1881-1955) (estimated at 2-3 million GBP), as well as an outstanding piece by Nikolai Roerich (1874-1947) and a mandatory splash by the sea-scape maestro Ivan Aivazovsky (1817-1900), without whom no Russian sales are complete, plus a selection of agitfarfor, the rare propaganda porcelain produced after the Bolshevik Revolution.
Sotheby's, located around the corner on New Bond Street, will follow suit on November 26, boasting an incredibly rare painting by Ivan Kliun (1873-1943) from the renowned George Costakis collection (estimated starting price of 2.5-3.5 million GBP); the somewhat more modest Bonhams auction house has nonetheless snapped up gems in the form of works by Natalia Goncharova (1881-1962), the recent star of a Tate Modern retrospective (estimated at 120,000-150,000 GBP) and her equally famous husband Mikhail Larionov (1881-1964). An exhibition of the non-conformist sculptor Ernst Neizvestny (1925-2016) will run simultaneously.
MacDougall's, the only auction house specialising exclusively in Russian art (and is testament to the popularity and significance of London's Russian art market) will host two sales: contemporary art on November 25 and what is described as "Important Art" on the 27th. The latter will feature a delicate landscape by Boris Kustodiev (1878–1927) that once belonged to the Nobel laureate physicist Pyotr Kapitsa (estimated at 1.5–2 million GBP).
Several other events are planned around the city to stoke the traditional Russian cultural commotion. Pushkin House, London's venerable home of Russian culture, will be hosting a thought-provoking exhibition on the subject of the Russian arctic, Icebreaker Dreaming (20 November – 31 January) by contemporary British artist Ruth Maclennan. It includes films, photographs and installations, as well as experimental projections directly onto the facade of the Pushkin house's historical building in Bloomsbury on the show's opening night.
South London's newest Russian space, the Shtager Gallery, will feature Moscow contemporary artist Maria Arendt (b. 1968), renowned for her monumental embroideries, with a show dedicated to Bauhaus architecture (28 November – 12 December). Soviet-era Ukrainian artists featuring such rarities as the self-taught Maria Primachenko (1909-1997) will be on display at Shapero Rare Books in Mayfair, as part of Art Impression (23-26 November). This is a collaboration between the bookseller, the Malab'Art gallery from Paris and London's own Russian Art + Culture, the online platform responsible for instituting Russian Art Week as an official umbrella event. Its website (and printed programmes, if you're in town) will provide the most up-to-date guide on all sales and associated events. 
Coinciding with Russian Art Week, on November 24, London's central cinemas will also host the Russian Film Week, showing a total of 35 new films from Russia with English subtitles.
Russian Art Week Schedule
Auctions
25 November
26 November
27 November
Other events
20 November 2019 – 31 January 2020
Icebreaker Dreaming by Ruth McLennan
23–26 November
Art Impression
24 November – 1 December
28 November – 12 December
Maria Arendt. Fabric of the City. Bauhaus-100