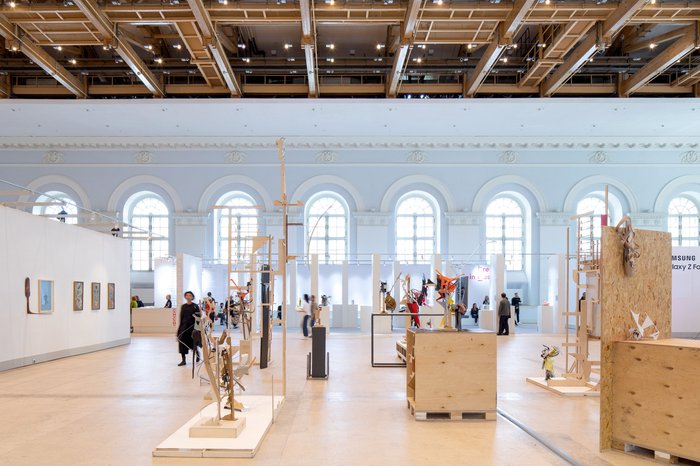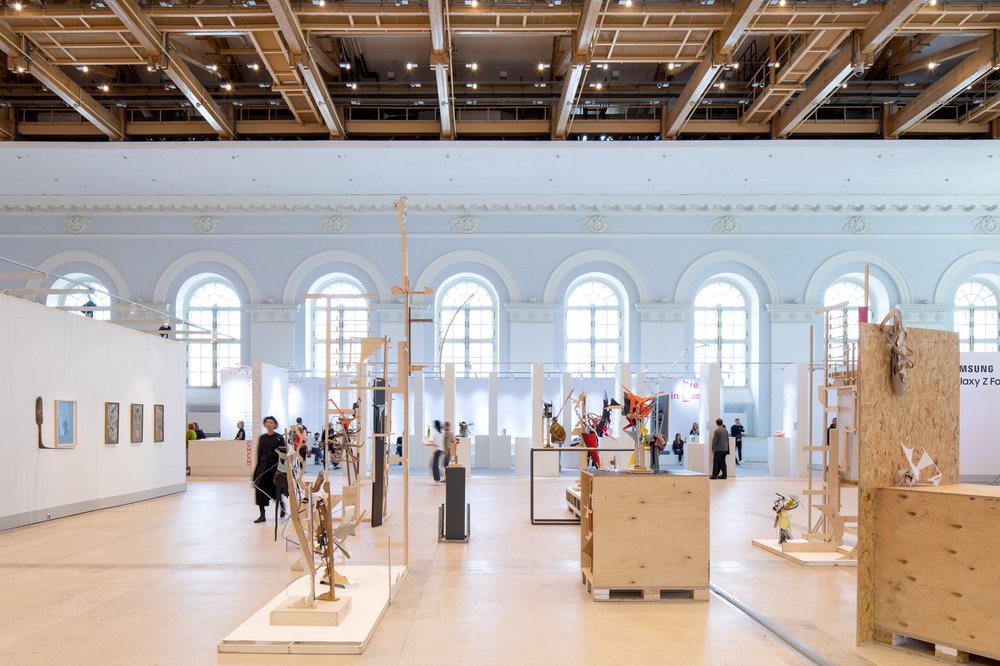 Bizarre political actions and Covid-2019 restrictions brought the biggest Russian art fair to the brink of cancellation. Enduring an unexpected two-week delay and last-minute change of venue, it still went ahead in September and bigger than before.
2021 promised to be the best year ever for Cosmoscow, with the early announcement of some 80 participating galleries, including 13 from abroad. However, just two weeks before it was due to open, the mayor of Moscow decided to bring forward the popular festival of the Day of Moscow and all the associated events to the same weekend. And so, Cosmoscow's venue, the Gostiny Dvor exhibition centre was abruptly taken over by an innovation forum run by the city government. It was unclear for a while if Cosmoscow would even still go ahead, but, at the 11th hour, the fair organizers managed to book an alternative venue, none other than the Manezh, a cavernous and beautiful exhibition space at the other side of the Kremlin. At lightning speed, the fair was swiftly re-scheduled and re-planned and, in the end, ran with 'only' a two-week delay, from September 17–20.
One of the main challenges for many galleries was the tight schedule with Art Basel, which was due to open within days of the new dates rather than weeks, but, generally, everyone finally accepted the shift, based in part on the good sales they had experienced the previous year. Those who could not make it, still had a virtual presence offering works online through the affiliated platform Teodorus.art.
Another challenge was the venue's capacity: the Manezh could only hold around 500 people at a one time, according to anti-pandemic rules. So, a zero-tolerance approach was taken, to declare the show Covid-free, and each guest had to carry a QR code, proving double vaccination status, a recent recovery from Covid-19 or a recent negative PCR test. With these conditions and the large number of VIPs, Cosmoscow Friends and collectors who had received invitations, there was chaos at the doors on the preview day with guests arriving at 6pm standing for one and a half hours in the queue outside.
It looked like a dampener, but, in fact, the brisk public interest and enthusiasm lifted spirits. Natalia Litvinskaya of the Lumiere Gallery posted on social media in the evening of the opening day that she had already sold half her booth and the other half was on reserve, so she was planning to leave for Basel. Lumiere's roster included Paul Brouns (3,000–5,000 EUR) and Laurent Chehere (8,000–11,000 EUR).
The last-minute changes may have resulted in many technical glitches and frustrating rearrangements, but the two-storey Manezh building felt, in many ways, a grander space for the fair. A new addition to this year's Cosmoscow were special QR codes assigned to the works on display, which helped visitors to build a personal wish list with information and prices, bringing added transparency.
It was clear that the overall price tag had moved a notch higher. Pearl Lam gallery from Hong Kong brought the mixed-media piece 'My Winter Palace # 14' by Chinese star artist Zhang Huan (sold for $250,000) and an acrylic on canvas by the aspiring Mr. Doodle (210,000 EUR), as well as several black and white glamorous non-binary portraits by South Africa's Zanele Muholi (20,000 EUR each). The most expensive Russian piece was a large, 384 x 268 cm (12,6 x 8,8 ft.) early cardboard landscape by the Paris-based Valery Koshlyakov (b.1962) (1993, Heritage Gallery; 160,000 EUR). Another eye-catching work was by Moscow-based painter Lavrenty Bruni (b. 1961) at the E.K. Artburo (80,000 EUR for 'Conversation. Part I').
The Sprovieri Gallery, virtually present from London offered online the 'Vertical painting #1' by Ilya and Emilia Kabakov (2012; 650,000 EUR) and 'Untitled' by Jannis Kounellis (2008; 290,000 EUR). Of course, the average price level was more modest. Moscow's XL Projects was offering figurative paintings by Konstantin Zvezdochetov (b. 1958) at 8,000 EUR each and Igor Makarevich (b. 1943) at 10,000–20,000 EUR, while Zeller van Almsick from Vienna brought a solo show of abstract paintings by the Australian Jonny Niesche (10,000 EUR apiece).
This year, many more editions and photography outlets were present at Cosmoscow. Pennlab (Moscow), which specialises in photography and shows authors ranging from new and aspiring (Mariya Kozhanova, b. 1986) to well-known and mid-career (Vladislav Efimov, b. 1964, Alexander Gronsky, b. 1980). Arttube Editions exhibited painted fans by Ludmila Baronina (b. 1988) at just 400 EUR each and the Artmossphere offered edition prints and objects by well-known street and graffiti artists starting as low as 130 EUR.
The non-commercial part of the fair included a special show by the Multimedia Art Museum (Moscow) with Valery Chtak (b. 1981) and the late Nikita Alexeev (1953–2021), installations by Irina Korina (b. 1977) (artist of the year), Danini and Misha Bury (b. 1986), as well as the 'Collector's Eye' show by the Pryima family (Moscow) and Evgeny Khamin (Voronezh).
There was an active programme of public talks organized by the Association of Art Galleries, including a discussion moderated by Jo Vickery, Editor-in-Chief of Russian Art Focus on 'Strategies and Practices: How to Enter the International Art Market' for mid-career gallerists and those considering expanding their businesses abroad. Speakers included gallerists Polina Askeri, Pearl Lam, Alina Kriukova, Shyevin S'ng and Anna Yevtugina co-founder of the creative studio ipureland based in New York.
Overall, the big art fair schooner narrowly avoided the dangerous shales and rocks of Moscow's politics and safely set on its course.