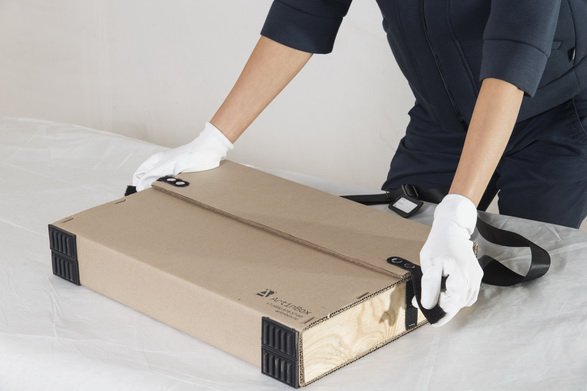 Meet an arbitrary system whose logic only the characters of "Alice in Wonderland" might understand, but fear not: there is always a way out for the bold or those willing to spend.
In a bid to boost Russia's art market and open it up to international trade, the Kremlin in March 2018 relaxed a key law "On the Export and Import of Cultural Valuables."
The aim was to encourage collectors to import art into Russia and make it easier to host art fairs, exhibitions and auctions in the country.
However, despite some improvements, the reform failed to remove the usual obstacles and still leaves gallery owners, collectors and experts complaining about how red tape, corruption and confusing legislation continue to hamper the export of art works.
For the cautious who prefer to take art works legally out of Russia, the first step is to obtain a document called an "expert opinion" from an agency licensed by Russia's Ministry of Culture. This has to state that the object in question has no cultural value.
It cost varies from $23 to $77, according to various gallerists, depending on the agency or expert used and how quickly the document needs to be rubber-stamped.
"It has never been easier to export art from Russia and the paperwork takes less than an hour," says Galina Leontieva, the director of St. Petersburg's Marina Gisich Gallery. Others beg to disagree.
Determining whether or not an artwork has cultural value can be a "chaotic" business, according to Irina Dimitrievich, an expert accredited by the Ministry of Culture.
She says that a work of art will be considered culturally valuable if it was created by an artist who has already held an exhibition in Russia or abroad or if the work has appeared in specialised literature. This would include an auction catalogue.
Dimitrievich adds that if an expert examining an object believes it is culturally valuable, then the buyer will have to pay a five percent tax and seek a special export permission from the Culture Ministry, which may or may not be granted. "Naturally, it's much easier to just pack the artwork and carry it across the border yourself without any paperwork," she says.
Most galleries and auction houses say they can deal with the ministry-accredited experts on behalf of the buyer to sort out the bureaucracy and will also pack the work and ship it abroad.
But Mikhail Krokin, owner of Moscow's Krokin Gallery, cautions that customs officers can sometimes put a spanner in the works.
The first step is to obtain an "expert opinion" from an agency licensed by Russia's Ministry of Culture. This has to state that the object has no cultural value.
"Problems can crop up all the time when an artwork is being transported. A customs officer now has the right to open up a package and confiscate what's inside. It creates a breeding ground for corruption. Instead of making it easy for contemporary artists to sell work abroad, officials create obstacles. This is why I sometimes refuse to organise delivery for my clients, especially if I see that a particular case may be difficult and I don't have time," he said.
Leontieva, on the other hand, argued that she has never experienced the issues brought up by Krokin. "I don't know how it works in Moscow but in St. Petersburg everything is pretty easy. We have never had any problems with the customs in St. Petersburg."
Logistic companies can legitimately deliver an artwork to a buyer abroad, even if the work of art has been defined as an object of cultural value.
Alexander Sharov, for instance, said that his 11.12 Gallery uses ArtPochta to get export permission, if necessary, and pack artworks before sending them by plane to Europe, the Americas or Asia. "The cost of delivery directly depends on the size and weight of the artwork. If it's not compact, it can cost as much as $3,000," the gallery owner said.
A much simpler alternative is to get the artist whose work has been bought to fly to the buyer's preferred destination. However, the risk of the artwork being damaged in flight is greater.
At a recent "Collectors' Summit" in Moscow there was a long and very technical discussion of how best to export art works from Russia. The veteran Moscow collector Valery Dudakov finally stood up and said he could not understand why the participants found the issue so complicated.
"It' very simple, all you need to do is to take those art works through Minsk (the capital of neighbouring Belalrus)," Dudakov said. Russia and Belarus are both members of the Eurasian Economic Union, which means there are in practise no border controls between them.