Art Market
Boris Fridman: a Russian collector's pursuit of printed art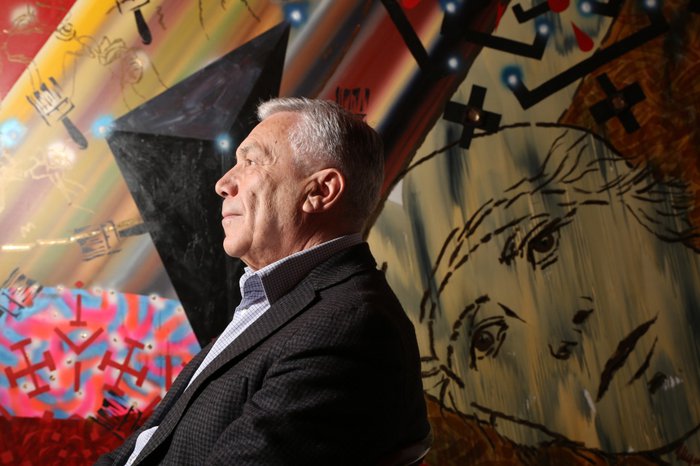 Russia's most active collector of livres d'artiste is unveiling a new show in Ekaterinburg in the Urals, considered the country's industrial heartland. It brings together editions of 28 rare graphic works by 15 émigré Russian artists spanning several generations.
Boris Fridman is a man on a mission. The founder of one of Russia's first private companies, dealing with personal computers at the dawn of post-Soviet capitalism in the late 1980s, has a hobby which couldn't lie further from the digital world. For over 15 years, he has been fascinated by 'livres d'artiste'. (Speaking hardly a word of French, Fridman, nonetheless, insists on using this term for these fragile creations.) These were limited-edition "books", unbound and sold in specially designed boxes, that were published in Paris between 1900 and 1980, by an international community of creative minds which thrived in that city at the time.
Each work was a collaboration involving a publisher, an artist, a writer and an accomplished printer. "Livre d'artiste is not an artist's book," Fridman stresses. He notes that the term has now become widespread, even in English-language writings about art history. "An artist's book is any experiment with a book format. You can put three bricks together and call them pages and it will be a legitimate 'artist's book', but a 'livre d'artiste' is something completely different," he points out.
The most active publishers were Russian-Georgian Futurist Ilya Zdanevich (Iliazd), and two of the greatest modern art dealers of the 20th century, Daniel-Henry Kahnweiler and Ambroise Vollard, who used the livre d'artiste to publicise the galleries' artists, all of whom would eventually become household names.
Fridman's collection includes works by Pablo Picasso, Henri Matisse, Joan Miro and many others. As the collector points out, "they were not doing it for money. At the time, nobody would buy the masterpieces they were selling. It was just a way of socializing. They were all friends and wanted to do something together."
Fridman sees the livres d'artiste as a separate art movement. He tries to make the public aware of it through exhibitions in different museums, both in and outside Russia. (The most recent one, "Iliazd and Picasso", took place in the Picasso House Museum in Malaga). Fridman curates these shows himself, always opting for his favourite displaying technique, hanging the pages of a book side by side, each one unframed and sandwiched between two sheets of glass.
Many of the artists who took part in that movement originally came from Russia. Among them were Marc Chagall (1887-1985), Natalia Goncharova (1881-1962), Sonia Delaunay (1885-1979), Andre Lanskoy (1902-1976) and Serge Poliakoff (1900-1969). The exhibition in Ekaterinburg's Yeltsin Centre will focus on them, bringing together 28 works by 15 artists. All of the exhibits come from the collections of Boris Fridman and his friend, Georgy Gens. "While these artists were living in Russia, they did not create any livres d'artiste," Fridman points out. "But, when they moved to Paris, they were all sucked into this movement as into a whirlpool."
According to him, the Russian artist who made the most significant input in the livre d'artiste genre was Marc Chagall, who created 120 different books throughout his life, three of which will be exhibited at the show. Also on display will be abstract painter Sonia Delaunay and graphic artist and filmmaker Alexandre Alexeieff (1901-1982).
"Livres d'artiste were made for looking at, not for reading, so the text normally did not matter much. But these artists chose to work with masterpieces of Russian literature, including classics by Nikolai Gogol and Fyodor Dostoevsky," Fridman points out.
The collector believes there is no such thing as a contemporary livre d'artiste. "You can paint in the impressionist or cubist style even today, but these movements themselves are gone for good. It's the same with the livre d'artiste," he explains. Despite this, some contemporary works, which technically fit into the limits of the genre, do find their way into his collection. Among them are editions by Georg Baselitz, Jim Dine, David Hockney and Anselm Kiefer.
Some Russian artists are also interested in this medium. Two contemporary ones are taking part in the Ekaterinburg exhibition. Just like their predecessors from the Golden Age of the livre d'artiste, both of them live abroad. One is the artist and writer Maxim Kantor (b. 1957), who is now based in France and a long-time friend of Fridman. "He got this 'infection' from me and has already created three livres d'artiste," the collector says. The latest one, Goethe's Faust, will be shown at the exhibition.
The other is the renowned Moscow Conceptualist Viktor Pivovarov (b. 1937), who has been living in Prague for many years. Throughout his life he created many "albums", graphic works which, like the livres d'artiste, consist of a series of unbound pages. His work displayed at the exhibition is a moving artifact of family history. It is based on his hand-made book called "Long-necked creature". Pivovarov created it as a birthday present to his son, artist Pavel Pepperstein (b. 1966), when he was a child. Many years later, he decided to print it as a limited-edition lithographical work.
Fridman thinks that his livres d'artiste can be an important source of inspiration for contemporary artists. "Remember my words, in five years there will be research centres specialising in them all over the world." One of them, the House of Text, a department of Moscow's Pushkin State Museum of Fine Arts, is scheduled to open in 2021. Fridman dreams of the new forms of collaborations with institutions that will make important private collections accessible for art lovers, artists and scholars. "All the artists who took part in that movement – were highly educated people. That's what we should do now, stand on the shoulders of giants and study their work in order to go further."
Artists of Russian origin in livres d'artiste
Yekaterinburg, Russia
8 November 2019 – 19 January 2020