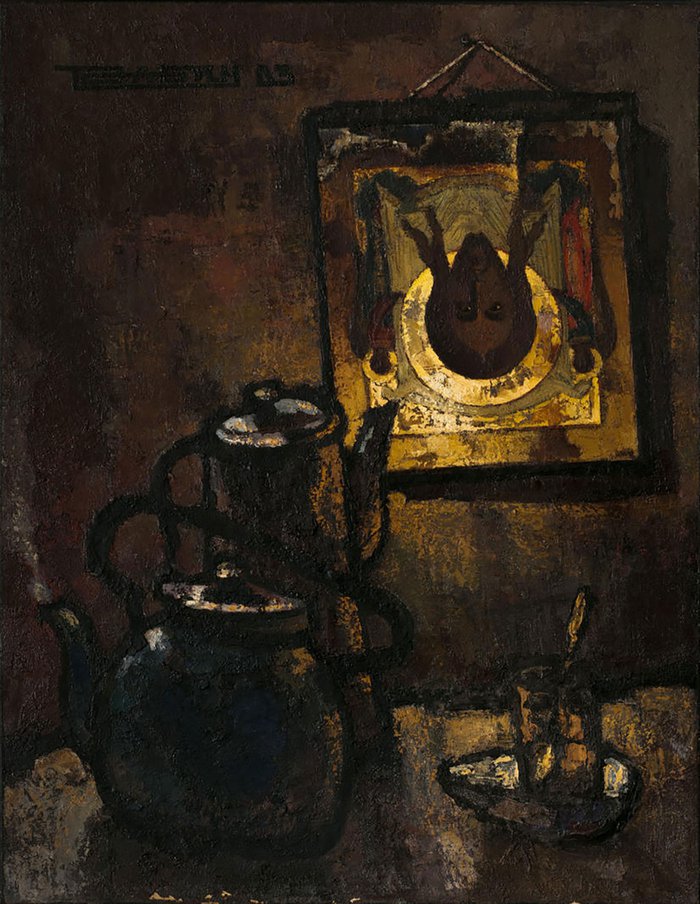 Will the market for Russian art be on the rise in 2021? Art market expert Jo Vickery finds reasons for optimism.

Jo Vickery
Leading art expert, former International Director of Russian Art, Sotheby's
If you trust the art market as a barometer of the times, a brighter year is ahead of us in 2021. There are double reasons for optimism: the Russian art market's rebound at the end of last year defied all expectations as sales returned to pre-Covid levels in the November auctions. Discounting the pandemic's effect, which particularly hit the Spring sales, this rebound came on the back of a longer-term trend. The Russian art market is on the up. Between 2018 and 2019 it rose 17 percent. This all happened alongside the radical changes to auction trading, when everything went digital, from the sales catalogues – previously considered indispensable – to the auctions themselves, which were conducted, in some cases, entirely online. Russian collectors, who tend to be conservative buyers, took to digital bidding as though this was a new national sport. Not being able to view art in person did not deter collectors either and resulted in an international record set at Sotheby's for a Russian 19th century painting, held albeit for less than a season. Aivazovsky's 1878 'Bay of Naples' became the most expensive painting ever sold in an internet auction. (Sold for GBP 2,295,000 or about USD 3,000,000 on June 2, 2020.) Although the Russian art market in London as a whole rebounded by the end of the year, the contemporary Russian art segment failed to reach the impressive level of sales seen in 2019. That said, it still represented a more than respectable rise of 14.3 percent on 2018. This is reassuring for a segment which suffered badly during the crisis years. In addition, Sotheby's Non-Conformist on-line auction 'Escape Artists', now in its third year, improved on the former two editions, with a 21 percent rise on the previous year, defying the Covid drag.
The brightest star of 2020 among living artists was Valery Koshlyakov (b. 1962), for whom no less than four new records were set in the top 10 last year. Ivan Chuikov (1935–2020) saw high prices on December 1 for a late windows piece from a Californian private collection, which soared over its pre-sale estimates of GBP20,000-30,000 to sell for GBP 163,800 (almost USD 220,000), just a notch shy of the artist's highest price during the market boom. Both artists attracted unprecedented levels of bidding, pointing towards a potential reassessment of their future market value. The top price of the year for a living artist went to Ilya Kabakov (b.1933) for his 1964 'Condition Reflex', a work which remained in the same family since it was acquired by the journalist Harry Shapiro in Moscow in the 1960s. It sold for GBP 438,500 (over USD 580,000). Oleg Vassiliev (1931–2013) continues to hide in the shadows of the marketplace, his 'Materialisation of Gloom', a programmatic work from the mid-1980s, failed to sell even when priced conservatively. Among first generation nonconformist artists, both Dmitry Krasnopevtsev (1925–1995) and Oscar Rabin (1928–2018) sold well.
No real masterpieces by Russian Avant-Garde artists appeared on the auction market in 2020. That absence did not dampen the overall results, because there was very strong bidding activity in the middle market. Konstantin Korovin (1861–1939), who can't be compared on a par with Russia's greatest modernist painters, nevertheless fetched strong prices last year. The top record at Christie's was for his sunny, impressionist piece, 'In the Garden'. Sotheby's much-admired York collection of 'Ballet and Theatre' designs soared well above their pre-sale estimates. Rare and fresh to the market, there were countless stars, one of my favourites was Natalia Goncharova's (1881--1962) colourful set design for Le Coq d'Or, a real gem which sold for nearly five times its estimate. A portrait of Diaghilev from the same collection, and at Christie's a portrait of the composer Igor Stravinsky (1882--1971), both by Mikhail Larionov (1881–1964) also sold well. At MacDougalls, a fine work on paper dated to 1924 by Kuzma Petrov-Vodkin (1878--1939) doubled its estimate to sell for GBP 65,000 (USD 87,000). Only a decade ago, works on paper were hard to sell on the Russian art market. Today, experienced collectors fully appreciate this medium.
Once the world returns to some level of normality, will Russian art auctions remain so highly digitised? Greater on-line accessibility to the art market is a huge upside, which has delivered far lower costs thanks to digital sales. Art, however, needs to be viewed in person; reproduction in print or on-line will never replace the experience of sight or touch. The willingness of collectors at the high end of the market to bid for masterpieces blind on-line should perhaps not last. Finally, it is worth noting the Russian art market bounced back far better than all the other main segments of the international art market, such as Impressionist, Modern, Contemporary and Old Masters. Russian art auctions have historically followed a distinctive trajectory, which does not necessarily follow the dynamics of the art market as a whole. If so, we can perhaps expect more records to fall for Russian art again this year.